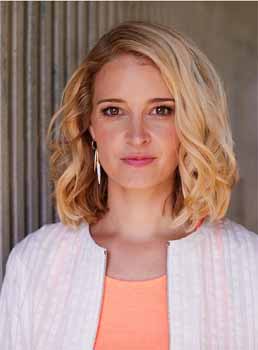 Stephanie Wrobel
Born:
Connection to Illinois
: Wrobel grew up in Darien and Lemont.
Biography
: Stephanie Wrobel grew up in Chicago but has been living in the UK for the last three years. She has an MFA from Emerson College and has had short fiction published in Bellevue Literary Review. Before turning to fiction, she worked as a creative copywriter at a various Chicago advertising agencies - writing TV and radio commercials for blue-chip brands such as Coors, McDonald's and Capital One.
---
Awards
:
''Darling Rose Gold''
-- USA TODAY AND EDGAR AWARD NOMINATED BESTSELLER
''This Might Hurt''
-- MOST ANTICIPATED BOOK OF 2022 BY PARADE KATIE COURIC MEDIA CRIMINAL ELEMENT, Starred Reviews - Booklist and Library Journal
Primary Literary Genre(s):
Fiction
Primary Audience(s):
Adult readers
Facebook:
https://www.facebook.com/stephaniewrobelbooks
Twitter:
https://twitter.com/stephwrobel
Website:
https://stephaniewrobel.com/
WorldCat:
http://www.worldcat.org/search?q=Stephanie++Wrobel
---
Selected Titles
Darling Rose Gold
ISBN: 0593100077 OCLC: 1105938458 Berkley 2021 In her compulsive, sharply-drawn debut, Stephanie Wrobel peels back the layers of the most complicated of mother-daughter relationships. For the first eighteen years of her life, Rose Gold Watts believed she was seriously ill. She was allergic to everything, used a wheelchair and practically lived at the hospital. Neighbors did all they could, holding fundraisers and offering shoulders to cry on, but no matter how many doctors, tests, or surgeries, no one could figure out what was wrong with Rose Gold. Turns out her mom, Patty Watts, was just a really good liar. After serving five years in prison, Patty gets out with nowhere to go and begs her daughter to take her in. The entire community is shocked when Rose Gold says yes. Patty insists all she wants is to reconcile their differences. She says she's forgiven Rose Gold for turning her in and testifying against her. But Rose Gold knows her mother. Patty Watts always settles a score. Unfortunately for Patty, Rose Gold is no longer her weak little darling... And she's waited such a long time for her mother to come home--
This Might Hurt
ISBN: 0593100085 OCLC: 1250433372 Berkley 2022 From the USA Today bestselling and Edgar-nominated author of Darling Rose Gold comes a dark, thrilling novel about two sisters-one trapped in the clutches of a cult, the other in a web of her own lies-and the lengths they will go to save each other. Welcome to Wisewood. We'll keep your secrets if you keep ours. Natalie Collins hasn't heard from her sister in more than half a year. The last time they spoke, Kit was slogging from mundane workdays to obligatory happy hours to crying in the shower about their dead mother. She told Natalie she was sure there was something more out there. And then she found Wisewood. On a private island off the coast of Maine, Wisewood's guests commit to six-month stays. During this time, they're prohibited from contact with the rest of the world-no Internet, no phones, no exceptions. But the rules are for a good reason: to keep guests focused on achieving true fearlessness so they can become their Maximized Selves. Natalie thinks it's a bad idea, but Kit has had enough of her sister's cynicism and voluntarily disappears off the grid. Six months later Natalie receives from a Wisewood account a menacing e-mail threatening to reveal the secret she's been keeping from Kit. Panicked, Natalie hurries north to come clean to her sister and bring her home. But she's about to learn that Wisewood won't let either of them go without a fight--