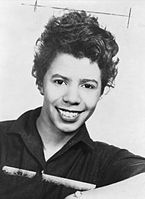 Lorraine Hansberry
Born:
May 5, 1930 in Chicago, Illinois
Died:
January 12, 1965 in New York City, New York
Pen Name:
LHN
Connection to Illinois
: Hansberry was born in and grew up in Chicago.
Biography
: Lorraine Hansberry was an American playwright and author. She grew up in Chicago, where her father, a real estate broker, fought a long legal battle against codes that enforced racial segregation in her all-white neighborhood. The case went to the Supreme Court. This experience inspired her most famous work, ''A Raisin in the Sun'', a study of a black family in Chicago and was the first play by a black woman to be produced on Broadway. It won the New York Drama Critics' Circle Award, and the 1961 film version won a special award at the Cannes Film Festival. Before her untimely death from cancer, she also wrote, ''The Sign in Sidney Brustein's Window''.Her ex-husband, Robert Nemiroff, assembled a posthumous collection of Hansberry's letters and diary entries titled, ''To Be Young Gifted and Black''.
---
Awards
:
-- Name engraved on the frieze of the Illinois State Library alongside other great Illinois literary figures, 1990
-- Chicago Literary Hall of Fame, 2010
Primary Audience(s):
Adult readers
Lorraine Hansberry on WorldCat :
http://www.worldcat.org/search?q=lorraine+hansberry
---
Selected Titles
A raisin in the sun /
ISBN: 0679755330 OCLC: 30594339 Vintage Books, New York : 1994. When it was first produced in 1959, A Raisin in the Sun was awarded the New York Drama Critics Circle Award for that season and hailed as a watershed in American drama. A pioneering work by an African-American playwright, the play was a radically new representation of black life. "A play that changed American theater forever."
Lorraine Hansberry's The sign in Sidney Brustein's window :
ISBN: 0573615411 OCLC: 13751350 S. French, New York : ©1986.
To be young, gifted, and Black :
ISBN: 0679764151 OCLC: 34018930 Vintage Books, New York : 1995. A selection of prose, dramatic writings, and drawings done by African-American playwright Lorraine Hansberry, which, combined with other fiction and non-fiction commentary, provide insight into her life, thoughts, feelings, and career.