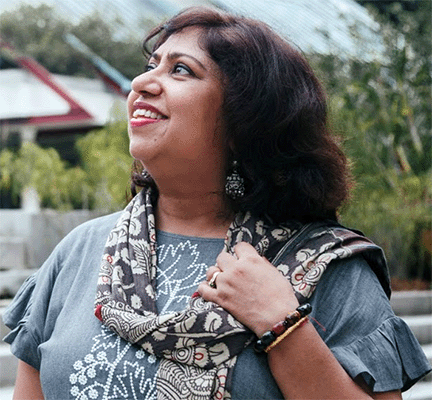 Dipika Mukherjee
Born:
Connection to Illinois
: Mukherjee teaches at StoryStudio Chicago and the Graham School at University of Chicago. She has lived in Chicago since 2012.
Biography
: Dipika Mukherjee is a writer and a sociolinguist. Her second novel, Shambala Junction, won the UK Virginia Prize for Fiction and her debut novel, Thunder Demons, was longlisted for the Man Asian Literary Prize. It was republished in 2016 as Ode to Broken Things. Her short story collections include Rules of Desire and edited collections include Champion Fellas, Silverfish New Writing 6 and The Merlion and Hibiscus. She has two poetry collections: The Third Glass of Wine and The Palimpsest of Exile.Her academic interests include Language Shift in Diasporic Communities, and especially women in the Indian diaspora. Her co-edited book, Language Shifts Among Malaysian Minorities as Effects Of National Language Planning: Speaking in Many Tongues was published by Amsterdam University Press in 2011.
---
Awards
:
Shambala Junction - UK Virginia Prize for Fiction
Ode to Broken Things - Longlisted for the Man Asian Literary Prize
Primary Literary Genre(s):
Fiction; Poetry
Primary Audience(s):
Adult readers
Web:
http://dipikamukherjee.com/
Web:
https://www.facebook.com/dipika.mukherjee
Web:
https://twitter.com/DearDipika
Web:
https://www.instagram.com/dipikamukherjeeauthor/
Web:
https://www.linkedin.com/in/dipika-mukherjee-5808047/
---
Selected Titles
Ode to Broken Things
ISBN: 1910924148 OCLC: Repeater 2016 Colonel S--biomedical engineer, explosives expert, and the Maylasian's government go-to hitman--has been doing the dirty work of the rich and corrupt for years now and is ready for his final job. One that will ensure the domination of the Muslims over the Malaysian state. The target? Kuala Lumpur International Airport. All he needs is a little help from his old friend and protege, Dr. Jay Ghosh. Despite the dangerous circumstances and Jay's own tragic Malaysian history, which he has been running from for 30 years, he cannot refuse the man who once saved his life. But, when Jay contacts Agni, the daughter of his first love with dangerous secrets of her own and a hunch that Colonel S is not all he seems, Jay is torn between righting the wrongs of his past and remaining loyal to a blood oath he has finally been called on to repay. Set in modern day Malaysia, divided by two religions vying for control of the state with violence and manipulation, Ode to Broken Things rings true in an increasingly dangerous world fraught with warfare, conflicting cultures, dysfunctional governments, and terrorism. However, Dipika Mukjerjee's focus on the characters' interwoven histories forms the story's overarching message that, despite race, ethnicity, or religion, the same blood run in our veins.
Rules of Desire
ISBN: 9670954169 OCLC: Buku Fixi 2015
Shambala Junction
ISBN: 1910798398 OCLC: Aurora Metro Press 2017 Iris, an American, is visiting India for the first time with her fiance and not enjoying the trip. When she steps down from the train at Shambala Junction to buy a bottle of water, little does she know that her life will radically change. Stranded at the small town, she becomes involved in a local stall-holder's battle to recover a lost child - one which is about to be sold to a rich Westerner. Fighting corruption and bureaucracy for the sake of the child, she discovers not only herself - but friendship, courage and a love of India in all its colorful contradictions.
Thunder Demons
ISBN: 8190939165 OCLC: New Delhi : Gyaana Books, New Delhi : 2011.