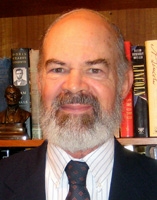 Darold Leigh Henson
Born:
1942 in Lincoln, Illinois
Pen Name:
D. Leigh Henson
Connection to Illinois
: Henson was born and raised in Lincoln and attended Lincoln College his freshman year before earning a bachelor's degree in English at Illinois State University in 1964.
Biography
: D. Leigh Henson taught English at Pekin Community High School for thirty years (1964ó1994), and during that time he earned a masterís in American literature and Ph.D. in English studies, both from Illinois State University. Also during his Pekin years, he taught freshman composition part time at Illinois Central College for several semesters. In the mid-1980s he was a part-time writing consultant and freelance writer and editor whose clients included local engineering firms and Caterpillar Inc. [sic]. From 1990 to 1993 Henson was a founding partner of Technical Publication Associates, Inc. Beginning in 1994 he taught technical and marketing communication in the English Department of Missouri State University until becoming professor emeritus in 2006 and then taught online two more years. His articles about the theory, practice, and teaching of writing have appeared in several academic journals. In recent years he has been a member of the Illinois State Historical Society. His article on the social -cultural history of the town of Lincoln as seen in William Maxwellís writings and his article on Mr. Lincolnís 1858 namesake town rally-speech were published in the ''Journal of the Illinois State Historical Society''.
---
Awards
:
Primary Literary Genre(s):
History
Primary Audience(s):
Adult readers
Email:
DLHenson@missouristate.edu
D. Leigh Henson on WorldCat :
http://www.worldcat.org/search?q=d+leigh+henson
---
Selected Titles
Inventing Lincoln :
ISBN: 9781540745644 OCLC: 989882845 This book examines how Lincoln's rhetoric has been treated in twenty-one Lincoln biographies, from 1872 to 2016, and thirty-six rhetorical studies, from 1900 to 2015: five books and thirty-one book chapters or essays published in peer-reviewed journals largely unfamiliar to the general public--Back cover.
The town Abraham Lincoln warned :
ISBN: 1450754155 OCLC: 728025911 D.L. Henson, Springfield, Mo. : ©2011. Graphically presents the saga of how the first town named for the legendary president before he became famous has explored and exploited its connections to him to create civic pride and strengthen its economy through tourism. Overall, this is a "success story," but it is not without controversy, irony, and missed opportunity. The author recommends strategies for expanding this heritage. -- p. [4] of cover.