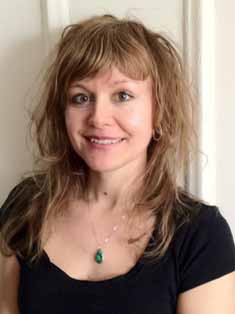 Christine Sneed
Born:
1971 in Green Bay, Wisconsin
Pen Name:
None
Connection to Illinois
: Sneed divides her time between Evanston and Champaign, Illinois; she teaches for the MFA program at the University of Illinois-Urbana-Champaign and the graduate writing program at Northwestern University.
Biography
: Christine Sneed grew up in Green Bay, Wisconsin, and Libertyville, Illinois. She graduated from Georgetown University, and went on to Indiana University, graduating with an MFA. She earned a Master's of Fine Arts degree in creative writing from Indiana University - Bloomington and a Bachelor of Science degree in French language and literature from Georgetown University.Sneed has published many poems in North American literary journals, was awarded an Illinois Arts Council fellowship in poetry in 2003 and has received five Pushcart Prize nominations. Her short stories have appeared in ''PEN/O''. ''Henry Prize Stories'', ''Best American Short Stories'', ''New England Review'', ''Glimmer Train'', ''Ploughshares'', ''The Southern Review'', ''Meridian'', ''Pleiades'', ''Notre Dame Review'', ''New Ohio Review'', ''Massachusetts Review'', ''River Styx'', and a number of other journals.Sneed was interviewed by Dan Klefstad, Morning Edition Host & Book Series Editor of Northern Public Radio (WNIU/WNIJ/NIRIS) for the [https://www.facebook.com/hashtag/wnijreadwithme?source=feed_text&story_id=10208055647572719 #WNIJReadWithME] Winter Book Series. To access the December 21, 2015 interview, [http://northernpublicradio.org/post/writer-blends-art-romance-city-famous-both click here].
---
Awards
:
-- 21st Century Award from the Chicago Public Library Foundation '''''Portraits of a Few of the People I've Made Cry
Primary Literary Genre(s):
Fiction; Non-Fiction
Primary Audience(s):
Adult readers
Email:
csneed@depaul.edu
Website:
http://condor.depaul.edu/csneed
Christine Sneed on WorldCat :
http://www.worldcat.org/search?q=christine+sneed
---
Selected Titles
Little known facts :
ISBN: 1608199584 OCLC: 795174360 Bloomsbury, New York : 2013. The people who orbit around actor Renn Ivins long to experience the glow of his flame. His children are both drawn to and repelled by the man who overshadows every part of them. This novel offers a clear-eyed story of the fallout of fame and fortune on family members and others who can neither fully embrace nor ignore the superstar in their midst.
Little known facts :
ISBN: 9781408833469 OCLC: 820871009 Bloomsbury, New York : 2013. The people who orbit around Renn Ivins, an actor of Harrison Ford-like stature?his girlfriends, his children, his ex-wives, those on the periphery?long to experience the glow of his flame. Anna and Will are Renn's grown children, struggling to be authentic versions of themselves in a world where they are seen as less important extensions of their father. They are both drawn to and repelled by the man who overshadows every part of them.Most of us can imagine the perks of celebrity, but Little Known Facts offers a clear-eyed story of its effects?the fallout of fame and fortune on family members and others who can neither fully embrace nor ignore the superstar in their midst. With Little Known Facts , Christine Sneed emerges as one of the most insightful chroniclers of our celebrity-obsessed age, telling a story of influence and affluence, of forging identity and happiness and a moral compass; the question being, if we could have anything on earth, would we choose correctly?
Paris, he said :
ISBN: 1620406926 OCLC: 894816375 "Jayne Marcus feels directionless and is struggling to pay her bills in Manhattan when she is given the opportunity to move to Paris with her wealthy lover and benefactor, Laurent Moller, who owns and operates two art galleries, one in New York, the other in Paris. He offers her the time and financial support she needs to begin her career as a painter and also challenges her to see who and what she will become if she meets her artistic potential. Laurent, however, seems to have other women in his life and Jayne, too, has an ex-boyfriend, much closer to her own age, for whom she still has feelings. Bringing Paris gloriously to life, Paris, He Said is a novel about desire, beauty and its appreciation, and of finding yourself presented with the things you believe you've always wanted, only to wonder where true happiness lies"--
Portraits of a few of the people I've made cry :
ISBN: 1558498583 OCLC: 648480760 University of Massachusetts Press, Amherst : ©2010. Stories that explore the tragicomic aspects of romantic love.
Portraits of a few of the people I've made cry :
ISBN: 9781620400463 OCLC: 827982075 Bloomsbury USA, [Unites States] : 2013. From the author of Little Known Facts, a striking debut story collection, winner of the Grace Paley Prize in Short Fiction and a Los Angeles Times Book Prize finalist.
The virginity of famous men :
ISBN: 1620406950 OCLC: 933590371 "The Virginity of Famous Men, award-winning story writer Christine Sneed's deeply perceptive collection on the human condition, features protagonists attempting to make peace with the paths they have taken thus far. In "The Prettiest Girls," a location scout for a Hollywood film studio falls in love with a young Mexican woman who is more in love with the idea of stardom than with this older American man who takes her with him back to California. "Clear Conscience" focuses on the themes of family loyalty, divorce, motherhood, and whether "doing the right thing" is, in fact, always the right thing to do. In "Beach Vacation," a mother realizes that her popular and coddled teenaged son has become someone she has difficulty relating to, let alone loving with the same maternal fervor that once was second nature to her. The title story, "The Virginity of Famous Men," explores family and fortune"--