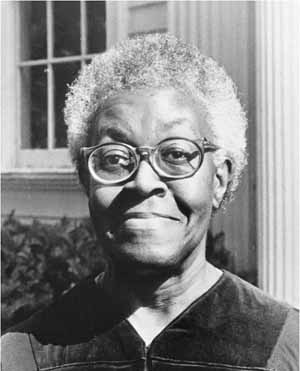 Gwendolyn Brooks
Born:
June 7, 1917 in Topeka, Kansas
Died:
December 3, 2000
Connection to Illinois
: Brooks moved to Chicago with her family when she was six months old and lived there the rest of her life.
Biography
: Gwendolyn Brooks was a poet, novelist, children's fiction and lecturer. She began writing poetry at seven years of age and had her first poem published in a magazine when she was 13. After college, Brooks worked a variety of jobs until her marriage and the birth of her two children, but she continued to write poetry. In 1945, her first of several books of poetry for adults was published to great praise. She won many honors and awards and, in 1950, was the first African American to win the Pulitzer Prize. It was for her book ''Annie Allen''. In all, she was the author of more than twenty books of poetry and was named the Poet Laureate of Illinois in 1968 and served in that capacity until her death in 2000. She also served as the Consultant in Poetry to the Library of Congress from 1985-86. Brooks had a lifelong commitment to sharing poetry and teaching writing. She taught around the country and held posts at the University of Chicago, Columbia College Chicago, Northeastern Illinois University, Chicago State University, Elmhurst College, Columbia University, City College of New York, and the University of Wisconsin-Madison. Along with her published works listed below, Brooks also edited two books - A Broadside Treasury and Jump Bad: A New Chicago Anthology. She also contributed to several anthologies including - A Portion of That Field: The Centennial of the Burial of Lincoln - written with Otto Kerner, Allan Nevins, Paul M. Angle, Mark Van Doren, Paul H. Douglas, Bruce Catton and Adlai E. Stevenson.
---
Awards
:
Annie Allen Pulitzer Prize, 1950; Eunice Tietjens Memorial Prize, Poetry magazine, 1949
In the Mecca Finalist, National Book Award in Poetry, 1969; Anisfield-Wolf Book Award (In the Mecca), 1969
Body of Work and Lifetime Achievements American Academy of Arts and Letters Award, 1946; Guggenheim Fellow in Poetry, 1946, 1947; Robert F. Ferguson Memorial Award, Friends of Literature, (Selected Poems), 1964; Thormod Monsen Literature Award, 1964; Illinois Poet Laureate, 1968-2000; Black Academy of Arts and Letters Award, 1971; Shelley Memorial Award of the Poetry Society of America, 1976; Illinois Author of the Year, Illinois Association of Teachers of English, 1978; Poet Laureate Consultant in Poetry to the Library of Congress, 1985-1986; Inducted into the National Women's Hall of Fame, 1988; Lifetime Achievement Award, National Endowment for the Arts, 1988; Robert Frost Medal for lifetime achievement, Poetry Society of America, 1989; Aiken Taylor Award, Sewanee Review, 1992; Jefferson Lecturer, National Endowment for the Humanities, 1994; Medal for Distinguished Contribution to American Letters, National Book Foundation, 1994; National Medal of Arts, 1995; Woman of the Year, Harvard Black Men's Forum, 1995; The Richard Wright Making History Award for Distinction in Literature, Chicago History Museum, 1995; Order of Lincoln award, The Lincoln Academy of Illinois, 1997; Illinois State Library building rededicated and named in Brooks' honor, 2003; Inducted into the Chicago Literary Hall of Fame, 2010
Primary Literary Genre(s):
Fiction; Poetry
Primary Audience(s):
Adult readers
Web:
https://www.poetryfoundation.org/poets/gwendolyn-brooks
Web:
https://www.biography.com/writer/gwendolyn-brooks
Web:
https://www.loc.gov/item/94838388/
Wikipedia:
https://en.wikipedia.org/wiki/Gwendolyn_Brooks
---
Selected Titles
A Broadside Treasury
ISBN: 0910296510 OCLC: 221174
A Capsule Course in Black Poetry Writing
ISBN: 0910296324 OCLC: 2040782 Broadside Press, Detroit : 1975. In this handbook, four authors write on the same topics but with varying emphases. Gwendolyn Brooks sketches the background of Afro-American poetry and offers practical hints and exercises for writing. Keorapatse Kgositsile discusses the role and situation of the black writer. Haki R. Madhubuti (Don L. Lee) explains an author's commitment and discusses the use of words, metaphors, symbols, and characters. Dudley Randall analyzes the syntactical and rhythmical structure of verse and gives suggestions on marketing. The book includes lists of books and articles for background and technique, answers to questions asked by beginning writers, and work sheets showing the growth of a poem.
A Street in Bronzeville
ISBN: 9781598533811 OCLC: 902675817 Gwendolyn Brooks was one of the most accomplished and acclaimed poets of the last century, the first black author to win the Pulitzer Prize and the first black woman to serve as poetry consultant to the Library of Congress- the forerunner of the U.S. Poet Laureate. Here is her groundbreaking first book of poems, a searing portrait of Chicago's South Side.
Aloneness
ISBN: 0910296553 OCLC: 267396 Broadside Press, Detroit : ©1971. A little boy reflects on the difference between being lonely and being alone.
Beckonings
ISBN: 0910296375 OCLC: 1898410 Broadside Press, Detroit : ©1975. The distinguished American poet limns the importance and human immediacy of black deaths, endeavors, desires, goals and perceptions in twelve free verse lyrics.
Blacks
ISBN: 0883781050 OCLC: 15649263 A 512-page collection of Gwendolyn Brooks's poetry and prose, written between 1945 and 1986. Brooks is one of the most influential black writers in contemporary American literature. An accomplished and prolific writer of poetry, fiction, and nonfiction, Brooks has the distinction of being the first African American writer to win a Pulitzer Prize. Critics recognize her as writing in two distinct modes: her early work is formal, characterized by a strict use of rhyme scheme and established poetic forms, while her later work is less controlled and more vernacular, meaning it uses more common, everyday language. Both styles are represented in Blacks. The majority of her writing explores the experiences of blacks within her community, who encounter racism and poverty as part of their everyday lives. Brooks regularly turns to the South Side of Chicago, which she calls "Bronzeville" in many of her books, as a source of inspiration for her work. Blacks encompasses many of the issues that affect the black diaspora (native Africans and their descendants living outside of Africa), using a variety of distinct perspectives. The book contains selections from eleven of Brooks's books of poetry and an autobiographical novel called Maud Martha. Brooks's approach varies in each section, ranging from the succinct portraits of A Street in Bronzeville to the more political "preachments" of To the Diaspora. Her characters include children, preachers, soldiers, entertainers, the mentally ill, squirrels, and even ghosts. References to historical figures, such as writer Langston Hughes and Black Nationalist leader Malcolm X, interweave with more personal poems that recount the speaker's experiences with prejudice. Many of her poems capture an important moment in a character's life. Together, these voices reflect the black community's diversity as it continues to resist damaging racist stereotypes. The detailed array of characters and experiences that Brooks captures helps to dismantle stereotypes and makes Blacks more than a mere literary concept piece. In a way it is a tribute, a far-reaching testimony to the variety of events, influences, and perspectives that occur in the black community. The poems in Blacks explore the abstract idea of blackness (as perceived in the larger social context), using concrete events and specific individuals. This approach affects the reader powerfully—Blacks becomes an archive, a definitive history, an encyclopedia, and a collective portrait of a people who have long been stigmatized by others' misperceptions. Brooks's book manages to validate and consolidate the vast experience of blackness without sacrificing the artistic intensity of good poetry.
Bronzeville Boys and Girls
ISBN: 0064437728 OCLC: 63125938 A collection of poems that celebrate the joy, beauty, imagination, and freedom of childhood.
Essential Brooks.
ISBN: 0060878762 OCLC: 63281849 HarperCollins : [New York?] : ℗2006. Pulitzer Prize winning poet Gwendolyn Brooks reads 27 of her best poems, including 'Do not be afraid of no, ' 'The bean eaters, ' 'Riot, ' and 'The sermon on the warpland, ' in a quiet, forceful manner that underscores the raw vigor of her writing, centered on the daily lives of black people in bleak cities--Container.
Family Pictures
ISBN: 091029643X OCLC: 127285 Brooks kept a habit of writing poetry to and about her friends and fellow poets. The collection Family Pictures speaks to the importance of these relationships, containing poems about people Brooks considered "kin." The central theme of the book is solidarity and unity in the face of global anti-Blackness, and the section "Young Heroes" contains dedication poems that show Brooks's admiration and support of a new generation of Black writers in the United States and abroad.
Gottschalk and the Grande Tarantelle
ISBN: 0944191061 OCLC: 19502420 David Co., Chicago : ©1988.
In Montgomery, and Other Poems
ISBN: 0883782324 OCLC: 52269120 Third World Press, Chicago : ©2003. Presents a collection of poems that provide monologues of a variety of voices, including urban children, Winnie Mandela, and Alabama civil rights workers.
In the Mecca
ISBN: 0060105372 OCLC: 279965 This was the Pulitzer Prize-winner's first new collection of poetry after a gap of nearly ten years.
Maud Martha
ISBN: 0883780615 OCLC: 28577117 A first novel by this world class poet, Maud Martha captures the essence of Black life. Gwendolyn Brooks portrays one woman's quest and love for life despite its difficulties. Whether she confronts teenaged love and marriage or the challenges of womanhood and adulthood survival, we come face to face with Maud Martha--recognizing that her beauty and strength reside deep in every one of us.--Page [4] of cover. September 2003 marked the 50th anniversary of Maud Martha, the only novel published by esteemed poet Gwendolyn Brooks. Initially entitled ""American Family Brown"" the work would eventually come to symbolize some of Brooks' most provocative writing. In a novel that captures the essence of Black life, Brooks recognizes the beauty and strength that lies within each of us.
Primer for Blacks
ISBN: 0883780569 OCLC: 25226172 Third World Press, Chicago, Ill. : 1991, ©1980. Brooks talks to her Black sisters and writes a short statement about the need for Black self-awareness.
Report from Part One
ISBN: 0910296820 OCLC: 522976 Broadside Press, Detroit, Michigan : ©1972. Miss Brooks relates the events of her life to her ongoing struggle to freely express the ideas and emotions of an African-American poet
Report from Part Two
ISBN: 088378162X OCLC: 34524051 Third World Press, Chicago : 1996. Musings and notes about the life, the family, and travels of Gwendolyn Brooks that is a reprise of a prior book, ""Report from Part One,"" published by Broadside Press in 1972. Brooks was the Consultant in Poetry for the Library of Congress from 1985 to 1986. This volume includes her introductions of visiting writers during that period.
Selected Poems
ISBN: 0060882964 OCLC: 767982 Selected Poems is the classic volume by the distinguished and celebrated poet Gwendolyn Brooks, winner of the 1950 Pulitzer Prize, and recipient of the National Book Foundation Medal for Distinguished Contribution to American Letters. This compelling collection showcases Brooks's technical mastery, her warm humanity, and her compassionate and illuminating response to a complex world. This edition also includes a special PS section with insights, interviews, and more—including a short piece by Nikki Giovanni entitled "Remembering Gwen." By 1963 the civil rights movement was in full swing across the United States, and more and more African American writers were increasingly outspoken in attacking American racism and insisting on full political, economic, and social equality for all. In that memorable year of the March on Washington, Harper & Row released Brooks's Selected Poems, which incorporated poems from her first three collections, as well as a selection of new poems. This edition of Selected Poems includes A Street in Bronzeville, Brooks's first published volume of poetry for which she became nationally known and which led to successive Guggenheim fellowships; Annie Allen, published one year before she became the first African American author to win the Pulitzer Prize in any category; and The Bean Eaters, her fifth publication which expanded her focus from studies of the lives of mainly poor urban black Americans to the heroism of early civil rights workers and events of particular outrage—including the 1955 Emmett Till lynching and the 1957 school desegregation crisis in Little Rock, Arkansas.
The Bean Eaters
ISBN: 1258269694 OCLC: 794207335 Literary Licensing Llc, [Whitefish, Mont.] : 2012. Follows the slow rhythm of an elderly couple's daily life. The poem's careful attention to the look and feel of the couple's tiny apartment—both scruffy and homey, poor and warm—subtly examines themes of aging, class, and nostalgia, all through the lens of everyday life in 20th-century Chicago.
The Near-Johannesburg Boy and Other Poems
ISBN: 0883780550 OCLC: 25302100 Third World Press, Chicago, Ill. : 1991, ©1986. Brooks writes about Africa and the African Americans.
The World of Gwendolyn Brooks
ISBN: 0060105380 OCLC: 173363 Harper & Row New York, [1971] The five major works of the American poet reveal the black experience in the U.S: A Street in Bronzeville, Annie Allen, Maud Martha, The Bean Eaters, and In the Mecca.
Tiger Who Wore White Gloves
ISBN: 0883780313 OCLC: 1103360 All the tiger's fierce qualities do not satisfy him; he wants to be stylish and wear white gloves.
To Disembark
ISBN: 0883781026 OCLC: 8082723 Unforgettable poetic imagery by one of the greatest female African American poets that captures the vitality and complexity of Black life.
Very Young Poets
ISBN: 0883780461 OCLC: 16850641 Third World Press, Chicago : 1987 A very simple set of instructions for young people who are trying to write poetry.
Winnie
ISBN: 088378050X OCLC: 25197145 Third World Press, Chicago, IL : 1991. A group of poems dedicated to Winnie Mandela, the wife of Nelson Mandela who was the first indigenous leader to hold the office of President of the Republic of South Africa.