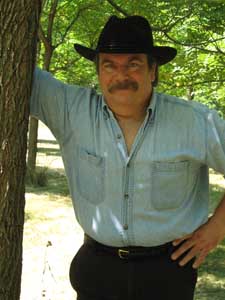 Robert Dean Wilson
Born:
1954 in Urbana, Illinois
Pen Name:
C.C. Wills
Connection to Illinois
: I was born in Urbana but grew up in Champaign. I worked for 35 yrs for Kraft Foods in Champaign, recently retired and now residing in Danville.
Biography
: I have now written 6 books total. My first three I call ''THE TREASURE TRILOGY'' and include - ''Treasure in the Shawnee Hills'' which came out in June 2011. It's sequel is ''Shawnee: The Adventure Continues'' which came out in July of 2012 and the third book is ''A Cherokee Wish'' which came out in August of 2013. All three of these books involve treasure hunting and take place in southern Illinois within the Shawnee National Forest. Places mentioned are Garden of the Gods, Shawneetown, Harrisburg, Crenshaw Mansion (old slave house) and others. I am a self-published author working through FriesenPress but have recently established my own publishing company - Grape Creek Publishing. My new book ''Memories'' is the first book published by GCP in both Hardback and Paperback versions. The eBook was put out by Smashwords along with versions of my first 3 books. On November 20th of 2014 I published my 5th and 6th books under my Grape Creek Publishing Company. The 5th book is called ''A Collection of Short Stories by C.C. Wills'' and contains 8 short stories all previously published in eBook versions on Smashwords. The 8 short stories are as follows: '''1) Bite of the Grizzly 2) The Haunted 3) 24 Hours Till Grace 4) Shawnee Wildcat Gold 5) Mama's Fried Chicken 6) Murder in Pounds Hollow 7) Through the Eye and Beyond & 8) The Lottery Ticket'''. This book also contains as an added extra an excerpt from my 2nd book ''Shawnee: The Adventure Continues''. These shorts are written in various forms of fiction genre containing horror, Christian faith healing, adventure, murder and science fiction. My 6th book is called ''Solitude...Portraits of the Lonely'' and is a fiction murder mystery. The book is based on a true story of senior abuse but has within the storyline a fictional murder so I call the story a fictional murder mystery. I wanted to bring the reality of senior abuse to everyone's attention - to realize that it is a reality and very much a part of our society today! The 7th book to be added to my credits is called 'Grandpa Tell Us A Story and other Short Stories.' It has 14 short stories in all - 8 from the series of shorts known as 'Grandpa Tell Us a Story' and the other 6 are individual shorts. The titles of these 6 are: 'On The Ridge', 'A New Beginning', 'The Homestead', 'Hunting A Spooked Tom', 'A Walk In The Snow' & 'His First Love'. The first 3 of these 6 and 'A Walk In The Snow' are all excerpts out of my first 3 books that make up The Treasure Trilogy and were published as individual shorts for the reading pleasure of those who have not read the trilogy. Hope you enjoy the new Short Stories! More books are in the works!
---
Awards
:
Primary Literary Genre(s):
Fiction; History; Mystery
Primary Audience(s):
Adult readers
E-Mail:
wlsgrck@ juno.com
Facebook:
https://www.facebook.com/builderbob09
Twitter:
http://www.twitter.com/builderbob09
Website:
http://www.ccwills-author.com
Website:
https://www.facebook.com/#!/C.C.Wills
---
Selected Titles
A Cherokee wish.
ISBN: 1460224493 OCLC: 857538027 Friesens Press, VanCover, BC. : 2013. Dean once again is in pursuit of treasure but what he finds will surprise you. Along the way he will meet yet another family member in spirit form. Who is the distant relative who becomes a part of Dean's life? What happens to the gold Dean was after? Will he survive yet another ordeal at the hands of his distant cousin, J.R.?
A collection of short stories /
ISBN: 0985795743 OCLC: 897832784 An assortment of short stories that range from gruesome horror, ghostly horror, Christian faith, adventure mystery, murder, sci-fi and general happenings.
Grandpa, tell us a story and other short stories /
ISBN: 098579576X OCLC: 982067408 This is an assortment of short stories that range from general happenings, adventure, mystery and romance.
Memories
ISBN: 0985795719 OCLC:
Shawnee :
ISBN: 1770977112 OCLC: 819421083 Friesen Press, Victoria, B.C. : ©2012. "[Dean] finds himself once again in the hands of danger while pursuing yet another treasure. Contacted by an unknown relative from southern Illinois, he is drawn back into the same area where he found the gold 10 years earlier, this time in search of a family treasure. Is there really more treasure or could there be something else on his relative's mind? We will learn some of Dean's ancestral history, his roots into the Cherokee bloodline! What lies in store for Dean and his buddy Jack as they enter again into the Shawnee Hills?--Dust jacket.
Solitude :
ISBN: 0985795735 OCLC: 897836666 Apathy, abuse, and murder surface in a story of adult children of aging parents.
Treasure in the Shawnee Hills /
ISBN: 1770675779 OCLC: 752313533 Friesen Press, Victoria, B.C. : 2011.