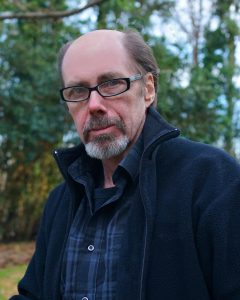 Jeffery Wilds Deaver
Born:
1950 in Glen Ellyn, Illinois
Pen Name:
Jeffery Deaver
Connection to Illinois
: Deaver was born outside of Chicago in 1950.
Biography
: Jeffery Deaver is a New York Times bestselling author. He wrote his first book 'which consisted of two entire chapters' when he was eleven, and he's been writing ever since. The #1 international bestselling and award-winning author of more than forty novels, three collections of short stories, and a nonfiction law book, Deaver's books are sold in 150 countries and translated into twenty-five languages. A former journalist, folksinger, and attorney, he was born outside of Chicago and has a bachelor of journalism degree from the University of Missouri and a law degree from Fordham University.
---
Awards
:
Mystery Writers of America, Grand Master Award, 2021
Primary Literary Genre(s):
Fiction; Mystery
Primary Audience(s):
Adult readers
E-Mail:
JefferyDeaver@aol.com
Facebook:
https://www.facebook.com/JefferyDeaver
IMDB:
https://www.imdb.com/name/nm0213281/
Instagram:
https://www.instagram.com/officialjefferydeaver/
Twitter:
https://twitter.com/intent/user?screen_name=JefferyDeaver&original_referer=http://www.jefferydeaver.com/mailinglist/
Website:
http://www.jefferydeaver.com/
Wikipedia:
https://en.wikipedia.org/wiki/Jeffery_Deaver
---
Selected Titles
A maiden's grave
ISBN: 9780753125304 OCLC: 156766394 Oxford : ℗2006.
Bloody river blues
ISBN: 0753115425 OCLC: 223356832 Isis, Oxford : 2002. Move over, Bonnie and Clyde ... Hollywood location scout John Pellam thought the scenic backwater town of Maddox, Missouri, would be the perfect site for an upcoming gangster film. But after real bullets leave two people dead and one cop paralysed, he's more sought after than the Barrows gang. Pellam had unwittingly wandered onto the crime scene just moments before the brutal hits. Now the fed and local police want him to talk. Mob enforcers want him silenced. And a mysterious blonde just wants him. Trapped in a town full of sinister secrets and deadly deceptions, Pellam fears that life will imitate art, as the film shoot - and his life - race toward a breathtaking and bloody climax.
Carte blanche :
ISBN: 1451620691 OCLC: 687664618 A James Bond thriller set in the present day finds the iconic British spy engaging a horrific modern villain in a cat-and-mouse chase that takes him from the Balkans and London to the African Continent.
Death of a blue movie star
ISBN: 0553285475 OCLC: 21962646 Bantam Books, New York : ©1990. The explosion of the Velvet Venus Theater, an X-rated movie house, makes twenty-one-year-old Rune determined to create a documentary on adult films, but she soon discovers that she is also tracking a killer to her prospective film career forever, in a revised edition of the best-selling author's classic thriller.
Edge :
ISBN: 1439156352 OCLC: 548597292 When Washington D.C. police detective Ryan Kessler is targeted by "lifter" Henry Loving, he and his family are immediately put under government protection. Assigned to the Kesslers is protection officer Corte: uncompromising, relentlessly devoted to protecting those in his care and a brilliant game strategist. As the "lifter" closes in on his prey, Corte must decide whether to protect his charges, or expose them to a killer in the name of personal revenge.
Garden of beasts
ISBN: 0743262158 OCLC: 66414294 Simon and Schuster, New York : cop. 2004. Een Amerikaanse crimineel wordt in 1936 met de Olympische ploeg naar Duitsland gestuurd om een aanslag te kunnen plegen op de architect van het Duitse bewapeningsprogramma.
Hard news
ISBN: 0553583298 OCLC: 45686194 Bantam Books, New York : 2001. Rune is an aspiring filmmaker with more ambition than political savvy, paying her dues as an assistant cameraperson for the local news. But she's got her eyes on the prize, the network's hot newsmagazine, Current Events-and she's got the story she knows will get her there. Poking around in the video archives, Rune spots a taped interview with Randy Boggs, who's doing hard time in Attica for a murder he claims he didn't commit. Rune can't say exactly why, but she's sure he's innocent. If she can prove it, Current Events won't merely report the news, it'll make news-and, Rune's career.
Manhattan is my beat
ISBN: 1587241544 OCLC: 48466784 Wheeler Pub., Rockland, MA : ©2000. Twenty-year-old Rune hasn't been in Manhattan for very long. But she's crafty enough to have found a squatter's paradise in an empty TriBeCa loft, and a video store job that feeds her passion for old movies. It's a passion she shares with her favorite customer, Mr. Kelly, a lonely old man who rents the same video over and over a noir classic based on a real-life unsolved bank heist and a million missing dollars.--Jacket.
Mistress of justice
ISBN: 0553297333 OCLC: 27971401 Bantam Books, New York : 1993, ©1992.
More twisted
ISBN: 9781407411316 OCLC: 754478038 Clipper Audio, Rearsby : 2008. 'More Twisted' is a collection of gripping short stories by bestselling author Jeffery Deaver.
Praying for sleep
ISBN: 0340606347 OCLC: 32050370 Hodder & Stoughton, London : 1994. Praying for revenge...Murderer Michael Hrubek has escaped. He's finally free. And he'll show them all, especially the woman who put him away. She called him a killer. He'll show her what killing is all about. Praying for salvation...Lis Atcheson knows he's out there--the man who killed two of her students. He's haunted every sleepless night following her testimony. Now the nightmares are coming true. He's watching...and waiting...and he's going to take Lis to hell with him.
Roadside crosses /
ISBN: 1416549994 OCLC: 300720441 The Monterey Peninsula is rocked when a killer begins to leave roadside crosses beside local highways. Kathryn Dance, the California Bureau of Investigation's foremost kinesics -- body language -- expert, and Deputy Michael O'Neil follow a lead to Travis Brigham, a troubled teenager whose role in a fatal car accident has inspired vicious attacks against him on a popular blog, The Chilton Report. But as the investigation progresses, Travis vanishes -- and Dance is forced to take desperate and risky measures in this searing cliff-hanger.
Solitude creek :
ISBN: 1455517151 OCLC: 890626133 "New York Times bestselling author Jeffery Deaver's next blockbuster thriller"--
Speaking in tongues /
ISBN: 0684871262 OCLC: 44420744 Simon & Schuster, New York : ©2000. Tate Collier, his ex-wife Brett, and their estranged daughter Megan are targeted by psychopathic psychologist Aaron Matthews for his own brand of revenge.
The blue nowhere /
ISBN: 0684871270 OCLC: 45661481 Simon & Schuster, New York : ©2001. A sadistic computer hacker, code-named Phate, sets his sights on Silicon Valley, infiltrating his victims' computers, invading their lives, and luring them to their deaths. An imprisoned hacker named Wyatt Gillette is freed to aid in the investigation, and teams up with old-school homicide cop Frank Bishop, forming an uneasy alliance in which they must utilize every ounce of their respective talents to stop Phate.
The bodies left behind /
ISBN: 1416595627 OCLC: 432682209 Investigating a late night emergency call that came from a Wisconsin vacation home, deputy Brynn McKenzie narrowly escapes an encounter with two professional criminals, and flees into the woods with Michelle, the city-girl who rented the house for the weekend, but if the women want to survive, they will have to learn to trust one another.
The bone collector /
ISBN: 0451188454 OCLC: 35548806 Viking, New York, N.Y., U.S.A. : 1997. A paralyzed New York detective is talked out of committing suicide to hunt for a cab driver who tortures and kills. The detective, Lincoln Rhyme, can only move his head so he is paired with police beauty Amelia Sachs. Together they go after the killer who tantalizes police with clues to his next murder. By the author of A Maiden's Grave.
The broken window :
ISBN: 1416549986 OCLC: 182662727 Simon & Schuster, New York : 2008. The mysterious 522 commits vicious crimes and then plants ironclad evidence to implicate innocent men. This timely thriller reunites Lincoln Rhyme with his partner and paramour Amelia Sachs, as they face their toughest adversary yet.
The burial hour :
ISBN: 1455536377 OCLC: 956687884 "DANGEROUSLY GOOD. DISTINCTIVELY DEAVER. New York Times bestselling author Jeffery Deaver returns to forensic detective Lincoln Rhyme in his most harrowing case yet. THE BURIAL HOUR A businessman snatched from an Upper East Side street in broad daylight. A miniature hangman's noose left at the scene. A nine-year-old girl, the only witness to the crime. With a crime scene this puzzling, forensic expertise of the highest order is absolutely essential. Lincoln Rhyme and Amelia Sachs are called in to investigate. Soon the case takes a stranger turn: a recording surfaces of the victim being slowly hanged, his desperate gasps the backdrop to an eerie piece of music. The video is marked as the work of The Composer ... Despite their best efforts, the suspect gets away. So when a similar kidnapping occurs on a dusty road outside Naples, Italy, Rhyme and Sachs don't hesitate to rejoin the hunt. But the search is now a complex case of international cooperation--and not all those involved may be who they seem. Sachs and Rhyme find themselves playing a dangerous game, with lives all across the globe hanging in the balance"--
The burning wire :
ISBN: 1439156336 OCLC: 460052673 Simon & Schuster, New York : 2010. Quadriplegic forensic criminologist Lincoln Rhyme leads his team--NYPD detective Amelia Sachs, officer Ron Pulaski, and FBI agent Fred Dellray--to find and stop a killer who uses electricity as modus operandi. Meanwhile, Rhyme is consulting on another high-profile investigation in Mexico with a most coveted quarry in his crosshairs: the hired killer known as the Watchmaker, one of the few criminals to have eluded Rhyme's net.
The coffin dancer /
ISBN: 0671024094 OCLC: 38478560 Simon & Schuster, New York, NY : ©1998. A cat-and-mouse game between New York police and a killer, hired to eliminate a trio of witnesses in a trial. He has already killed one and detectives Lincoln Rhyme, a quadriplegic, and Amelia Sachs have to catch him before he kills the other two. By the author of The Bone Collector.
The cold moon :
ISBN: 0743491572 OCLC: 132687997 Pocket Star, New York : ©2007. On a frigid December night, an eerie pattern emerges from two equally brutal murder scenes, where a killer's calling card is a moon-faced clock that seemingly ticked away the victims' last moments. From his wheelchair, criminologist Lincoln Rhyme tracks the Watchmaker, a time-obsessed genius. With every passing second, the Watchmaker is moving with razor-sharp precision to his next act of perfectly orchestrated violence -- and Rhyme can't afford to have his trusted partner, Amelia Sachs, distracted by a daunting homicide case of her own. Up against a brilliant madman, Rhyme and Sachs are locked in a blood-chilling race with their deadliest enemy: time itself ...
The cutting edge :
ISBN: 1538731843 OCLC: 1066256651 Lincoln Rhyme and Amelia Sachs return to New York City from their honeymoon in Italy to discover a killer is terrorizing New York City. Dubbed the Fiance Killer, their latest foe targets newly engaged couples by following them into jewelry stores, ending the couples' lives just before they can purchase the ring that symbolizes the future that will never be theirs. As panic grips the city, Rhyme and Sachs quickly spring into action with the full weight of the NYPD backing up the pair's forensic brilliance. But the killer proves elusive, and his agenda is much more than first meets the eye. Soon it becomes clear that the closer Rhyme and Sachs draw to the killer, the closer the killer draws to them. And their foe soon notices that there's something especially arresting about the ring Rhyme gave Sachs--something that could cost both of them their lives.
The Devil's teardrop /
ISBN: 1473631963 OCLC: 930759456
The empty chair /
ISBN: 0671026011 OCLC: 43487329 Simon & Schuster, New York : ©2000. Reowned criminalist Lincoln Rhyme is pitted against Amelia Sachs, his own brilliant protegee, as they disagree on the analysis of a crime they began working together.
The final twist
ISBN: 0525539131 OCLC: 1225177533
The Goodbye Man.
ISBN: 0525535977 OCLC: 1121472352
The Kill room :
ISBN: 1455517089 OCLC: 849739121 Grand Central Publishing, New York : 2013. Renowned investigator and forensics expert, Lincoln Rhyme, is drafted to investigate the sniper-killing of a U.S. citizen in the Bahamas. While his partner, Amelia Sachs, traces the victim's steps in Manhattan, Rhyme leaves the city to pursue the sniper himself.
The lesson of her death
ISBN: 0385424817 OCLC: 26810142 Doubleday, New York : ©1993. Involved in a murder case, dedicated cop Bill Corde little suspects that the killer responsible for the death of a college student will befriend and run away with his own learning-impaired daughter.
The Midnight Lock
ISBN: 0525536000 OCLC: 1240306078
The never game /
ISBN: 0525535942 OCLC: 1053611336 A young woman goes missing in Silicon Valley and her father hires Colter Shaw to find her. The son of a survivalist family, Shaw is an expert tracker. Now he makes a living as a "reward seeker," traveling the country to help police solve crimes and private citizens locate missing persons. But what seems a simple investigation quickly thrusts him into the dark heart of America's tech hub and the cutthroat billion-dollar video-gaming industry. When another victim is kidnapped, the clues point to one video game with a troubled past-- The Whispering Man. In that game, the player has to survive after being abandoned in an inhospitable setting with five random objects. Is a madman bringing the game to life? -- adapted from jacket
The October list /
ISBN: 1455576646 OCLC: 828056927 "New York Times bestselling author Jeffery Deaver's next blockbuster thriller"--
The skin collector :
ISBN: 1455517135 OCLC: 858351141 Grand Central Publishing, New York : 2014. Drafted in to investigate a series of killings by a butcher known as the Skin Collector, NYPD detective Lincoln Rhyme and his associate Amelia Sachs have little to go on but a series of cryptic messages left etched into the skin of the deceased.
The sleeping doll /
ISBN: 1439166412 OCLC: 428033076 Pocket Books, New York : ©2009, 2007. Special agent Kathryn Dance and her partners at the California Bureau of Investigation hunt down escaped killer Daniel Pell, a self-styled Charles Manson. Pell is a master of control, who mesmerizes, seduces, and exploits people for his own murderous ends. Pell embarks on a mysterious and deadly quest once he's free.
The steel kiss /
ISBN: 1455536342 OCLC: 913098518 "New York Times bestselling author Jeffery Deaver returns with his next blockbuster thriller featuring forensic detective Lincoln Rhyme. Amelia Sachs is hot on the trail of a killer. She's chasing him through a department store in Brooklyn when an escalator malfunctions. The stairs give way, with one man horribly mangled by the gears. Sachs is forced to let her quarry escape as she jumps in to try to help save the victim. She and famed forensic detective Lincoln Rhyme soon learn, however, that the incident may not be an accident at all, but the first in a series of intentional attacks. They find themselves up against one of their most formidable opponents ever: a brilliant killer who turns common products into murder weapons. As the body count threatens to grow, Sachs and Rhyme must race against the clock to unmask his identity--and discover his mission--before more people die."--
The stone monkey :
ISBN: 0743437802 OCLC: 57817801 Pocket Books, New York : 2003, ©2002. When a smuggler known as the Ghost scuttles a ship filled with undocumented Chinese immigrants right outside New York harbor, detective Lincoln Rhyme and his partner must stop him before he murders the two families who made it to shore.
The twelfth card
ISBN: 141652424X OCLC: 71692868 Pocket Star Books, New York [etc.] : 2006. In Harlem wordt een aanslag gepleegd op een scholiere die onderzoek doet naar een voorvader, een bevrijde slaaf die onterecht is beschuldigd van diefstal.
The vanished man :
ISBN: 0743437810 OCLC: 51151539 Simon & Schuster, New York : ©2003. This thriller pits forensic criminologist Lincoln Rhyme and his partner Amelia Sachs against an unstoppable "invisible" killer. As the fatalities rise and the minutes tick down, they must move beyond the smoke and mirrors to prevent a terrifying act of vengeance that could become the greatest vanishing act of all.
Twisted :
ISBN: 0743491599 OCLC: 53324938 Simon & Schuster, New York : ©2003. The title applies in several ways to this wicked collection of crime short stories, to many of the stories' characters and protagonists, who include murderers, adulterers, thieves; to the stories' arcs, which offer numerous bends and suprises.
XO /
ISBN: 1439156387 OCLC: 759913740 Simon & Schuster, New York : 2012. Special Agent Kathryn Dance must use her considerable skills at investigation and body language analysis to stop a celebrity stalker set in the world of country music.