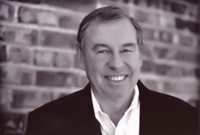 Taylor Pensoneau
Born:
1940 in Belleville, Illinois
Pen Name:
None
Connection to Illinois
: Pensoneau is a Belleville native. He graduated from Belleville Township High School and Belleville Junior College. He currently resides in Central Illinois.
Biography
: Taylor Pensoneau is one of the state's leading biographers of Illinois historical figures. He graduated from the University of Missouri's School of Journalism and worked 16 years for the St. Louis Post-Dispatch as the Springfield-based Illinois political correspondent. Pensoneau was also a political analyst at the Illinois statehouse. In early 1978, he joined the Springfield-based Illinois Coal Association as an executive and served as the Association's president from 1998 until his retirement in 2003. In 1991, former Illinois governor Daniel Walker asked Pensoneau to write his biography. Taylor's book, Dan Walker: The Glory and the Tragedy, was the start of his writing career. He has since written, Brothers Notorious: The Sheltons, an account of the rise and fall of the best-known gangster brothers to come out of southern Illinois, the critically acclaimed biography of former Illinois Governor Richard Ogilvie - Governor Richard Ogilvie: In the Interest of the State, Power House: Arrington from Illinois, about Senate Republican leader W. Russell Arrington and a mystery novel titled, Summer of '50. Pensoneau is the former president of the Board of Directors of the Illinois Center for the Book, an affiliate of the Center for the Book in the Library of Congress, former member of the Advisory Board for Illinois Issues magazine, former president of the Sangamon County Historical Society and former president of the Board of Trustees of the West Sangamon Public Library District. He and his wife also own and operate ''Downstate Publications'' in New Berlin.
---
Awards
:
"Dan Walker"
-- Illinois State Historical Society's Certificate of Excellence
"Governor Richard Ogilvie"
-- Illinois State Historical Society's Certificate of Excellence
Primary Literary Genre(s):
Fiction; History; Non-Fiction
Primary Audience(s):
Adult readers
Facebook:
https://www.facebook.com/pages/Downstate-Publications/356407311056680
Website:
http://www.downstatepublications.com
---
Selected Titles
Brothers notorious :
ISBN: 0971071802 OCLC: 48385273 Downstate Publications, New Berlin, IL : ©2002. In Brothers Notorious, Pensoneau traces the Shelton story from its unpretentious beginning in rural Wayne County to the headline-capturing violence at the tale's conclusion.
Dan Walker :
ISBN: 0962341460 OCLC: 28639005 Smith Collins, Evansville, IN : ©1993. The title of former Governor Dan Walker's biography is "Dan Walker, the Glory and the Tragedy." Written by Taylor Pensoneau and Bob Ellis, it reports on page 355 what Pat Quinn thought of Walker's term as governor. Playing off Blackburn College political science professor John Forbes' opinion that Walker had fallen "from a very promising guiding light in the Stevenson tradition to a largely confusing mishmash," the book says.
Dapper & Deadly :
ISBN: 0971071829 OCLC: 472852821 A compelling biography of the last of the big-name desperadoes from Southern Illinois. By the author of Brothers Notorious: The Sheltons, Southern Illinois' Legendary Gangsters.
Falling star /
ISBN: 0578216841 OCLC: 1107879119 Jake Brosky returns to center stage in his pursuit of the elusive Clarissa Monnet, a still beautiful but fading movie queen who has written a tell-all manuscript with dynamite revelations. Suppression of the manuscript heads a wish list of both powerful Illinoisans and the most infamous organized crimes figures in America in the 1950s. If things go far enough, the sanctity of Governor Elijah Sanderson's campaign for president faces a serious threat. Brosky goes to Hollywood and back as he resurrects her improbably life. A body floating in the Mississippi River, a high school yearbook, shameful past history and a return to Jake's life of sultry Sloan Dillard all are pieces of a puzzle tied to Clarissa.
Governor Richard Ogilvie :
ISBN: 9780809329076 OCLC: 551738683 Southern Illinois University Press, Carbondale : ©1997. Although serious scandal erupted in Illinois Governor Richard Ogilvie's administration― eight hundred thousand dollars mysteriously appearing in Secretary of State Paul Powell's shoe boxes and other hiding places, the downfall of two Supreme Court justices for questionable stock dealings, corruption surrounding the Illinois State Fair― Ogilvie's accomplishments, as Taylor Pensoneau demonstrates, rank him among the best governors in Illinois history. Perhaps the most important of Ogilvie's accomplishments during his single term in office (1969–1973) was the passage of the state's first income tax in 1969. Supporting the income tax took political courage on the part of the new governor, but in doing so he saved the financially crippled state from economic disaster. He also looked far into the future; at a time when few people expressed concern with the environment, Ogilvie created an exemplary and hard-hitting antipollution program. He was in office during the Illinois Constitutional Convention in 1970 and was instrumental in the widespread restructuring of Illinois government. Viewing Ogilvie as a pivotal figure in Illinois politics during a time of great social and political turmoil, Pensoneau provides a complete political biography. He sheds light on Ogilvie's military heroics, his political career, and the Illinois elections of 1968, 1970, and 1972.
Powerhouse :
ISBN: 1561679550 OCLC: 86106851 American Literary Press, Baltimore, MD : ©2006. W. Russell Arrington's name may not have been a household word across the country, but everything about him was classic American - from his proud immigrant ancestry and auspicious birthdate (July 4th) - to his rise from poverty to wealth and consummate legal, business, and political careers. From his days as "citizen legislator" in the mid-1940s to "powerhouse" politician by the 1960s, the political career of Illinois State Senator W. Russell Arrington characterized the evolution of a quintessential legislator, perhaps as no other in the twentieth century. His considerable influence in reshaping the Illinois General Assembly had long-reaching ramifications and lasting effects within that state and beyond. Biographer Taylor Pensoneau draws from his substantial knowledge of Illinois political history to bring Arrington's story to life. Lovers of American political, social, and corporate history will be drawn to the bigger-than-life characters and revealing back-stories that Pensoneau carefully creates on every page of this engrossing biography.
Reporting on life :
ISBN: 9780971071834 OCLC: 872670948 Taylor Pensoneau emerged from the Norman Rockwell town of his Illinois youth to become a hard-hitting reporter, coal industry executive and well-known author. He reveals an inside view of the Illinois Statehouse pressroom, Watergate coverage and other chapters comprising his journey. He chronicles the famous and not as famous and shares a detailed look at those who greatly impacted his existence. His story tells of tasting life's best and suffering heartbreak. It is also a window to his beloved state and a testament to the opportunities that make his country the best bet on earth for the fulfillment of dreams.
The summer of '50 /
ISBN: 0971071810 OCLC: 53312664 Downstate Publications, New Berlin, IL : ©2004. As if the summer of 1950 was not hot enough in Illinois, public temperament became feverish as the result of several murders that everyone suspected were linked to thriving, but illegal, gambling in the state. As the weeks unfolded, stakes soared for the folks who loved to roll the dice, the gangsters and a politically ambitious governor. Jake Brosky, the crack investigative reporter for the St. Louis World and an old hand in dealing with trouble in Illinois, was confident he could sort things out. Answers appeared easy enough at first, but Brosky started to suspicion there was more to the violence than met the eye. In order to get to the bottom of things, the crafty veteran discovered he needed to employ ever y reportorial trick in his book, and then some. Brosky had been on the trail of many scandals, but was never involved in a chase with a more surprising conclusion.