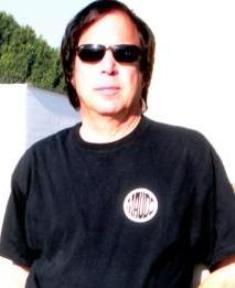 Greg Herriges
Born:
1950 Highland Park, Illinois
Pen Name:
None
Connection to Illinois
: Herriges grew up in Highland Park, Illinois. He graduated from Kendall College and the University of Illinois. Currently, he teaches English and createive writing a William Rainey harper College in Palantine, Illinois.
Biography
: Herriges essays and short storied have appeared in: The South Carolina Review, The Literary Review, Story Quarterly and Great Britain's World Wide Writers. His first article, ''Inherit The Streets'', was published in March of 1978 in the Chicago Tribune Magazine. A professor of English at William Rainey Harper College in Palatine, Illinois, Herriges also teaches a major survey course in Rock and Roll. He has also co-produced a DVD documentary film about Chicago garage rock bands. For more information on the film or Herriges, go to: [http://www.herriges.net http://www.herriges.net].
---
Awards
:
Primary Literary Genre(s):
Fiction; Non-Fiction
Primary Audience(s):
Adult readers
Email:
herriges3@aol.com
Website:
http://www.harpercollege.edu/libarts/eng/dept/faculty_herriges.shtml
Greg Herriges on WorldCat :
http://www.worldcat.org/search?q=greg+herriges
---
Selected Titles
JD :
ISBN: 1877655465 OCLC: 65177153 Wordcraft of Oregon, La Grande, OR : 2006. Inner-city teacher, Greg Herriges sets out to meet author, J.D. Salinger.
Secondary attachments /
ISBN: 0688061710 OCLC: 12420609 Morrow, New York : ©1986.
Someplace safe /
ISBN: 0380698978 OCLC: 12185701 Avon, New York : 1985, ©1984.
Streethearts
ISBN: 9780985849542 OCLC: 881827379 John Spector is a seasoned high school teacher with 22 years in the trenches of a ghetto school filled with struggling teenagers, gangs, apathetic students - but also students who make an indelible impression, kids with souls and hearts as big as the world. We get the whole spectrum from Spector, a brave and decent soul, a soft touch, too nice, too caring perhaps. Herriges spent many years as a high school teacher. He brings substance and legitimacy to Streethearts. The authenticity of his narrative comes across in every line of every page, many of them packed with witty and sparkling dialogue, at times genuinely humorous, occasionally grim or even horrific, but always candid, always down-to-earth, always reliable.--Cover.
The Bay of Marseilles and other stories /
ISBN: 0982692196 OCLC: 756698171 Serving House Books, LLC, Copenhagen ; 2011. A collection of short stories on the themes of desire, loss, isolation and power of love.
The winter dance party murders :
ISBN: 1877655260 OCLC: 39535195 Wordcraft of Oregon, La Grande, Or. : 1998.