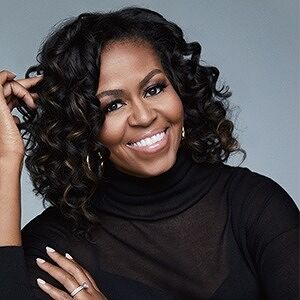 Michelle Obama
Born:
1964 in Chicago, Illinois
Pen Name:
None
Connection to Illinois
: Michelle Robinson Obama was born and raised in Chicago. She attended Whitney Young High School, Chicago's first magnet high school. Following law school, Michelle worked as an associate in the Chicago branch of the law firm Sidley Austin in the area of marketing and intellectual property. After a few years, she left her job to launch a career in public service, serving as an assistant to Mayor Daley and then as the assistant commissioner of planning and development for the City of Chicago. In 1993, she became Executive Director for the Chicago office of Public Allies, a non-profit leadership-training program that helped young adults develop skills for future careers in the public sector. Michelle joined the University of Chicago in 1996 as associate dean of student services, developing the University's first community service program. She then worked for the University of Chicago Hospitals beginning in 2002, as executive director of community relations and external affairs. In May 2005, she was appointed vice president of community relations and external affairs at the University of Chicago Medical Center. She also managed the business diversity program and sat on six boards, including the prestigious Chicago Council on Global Affairs and the University of Chicago Laboratory Schools. She also founded the Chicago chapter of Public Allies, an organization that prepares young people for careers in public service.
Biography
: Michelle Obama is a graduate of Princeton University and Harvard Law School. She started her career as an attorney at the Chicago law firm Sidley & Austin, where she met her future husband, Barack Obama - the 44th President of the United States.
---
Awards
:
Primary Literary Genre(s):
Non-Fiction
Primary Audience(s):
Adult readers; Young adult readers
Facebook:
https://www.facebook.com/michelleobama
IMDB:
https://www.imdb.com/name/nm2349292/
Instagram:
https://www.instagram.com/MichelleObama
Twitter:
https://twitter.com/michelleobama
Website:
https://www.whitehouse.gov/about-the-white-house/first-families/michelle-obama/
Wikipedia:
https://en.wikipedia.org/wiki/Michelle_Obama
YouTube:
https://www.youtube.com/watch?v=holHwF2KYBs
---
Selected Titles
American grown :
ISBN: 0307956024 OCLC: 790271044 Crown Publishers, New York : ©2012. This book is a pictorial guide by Michelle Obama, the First Lady of the United States, that describes how she and her daughters planted a vegetable garden on the White House's South Lawn as part of an initiative to raise awareness about childhood obesity. In February 2010, she launched Let's Move!, a nationwide initiative to address the epidemic of childhood obesity by bringing healthier food into schools and communities, and encouraging kids to be more active. Her book speaks to these issues and also includes practical ideas, recipes, and resources as well as tips on how to begin a garden of any size, anywhere, how to support local farmers' markets, and advice for making healthier food choices.
Becoming /
ISBN: 1524763136 OCLC: 1030413521 "An intimate, powerful, and inspiring memoir by the former First Lady of the United States. When she was a little girl, Michelle Robinson's world was the South Side of Chicago, where she and her brother, Craig, shared a bedroom in their family's upstairs apartment and played catch in the park, and where her parents, Fraser and Marian Robinson, raised her to be outspoken and unafraid. But life soon took her much further afield, from the halls of Princeton, where she learned for the first time what if felt like to be the only black woman in a room, to the glassy office tower where she worked as a high-powered corporate lawyer--and where, one summer morning, a law student named Barack Obama appeared in her office and upended all her carefully made plans. Here, for the first time, Michelle Obama describes the early years of her marriage as she struggles to balance her work and family with her husband's fast-moving political career. She takes us inside their private debate over whether he should make a run for the presidency and her subsequent role as a popular but oft-criticized figure during his campaign. Narrating with grace, good humor, and uncommon candor, she provides a vivid, behind-the-scenes account of her family's history-making launch into the global limelight as well as their life inside the White House over eight momentous years--as she comes to know her country and her country comes to know her. [This book] takes us through modest Iowa kitchens and ballrooms at Buckingham Palace, through moments of heart-stopping grief and profound resilience, bringing us deep into the soul of a singular, groundbreaking figure in history as she strives to live authentically, marshaling her personal strength and voice in service of a set of higher ideals. In telling her story with honesty and boldness, she issues a challenge to the rest of us: Who are we and who do we want to become?"--Book jacket.
Becoming: Adapted for Young Readers
ISBN: 0593303741 OCLC: 1236795565 This volume for young people is an honest and fascinating account of Michelle Obama's life led by example. She shares her views on how all young people can help themselves as well as help others, no matter their status in life. She asks readers to realize that no one is perfect, and that the process of becoming is what matters, as finding yourself is ever evolving. In telling her story with boldness, she asks young readers: Who are you, and what do you want to become?
Pocket Michelle wisdom :
ISBN: 1784881317 OCLC: 980369022