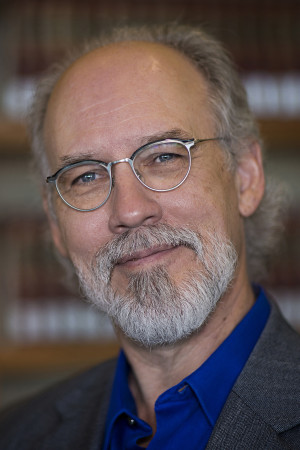 James LaRue
Born:
Waukegan, Illinois
Connection to Illinois
: LaRue was born and raised in Waukegan. He was the director of the ALA Office for Intellectual Freedom and Executive Director of the Freedom to Read Foundation in Chicago. He also worked for Lincoln Library in Springfield and Illinois State University in Normal. He has a Master's degree in Library and Information Science from the University of Illinois, Champaign-Urbana and a Bachelor's degree in Philosophy and English from Illinois State University.
Biography
: Jamie LaRue has appeared on National Public Radio, been quoted and highlighted in newspapers (the Denver Post, New York Times, the Washington Post, Wall Street Journal), magazines (Forbes, Governing), and has hosted an author interview cable TV program. A newspaper columnist for over two decades, he also wrote The New Inquisition: Understanding and Managing Intellectual Freedom Challenges (Libraries Unlimited, 2007).
---
Awards
:
Primary Literary Genre(s):
Non-Fiction
Primary Audience(s):
Adult readers
Blog:
https://jaslarue.blogspot.com/
Web:
https://www.jlarue.com/
---
Selected Titles
On Censorship: A Public Librarian Examines Cancel Culture in the US
ISBN: 1682753476 OCLC: 1371402704 Fulcrum Publishing [S.l.] : 2023 In America, censorship surges in periods of demographic and political change. Its primary purpose is to silence challenges to an established elite or norm. Today, censorship is part of a larger assault on such American institutions as schools, public libraries, and universities, the better to establish more control over the people--while also pilfering their wallets. On Censorship is a part of the Publisher's Speakers Corner Books.
The New Inquisition: Understanding and Managing Intellectual Freedom Challenges
ISBN: 1591582857 OCLC: 77572970 Libraries Unlimited Westport, Conn. : 2007 How can you become an effective advocate for intellectual freedom and patron privacy while maintaining a positive relationship with diverse elements of your community? Drawing on his experience as library director, this author advocates assuming a proactive role in every library function, from collection building to community outreach. This approach helps you understand the people who challenge library materials―as individuals and as members of various groups―turning enemies into allies and building an intellectual, freedom-friendly community. You'll learn what materials get challenged and why and how you can effectively respond to challenges while meeting diverse community needs. Here are stories from the frontlines, practical guidelines on policies and procedures as well as common-sense tips on how to maintain your cool while dealing with specific groups or individuals―all presented with common sense and humor. If you have been struggling with challenges and wonder how you can uphold your ideals while dealing with harsh realities, this is the book you have been waiting for.