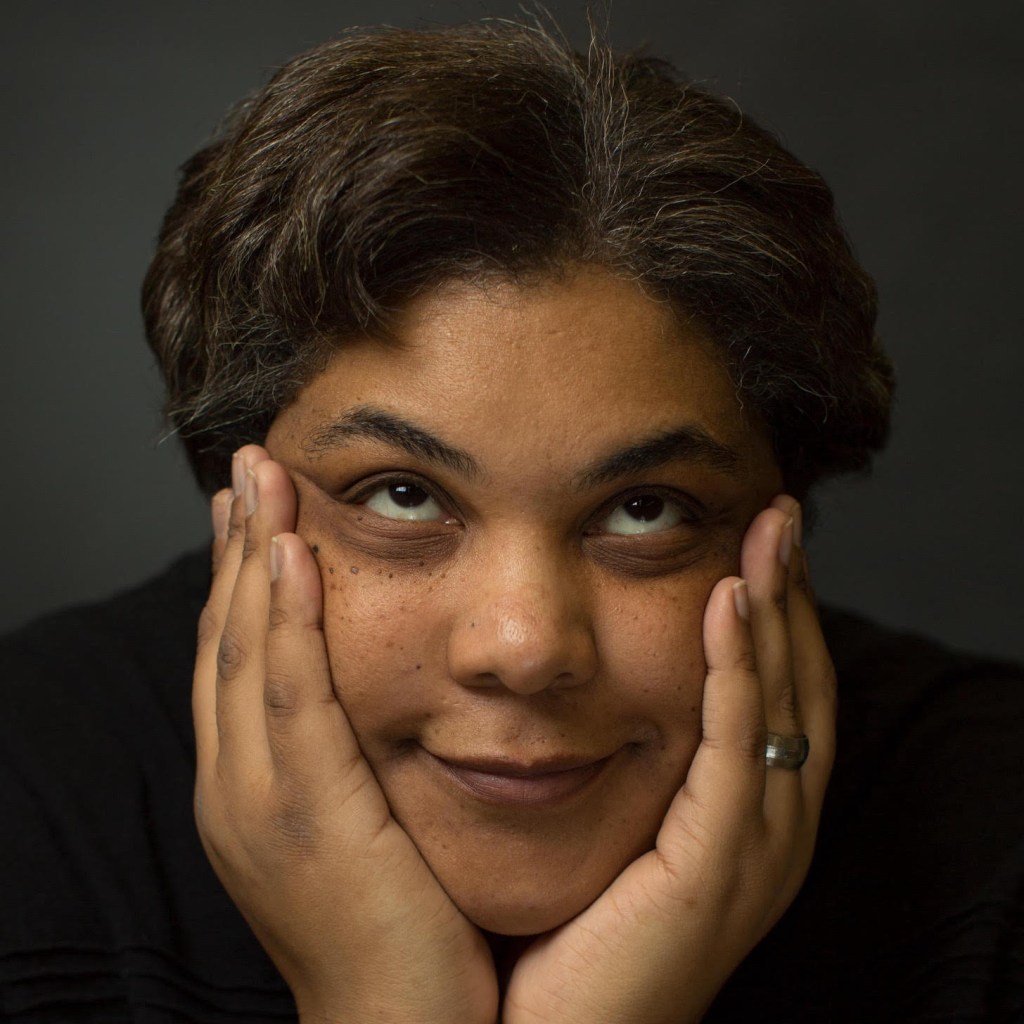 Roxanne Gay
Born:
1974 in Omaha, Nebraska
Pen Name:
Connection to Illinois
: Gay was an assistant professor at Eastern Illinois University for four years.
Biography
: Roxane Gays writing appears in Best American Mystery Stories 2014, Best American Short Stories 2012, Best Sex Writing 2012, A Public Space, McSweeneys, Tin House, Oxford American, American Short Fiction, Virginia Quarterly Review, and many others. She is a contributing opinion writer for the New York Times. She is the author of the books Ayiti, An Untamed State, the New York Times bestselling Bad Feminist, the nationally bestselling Difficult Women and the New York Times bestselling Hunger. She is also the author of World of Wakanda for Marvel. She has several books forthcoming and is also at work on television and film projects. She also has a newsletter, The Audacity.
---
Awards
:
''Hunger'',
-- New York Times bestseller National Book Critics Circle Award Finalist Lambda Literary Award winner A best book of 2017: Time NPR People Elle The Washington Post The Los Angeles Times The Chicago Tribune Newsday St. Louis Post-Dispa
Primary Literary Genre(s):
C:YOUNG ADULT; Fiction; Non-Fiction
Primary Audience(s):
Adult readers
Web:
https://roxanegay.com/
Facebook:
https://www.facebook.com/roxanegay74
Twitter:
https://twitter.com/rgay
Wikipedia:
https://en.wikipedia.org/wiki/Roxane_Gay
E-Mail:
roxane at roxanegay.com
WorldCat:
http://www.worldcat.org/search?q=Roxanne++Gay
---
Selected Titles
An Untamed State
ISBN: 1472119819 OCLC: 858894752 Corsair 2014 Mireille Duval Jameson is a rich and self-assured Haitian woman who is kidnapped by a gang of heavily armed men. Held captive by a man who calls himself the Commander, Mireille must endure his torment until her unwilling father pays up.
Bad Feminist
ISBN: 0062282719 OCLC: 861210005 Harper Perennial 2014 A collection of essays spanning politics, criticism, and feminism from one of the most-watched cultural observers of her generation. In these essays, the author takes us through the journey of her evolution as a woman of color while also taking readers on a ride through culture of the 2010s (Girls, Django Unchained) and commenting on the state of feminism (abortion, Chris Brown). The portrait that emerges is not only one of an insightful woman continually growing to understand herself and our society, but also one of our culture. This book takes a look at the ways in which the culture we consume becomes who we are, and serves as a call-to-arms of all the ways we still need to do better.
Ayiti
ISBN: 1472154177 OCLC: 1005537790 Corsair 2011 Clever and haunting by turns, Ayiti explores the Haitian diaspora experience. A married couple seeking boat passage to America prepares to leave their homeland. A mother takes a foreign soldier into her home as a boarder, and into her bed. And a woman conceives a daughter on the bank of a river while fleeing a horrific massacre, a daughter who later moves to America for a new life but is perpetually haunted by the mysterious scent of blood. Wise, fanciful, and daring, Ayiti is the book that put Roxane Gay on the map and now, with two previously uncollected stories, confirms her singular vision.
Black Panther: World of Wakanda
ISBN: 130290650X OCLC: 960277584 Marvel 2017 You know them as the Midnight Angels, the breakout characters from Ta-Nehisi Coates' best-selling Black Panther. But before they became rebel leaders, they were just Ayo and Aneka - young women recruited into the Dora Milaje, an elite task force sworn to protect Wakanda's crown. But what if their burgeoning love for each other interferes with that oath? And when the crown fails to protect Wakanda's people, are Ayo and Aneka ready to step up - even at the cost of their own lives? Roxane Gay, best-selling author of Bad Feminist and An Untamed State, teams with MacArthur Fellow Coates to tell a love story as tender as it is brutal--Page 4 of cover.
Difficult Women
ISBN: 0802125395 OCLC: 957223201 Grove Press 2017 Award-winning author and powerhouse talent Roxane Gay burst onto the scene with An Untamed State and the New York Times bestselling essay collection Bad Feminist (Harper Perennial). Gay returns with Difficult Women, a collection of stories of rare force and beauty, of hardscrabble lives, passionate loves, and quirky and vexed human connection. The women in these stories live lives of privilege and of poverty, are in marriages both loving and haunted by past crimes or emotional blackmail. A pair of sisters, grown now, have been inseparable ever since they were abducted together as children, and must negotiate the elder sister's marriage. A woman married to a twin pretends not to realize when her husband and his brother impersonate each other. A stripper putting herself through college fends off the advances of an overzealous customer. A black engineer moves to Upper Michigan for a job and faces the malign curiosity of her colleagues and the difficulty of leaving her past behind. From a girls' fight club to a wealthy subdivision in Florida where neighbors conform, compete, and spy on each other, Gay delivers a wry, beautiful, haunting vision of modern America reminiscent of Merritt Tierce, Jamie Quatro, and Miranda July--
Girl Crush: Women's Erotic Fantasies
ISBN: 1573443948 OCLC: 759159711 Cleis Press, Berkeley, Calif. : 2010. Every woman has a girl crush -- that physical and emotional fascination with another intriguing, provocative woman who inspires the thought, What if? Girl Crush answers that question with an inspiring range of erotic short stories about women acting on their desire and sometimes getting more than they bargained for. Teresa Lamai offers an erotic take on revenge in Mirador, when a woman has hate sex in a nightclub bathroom with the person her boyfriend is cheating on her with. In Getting to Work, David Erlewine writes about a hot young lawyer who has a lot of work to do to make a demanding, sex-craved partner happy. Writer and editor Rachel Kramer Bussel shows us the unexpected in Great Lengths, when an unrequited crush finally evolves into something more -- and something less. In Girl Crush, what happens next is always a surprise, to straight women, bisexual women, and lesbians alike.
Hunger
ISBN: 0062362593 OCLC: 918590664 Harper 2017 New York Times bestselling author Roxane Gay has written with intimacy and sensitivity about food and bodies, using her own emotional and psychological struggles as a means of exploring our shared anxieties over pleasure, consumption, appearance, and health. As a woman who describes her own body as 'wildly undisciplined, ' Roxane understands the tension between desire and denial, between self-comfort and self-care. In Hunger, she casts an insightful and critical eye on her childhood, teens, and twenties--including the devastating act of violence that acted as a turning point in her young life--and brings readers into the present and the realities, pains, and joys of her daily life. With the bracing candor, vulnerability, and authority that have made her one of the most admired voices of her generation, Roxane explores what it means to be overweight in a time when the bigger you are, the less you are seen. Hunger is a deeply personal memoir from one of our finest writers, and tells a story that hasn't yet been told but needs to be--Publisher's description.
Not That Bad: Dispatches from Rape Culture
ISBN: 0062851462 OCLC: 1032448960 Harper 2018 In this valuable and timely anthology, cultural critic and bestselling author Roxane Gay has collected original and previously published pieces that address what it means to live in a world where women have to measure the harassment, violence, and aggression they face, and where they are 'routinely second-guessed, blown off, discredited, denigrated, besmirched, belittled, patronized, mocked, shamed, gaslit, insulted, and bullied' for speaking out. Highlighting the stories of well-known actors, writers, and experts, as well as new voices being published for the first time, Not That Bad covers a wide range of topics and experiences, from an exploration of the rape epidemic embedded in the refugee crisis to first-person accounts of child molestation and street harassment. Often deeply personal and always unflinchingly honest, this provocative collection both reflects the world we live in and offers a call to arms insisting that 'not that bad' must no longer be good enough.--Dust jacket flap.
The Banks
ISBN: 1952203066 OCLC: 1182866793 TKO Studios 2019
The Sacrifice of Darkness
ISBN: 1684156246 OCLC: 1142390944 Archaia 2020 Follow the journey of two young adults, Joshua and Claire, each individually shaped by the day the sky went dark, but drawn to each other because of it. Coming of age in this new landscape, they will be forced to confront and challenge notions of identity, guilt, and survival as the darkness grows around them. When fear threatens to envelop all hope they have left, the two discover that love, family, and finding the true light in a world seemingly robbed of any, will guide their way forward.--Provided by publisher.