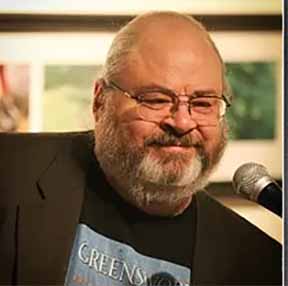 Donald J Bingle
Born:
1954 in Aurora, Illinois
Connection to Illinois
: Bingle was born in Aurora and currently resides in St. Charles. He is a graduate of Naperville Central High School, University of Chicago and University of Chicago Law School.
Biography
: Donald J Bingle is a member of International Thriller Writers, Science Fiction & Fantasy Writers of America, Horror Writers Association, International Association of Media Tie-In Writers, Humor Writers of America, GenCon Writers' Symposium, and Origins Game Fair Library.
---
Awards
:
Primary Literary Genre(s):
Fiction; Science Fiction
Primary Audience(s):
Adult readers
E-Mail:
dbingle@bellboyd.com
Facebook:
https://www.facebook.com/donaldjbingle
LinkedIn:
https://www.linkedin.com/in/donaldjbingle
Twitter:
https://twitter.com/donaldjbingle
Website:
https://www.donaldjbingle.com/
WorldCat:
http://www.worldcat.org/search?q=Donald++J++Bingle
---
Selected Titles
Flash Drive (A Dick Thornby Thriller)
ISBN: 1732343454 OCLC: 54-40' Orphyte, Inc. 2021
Forced Conversion
ISBN: 1594142548 OCLC: 56194816 Five Star, Waterville, Me. : 2004.
Frame Shop: Critiquing Another Writer Can Be Murder
ISBN: 0692342621 OCLC: 911270285 54-40' Orphyte, Inc. Waterville, Me. : 2014
Greensword: A Tale of Extreme Global Warming (Five Star Science Fiction and Fantasy Series)
ISBN: 1594147280 OCLC: 249134641 Five Star, Waterville, Me. : 2009. Zeke, Milo, and Brandon, members of a tiny ecoprotest group called GreensWord, aim to stop global warming before the beach house of their prime (and only) benefactor, actor Matthew Barrington, slides into the ocean. When Barrington threatens to cut off their funding, the enterprising trio steps up its timetable and changes its agenda from painting the roofs of houses white to deflect the sun's heat to a plan that rivals the worst nightmares of everyone living in the nuclear age.
Net Impact (A Dick Thornby Thriller)
ISBN: 1732343411 OCLC: 54-40' Orphyte, Inc. 2018
The Love-Haight Case Files, Book 1: Seeking Supernatural Justice
ISBN: 1953062164 OCLC: Craig Martelle, Inc 2021
The Love-Haight Case Files, Book 2: Fighting for Other-Than-Human Rights
ISBN: 1953062172 OCLC: Craig Martelle, Inc 2021
Wet Work (A Dick Thornby Thriller)
ISBN: 1732343438 OCLC: 1222915910 54-40' Orphyte, Inc. 2018 Dick Thornby is not Hollywood's idea of a spy. He's not a supercool guy in a tuxedo or a crazed loner who does nothing but kill and drive fast. He's just a regular guy with some skills for a job that needs doing. He also has a wife, a teenaged kid, a mortgage, and all the mundane problems associated with life. His friends from the New Jersey subdivision where he lives all think he is a wastewater treatment consultant. But instead of dealing with the dirty job of processing sewage in third world countries, he is really on missions, some mundane and dirty, others of vital importance and even dirtier. After taking personal revenge on the criminal behind both his son's injuries and the continued disintegration of his marriage, Dick Thornby is teamed with Acacia (Ace) Zyreb, a young, female agent from the East European office of the Subsidiary, to deal with the mystery behind coordinated hacking of the braking systems of several car models. Doing his best to maintain his vows to his wife, Dick struggles to deal with the inexperience and provocative attitude of Ace on her first non-European mission. Their somewhat combative investigation takes a left turn by uncovering a much more sinister threat to the world and to Dick's family. He's willing to risk his job, his partner, and his life to eliminate the threat, but the clock is ticking. From the author of Net Impact, plus other fine thrillers, including Forced Conversion, GREENSWORD, and Frame Shop.