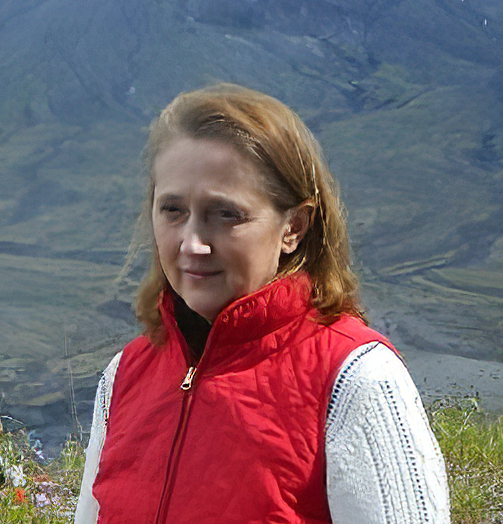 Melanie Holmes
Born:
Chicago, IL 1962
Connection to Illinois
: Holmes wrote the biography of Dr. David A.Johnston who was raised in Oak Lawn, IL,attended University of Illinois, and fillowed his dream of becoming a volcanologist, only to die in the 1980 eruption of Mount St. Helens. The book is rich in history of a generation of young men who dealt with anxities of the cold war and the violence of the 1960s social movements and the Vietnam war. Holmes also has written a pictorial history of Manteno, IL; the site of a large mental institution as well as the backdrop for Elizabeth Packard's fight for married women's property rights in the mid to late 1800s.
Biography
:
---
Awards
:
''The Female Assumption'',
-- Global Media Award 2014
Primary Literary Genre(s):
History; Non-Fiction
Primary Audience(s):
Adult readers; Young adult readers
E-Mail:
HolmesAuthor11@gmail.com
Facebook:
https://www.facebook.com/Melanie-Holmes-467706716674112/
Website:
https://www.melanieholmesauthor.com/
WorldCat:
http://www.worldcat.org/search?q=Melanie++Holmes
---
Selected Titles
A Hero on Mount St. Helens: The Life and Legacy of David A. Johnston
ISBN: 9780252084317 OCLC: 1100767589 University of Illinois Press 2019 Serendipity placed David Johnston on Mount St. Helens when the volcano rumbled to life in March 1980. Throughout that ominous spring, Johnston was part of a team that conducted scientific research that underpinned warnings about the mountain. Those warnings saved thousands of lives when the most devastating eruption in U.S. history blew apart Mount St. Helens, but killed Johnston on the ridge that now bears his name. Melanie Holmes tells the story of Johnston's journey from a nature-loving Boy Scout to a committed geologist. Blending science with personal detail, Holmes follows Johnston through encounters with Aleutian volcanoes, his work helping the Portuguese government assess the geothermal power of the Azores, and his dream job as a volcanologist with the U.S. Geological Survey. Interviews and personal writings reveal what a friend called the most unjaded person I ever met, an imperfect but kind, intelligent young scientist passionately in love with his life and work and determined to make a difference.
Manteno; Images of America
ISBN: 9781467104487 OCLC: 1121082849 Arcadia 2020
The female assumption :
ISBN: 1500933058 OCLC: 900476011 "A call to action from award-winning author, unique because it is sounded by a mother of 3 with 30+ years perspective. 50 years after the 2nd Women's Movement, it's time to free females from the assumption that motherhood is the ultimate expression of womanhood. It is a meaningful path--and there are many more! Women have been redefining the female experience for centuries, but their voices keep vanishing. Following the footsteps of Kate Chopin, Charlotte Perkins Gilman, Tillie Olsen, Madelyn Cain and other mothers who have written about the realities of women's lives, Holmes endeavors to shine a 21st century bright light on this topic and encourage everyone to dispense with outdated scripts that refer to motherhood as a foregone conclusion rather than one path of many that leads to a meaningful life. There are many aspects of love and definitions of "family." Join Holmes in her quest to change the way we view women's lives." -- Amazon.com viewed May 19, 2020.