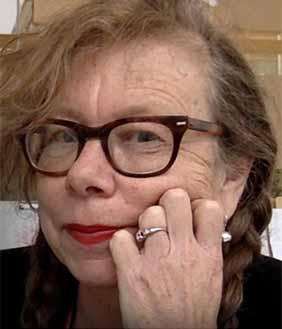 Lynda Barry
Born:
1956 in Wisconsin
Pen Name:
Connection to Illinois
: Barry lived in Chicago until 2002.
Biography
: Lynda Barry has worked as a painter, cartoonist, writer, illustrator, playwright, editor, commentator, and teacher. She is the inimitable creator behind the seminal comic strip Ernie Pook's Comeek, and author of The Freddie Stories,One! Hundred! Demons!, The! Greatest! of! Marlys!, Cruddy: An Illustrated Novel, Naked Ladies! Naked Ladies! Naked Ladies!, and The Good Times are Killing Me, which was adapted as an off-Broadway play and won the Washington State Governor's Award. Barry has written three bestselling and acclaimed creative how-to graphic novels for D+Q: the Eisner Award-winning What It Is, and Picture This, and Syllabus: Notes from an accidental professor.
---
Awards
:
Primary Literary Genre(s):
Fiction; Illustrator
Primary Audience(s):
Adult readers
Website:
http://https://www.barclayagency.com/speakers/lynda-barry/
Website:
http://https://thenearsightedmonkey.tumblr.com/
Twitter:
https://twitter.com/NearSitedMonkey?ref_src=twsrc%5Egoogle%7Ctwcamp%5Eserp%7Ctwgr%5Eauthor
WorldCat:
http://www.worldcat.org/search?q=Lynda++Barry
---
Selected Titles
Blabber Blabber Blabber
ISBN: 9781770460522 OCLC: 751803042 Drawn & Quarterly ; Montréal, Quebec : 2011. Collects the first iterations of Ernie Pook's Comeek, includes the author's earliest book, Girls and Boys, and features an introduction by Barry, complete with photographs.
Cruddy
ISBN: 9780684838465 OCLC: 41118851 Simon & Schuster, New York : ©1999. A psycho-killer's daughter narrates her gory youth. Disguised as a boy she accompanies her father on his murderous jobs, during which she pretends to be a mute so as not to give away her voice. One of the more memorable tasks is disposing of dead mobsters in a slaughterhouse.
Making Comics
ISBN: 9781770463691 OCLC: 1080274289 Drawn and Quarterly 2019 For more than five years the cartoonist Lynda Barry has been an associate professor in the University of Wisconsin–Madison art department and at the Wisconsin Institute for Discovery, teaching students from all majors, both graduate and undergraduate, how to make comics, how to be creative, how to not think. There is no academic lecture in this classroom. Doodling is enthusiastically encouraged. Making Comics is the follow-up to Barry's bestselling Syllabus and this time she shares all of her comics-making exercises. In a new hand drawn syllabus detailing her creative curriculum, Barry has students drawing themselves as monsters and superheroes, convincing students who think they can't draw that they can, and most important, encouraging them to understand that a daily journal can be anything so long as it is hand drawn.--
One! Hundred! Demons!
ISBN: 9781770462779 OCLC: 951552613 Drawn and Quarterly Montréal, Quebec : 2002 In One Hundred Demons, a collection of 20 autobiographical comic strip stories, Lynda Barry wrestles with some of hers in her signature quirky, irrepressible voice. From Dancing and Hate to Dogs and Magic, the tales included here are at once hilarious and heartbreaking. As she delves into the delights and sorrows of adolescence, family, identity, and love, Barry's ear for dialogue, dead-on delivery, and painterly style showcase her considerable genius.--
Picture This
ISBN: 9781897299647 OCLC: 243544497 Drawn & Quarterly ; Montréal, Quebec : 2010. A series of portraits features a myopic monkey protagonist and the author's most beloved character, Marlys, in a collection that follows her everyday and fantastical routines of preparing food, waiting for the bus, and associating with her elephant-eared imaginary friend.
Syllabus
ISBN: 9781770461611 OCLC: 867897466 Drawn and Quarterly 2014 Offers selected pages from the author's illustrated notebooks kept during a three year period when she was figuring out how to teach a course on keeping creative notebooks.
The Freddie Stories
ISBN: 9781770460904 OCLC: 802295194 Drawn & Quarterly, Montréal, Quebec : 2012. The Freddie Stories traces a year in the life of Freddie, the youngest member of the dysfunctional Mullen family. These four-panel entries - each representing an episode in the life of Freddie - bring to life adolescence, pimples and all. No matter what happens, it all seems to go wrong for Freddie - he's set up as an arsonist, mercilessly teased in school, and bossed around by classmates. With consummate skill, Lynda Barry writes about the cruelty of children at this most vulnerable age when the friends they make and the paths they choose can forever change their lives--Publisher's web site.
The Good Times Are Killing Me
ISBN: 9781770462618 OCLC: 1099542911 Drawn and Quarterly Montréal, Quebec : 2017 Young Edna Arkins lives in a neighborhood that is rapidly changing, thanks to white flight from urban Seattle in the late 1960s. As the world changes around her, Edna is exposed to the callous racism of adults; sometimes subtle and other times blatant, but always stinging. At the heart of The Good Times Are Killing Me is the forbidden friendship between Edna who is white and Bonna Willis who is black, and how the world around them forces them to challenge their loyalties to each other. As Barry does in her comics, she perfectly captures the awkward and earnest adolescent voice as Edna moves from childhood to middle school. Originally published in 1988, The Good Times Are Killing Me is as relevant now as it ever was. Its influence cannot be overstated as it was adapted into an off-Broadway play and won the Washington State Governor's Award. D+Q will be publishing the novella in hardcover with a new cover and the color illustrations from the first edition.--
The Greatest of Marlys
ISBN: 9781770462649 OCLC: 1032013997 Drawn and Quarterly Montréal, Quebec : 2016 Eight-year-old Marlys Mullen is Lynda Barry's most famous character from her long-running and landmark comic strip Ernie Pook's Comeek, and for good reason! Given her very own collection of strips, Marlys shines in all her freckled and pig-tailed groovy glory. The trailer park where she and her family live is the grand stage for her dramas big and small. Joining Marlys are her teenaged sister Maybonne, her younger brother Freddie, their mother, and an offbeat array of family members, neighbors, and classmates. Marlys's enthusiasm for life knows no bounds. Her childhood is one where the neighborhood kids stay out all night playing kickball; the desire to be popular is unending; bullies are unrepentant; and parents make few appearances. The Greatest Of Marlys spotlights Barry's masterful skill of chronicling childhood through adolescence in all of its wonder, awkwardness, humor, and pain.
What It Is
ISBN: 9781897299357 OCLC: 1029387432 Drawn & Quarterly, Montréal : ©2008, 2017. How do objects summon memories? What do real images feel like? For decades, these types of questions have permeated the pages of Lynda Barry's compositions, with words attracting pictures and conjuring places through a pen that first and foremost keeps on moving. What It Is demonstrates a tried-and-true creative method that is playful, powerful, and accessible to anyone with an inquisitive wish to write or to remember. Composed of completely new material, each page of Barry's first Drawn & Quarterly book is a full-color collage that is not only a gentle guide to this process but an invigorating example of exactly what it is: The ordinary is extraordinary.--Publisher description.