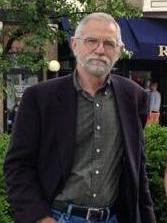 James Krohe, Jr.
Born:
1948, in Beardstown, Illinois
Pen Name:
None
Connection to Illinois
: James Krohe Jr. was born in Beardstown and raised in Springfield in a family whose roots in the area date to the 1830s. Apart from brief sojourns on the West Coast, he has lived in a succession of Chicago suburbs since 1988. His introduction to the state's history began as a young man, when he worked variously as a docent at the restored Lincoln-Herndon Law Offices in Springfield and on field excavations of both frontier and Mississippian-era archeological sites in the Sangamon and Illinois river valleys. In the 1970s he was the editor and designer and occasionally an author of a series of monographs published by the Sangamon County Historical Society under the title Bicentennial Studies. He researched and wrote two of the most popular of that series, 'Summer of Rage: The Springfield Race Riots of 1908' and 'Darkness at Noon: A History of Coal Mining in Sangamon County.' "Summer of Rage' introduced that event to a general audience, which led eventually to the riots being officially commemorated in the capital city by tours, markers, and brochures. In 1977 he edited and designed 'A Springfield Reader,' a book-length anthology of published writing about the capital city. In 2017, Southern Illinois University Press released to enthusiastic reviews Corn Kings & One-One Horse Thieves, his history of the middle third of Illinois. An archives of all of Mr. Krohe's writing on Illinois, past and present, is available at https://www.jameskrohejr.com/.
Biography
: While Mr. Krohe has had a busy career as a national journalist since 1975, his primary focus has always been Illinois. He was a contributor, columnist, and associate editor at the Springfield weekly, Illinois Times (IT), from its founding in 1975 until 1994; he resumed his career as an IT columnist in 2009 with a new weekly column, 'Dyspepsiana.' Until the post was abolished, Krohe was a long-time contributing editor at Illinois Issues magazine, the monthly of government and public affairs published by the University of Illinois, to which he has contributed dozens of feature articles and essays of analysis (including reviews of works on state history) from 1978 to the present. Krohe's work appeared frequently in Nature of Illinois, the journal of The Nature of Illinois Foundation. In the 1990s his career took him to Chicago. From 1978 until 1998 he contributed some sixty cover stories, essays, and reviews to Chicago Reader. He also was contributing editor of the bimonthly magazine Chicago Times from 1989 until 1990 when the magazine closed, and served in the same position at Chicago-based Inland Architect magazine from 1992 until its sale in 1994. He was a regular contributor to Chicago Enterprise magazine, the monthly of the Commercial Club of Chicago, until it ceased publication. In addition to magazine and newspaper work, Krohe has written and/or edited several reports and studies for Illinois public agencies and not-for-profit organizations. Topics include conservation planning, child welfare, school district reorganization, drug education, energy conservation, solid waste policy, and historic preservation. In 2008 he edited and wrote introductory material for The Plan of Chicago@100, a collection of essays about the work of Daniel H. Burnham, published to commemorate the centenary of Burnham's 1909 Plan of Chicago.
---
Awards
:
"""Corn King and One-Horse Thieves: A Plain-Spoken History of Mid-Illinois"""
-- Superior Achievement Award, Illinois State Historical Society, 2018
"""A Springfield Reader: Historical View of the Illinois Capital, 1818-1976"""
-- Award of Merit, Illinois State Historical Society, 1977
"""Other Awards"""
-- Best Column Award, Illinois Press Association, 1994
-- Peter Lisagor Award for reporting, Chicago Headline Club, 1985
-- Editorial Excellence Award, American Society of Business Publications Editors, 1985
Primary Literary Genre(s):
History; Non-Fiction
Primary Audience(s):
Adult readers
E-Mail:
CornLatitudes@outlook.com
Website:
https://www.jameskrohejr.com/
---
Selected Titles
Corn kings & one-horse thieves :
ISBN: 0809336022 OCLC: 956626021 "In Corn Kings and One-Horse Thieves, James Krohe Jr. presents an engaging history of an often overlooked region, filled with fascinating stories and surprising facts about Illinois's midsection. Krohe describes in lively prose the history of mid-Illinois from the Woodland period of prehistory up until roughly 1960, covering the settlement of the region by peoples of disparate races and religions; the exploitation by Euro-Americans of forest, fish, and waterfowl; the transformation of farming into a high-tech industry; and the founding and deaths of towns. The economic, cultural, and racial factors that led to antagonism and accommodation between various people of different backgrounds are explored, as are the roles of education and religion in this part of the state. The book examines remarkable Utopian experiments, social and moral reform movements, and innovations in transportation and food processing. It also offers fresh accounts of labor union warfare and social violence directed against Native Americans, immigrants, and African Americans and profiles three generations of political and government leaders, sometimes extraordinary and sometimes corrupt (the "one-horse thieves" of the title). A concluding chapter examines history's roles as product, recreation, and civic bond in today's mid-Illinois. A general history of mid-Illinois for the curious nonacademic reader, Corn Kings and One-Horse Thieves draws on a wide range of sources to explore a surprisingly diverse region whose history is America in microcosm"--