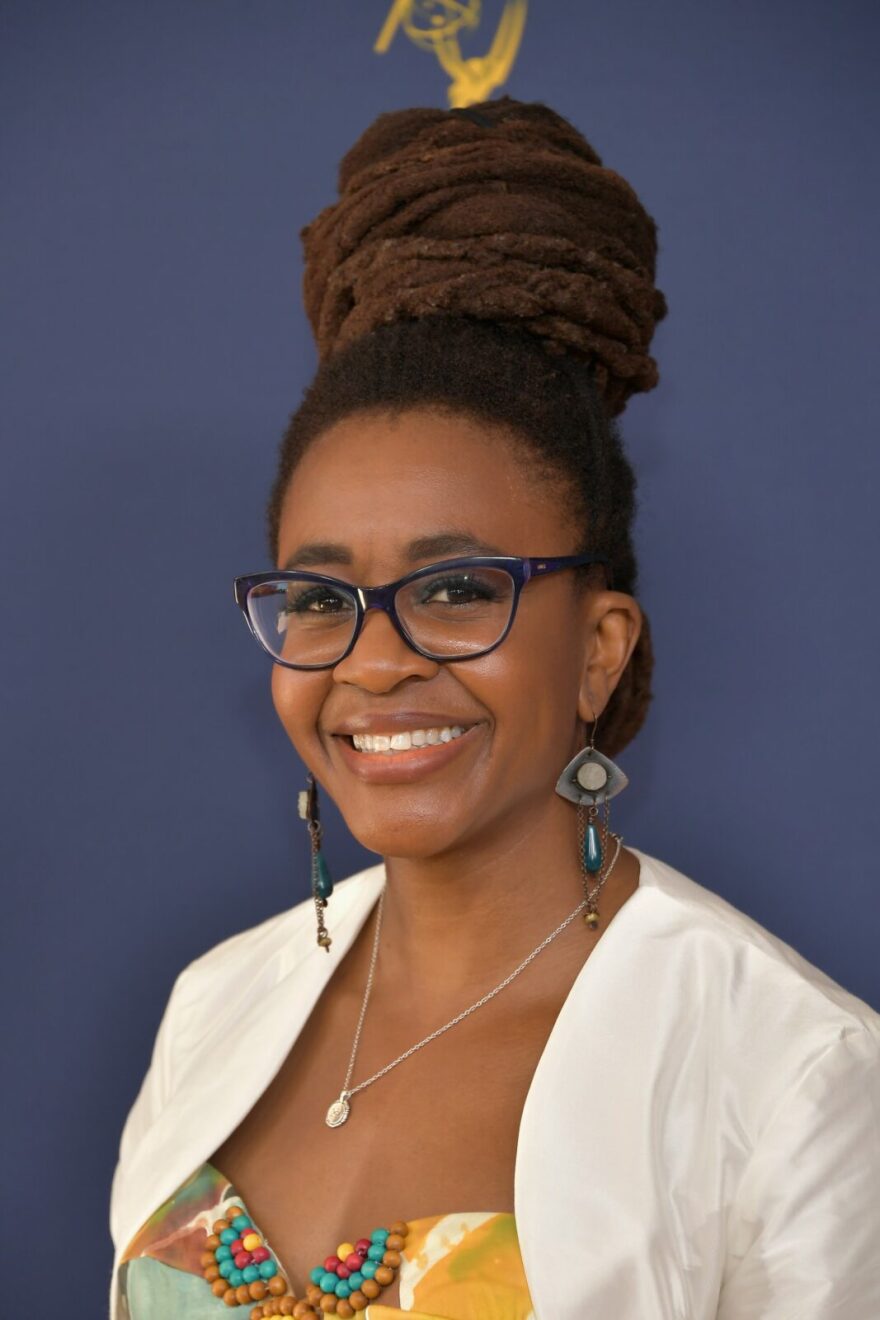 Nnedi Okorafor
Born:
Pen Name:
Nnedi Okorafor-Mbachu
Connection to Illinois
: Okorafor graduated from Homewood-Flossmoor High School and from the University of Illinois at Urbana-Champaign in 1996 with her Bachelor's degree. She went on to receive her Masters in English from the University of Illinois, Chicago and in 2007, received a Ph. D. in English from there as well. She was a professor of creative writing at Chicago State University from 2008 through 2014.
Biography
: Nnedi Okorafor is a Nigerian-American novelist of African-based science fiction, fantasy and magical realism for both children and adults. She is known for weaving African culture into creative evocative settings and memorable characters. Formerly known by her married name of: Nnedi Okorafor-Mbachu, she no longer goes by that name even though some of her earlier works are written under it.Nnedi holds a PhD in literature/creative writing and has been a full professor at the University at Buffalo, New York (SUNY) since 2014. She currently splits her time between Buffalo, New York and Olympia Fields, Illinois. In 2017, Okorafor's book ''Who Fears Death'', has been optioned by HBO & is now in early development as a TV series with ''Game of Thrones'' author, George RR Martin as executive producer.
---
Awards
:
"Zahara the Windseeker"

-- Wole Soyinka Prize for African Literature, 2008
-- Finalist, Garden State Teen Choice Award, 2008
-- Finalist, Parallax Award, 2005
-- Finalist, Kindred Award, 2005
-- Finalist, Golden Duck Award, 2005
-- Finalist, The Locus Award for Best First Novel
-- Black Excellence Award for Outstanding Achievement in Literature in Fiction, 2012
"The Shadow Speaker"

-- Finalist, Andre Norton Award
-- Finalist, Essence Magazine Literary Award, 2008
-- Honor Book, Tiptree
-- Finalist, Golden Duck Award
-- Winter Booksense Pick, 2007/2008
-- CCBC Choice, 2008
-- Locus Magazine Recommended Book
-- Parallax Award
-- Amelia Bloomer Project Book
"Long JuJu Man"

-- Writers' Prize for Africa, Macmillan
"Who Fears Death"

-- World Fantasy Award for Best Fantasy Novel, 2011
-- Carl Brandon Kindred Award, 2010
-- RT Reviewer's Choice Best Book Award (Science Fiction), 2010
-- Finalist, Locus Award for Best Fantasy Novel, 2010
-- Tiptree Honor Book, 2011
-- Finalist, Black Excellence Award , 2010
-- Publishers Weekly Best Book, 2010
-- Amazon.com Best Book, 2010
-- Library School Journal Best Book, 2010
-- Top Pick, RT Reviews
-- Starred Review, Publishers Weekly
-- Starred Review, Library Journal
"The Akata Series"

-- Finalist, Andre Norton Award for Best Young Adult Science Fiction and Fantasy
-- Best Book of the Year, Amazon.com, 2011
-- Best Book of the Year, YALSA, 2011
-- Junior Library Guild Selection
-- Starred review, Booklist
-- Starred review, BCCB
-- Starred review, School Library Journal
"Kabu Kabu"

-- Publisher's Weekly Best Book for Fall, 2013
-- Finalist, Locus Award for Best Collection
"The Book of Phoenix"

-- Finalist, Arthur C. Clarke Award
-- Finalist, Sputnik Award
-- Finalist, Campbell Memorial Award
"The Binti Series"

-- Nebula Award for Best Novella
-- Hugo Award for Best Novella
-- Finalist, British Science Fiction Association Award (Best Short)
-- BooktubeSFF Award for Best Short Work (Popular Vote)
-- Finalist, Locus Award (Best Novella)
"Chicken in the Kitchen"

-- Children's Africana Book Award for Best Book for Young Readers, 2016
"Lagoon"

-- Finalist, British Science Fiction Association Award (Best Novel)
-- Finalist, Red Tentacle Award (Best Novel)
-- Finalist, SFX Award (Best Novel)
-- Finalist, Tiptree Award
-- ILLINOIS READS Book Selection, Illinois Reading Council, 2017
"The Book of Phoenix"

-- Finalist, Arthur C. Clarke Award
-- Finalist, John W. Campbell Memorial Award
-- Finalist, Sputnik Award
"Ikenga"

-- NPR BEST BOOK OF THE YEAR, 2020
-- BEST CHILDREN'S BOOK OF THE YEAR, AMAZON, 2020
-- Starred Review, School Library Journal
-- Starred Review, Shelf Awareness
"La Guardia"

-- Hugo Award, 2020
"Noor"

-- Illinois Reads Book Selection, Illinois Reading Council, 2022
-- Starred Review - Kirkus
-- Starred Review - Booklist
-- Starred Review - Publishers Weekly
Primary Literary Genre(s):
C:CHILDREN; C:YOUNG ADULT; Fiction
Primary Audience(s):
Adult readers
Blog:
http://nnedi.blogspot.com/rss.xml
Facebook:
https://www.facebook.com/nnedi
Twitter:
https://twitter.com/nnedi
Website:
http://nnedi.com
---
Selected Titles
Akata warrior /
ISBN: 067078561X OCLC: 973806811 Now stronger, feistier, and a bit older, Sunny Nwazue, along with her friends from the the Leopard Society, travel through worlds, both visible and invisible, to the mysterious town of Osisi, where they fight in a climactic battle to save humanity.
Akata witch /
ISBN: 0670011967 OCLC: 468975295 Viking, New York : 2011. Twelve-year-old Sunny Nwazue, an American-born albino child of Nigerian parents, moves with her family back to Nigeria, where she learns that she has latent magical powers which she and three similarly gifted friends use to catch a serial killer.
Binti /
ISBN: 0765385252 OCLC: 913499839 Her name is Binti, and she is the first of the Himba people ever to be offered a place at Oomza University, the finest institution of higher learning in the galaxy. But to accept the offer will mean giving up her place in her family to travel between the stars among strangers who do not share her ways or respect her customs. Knowledge comes at a cost, one that Binti is willing to pay, but her journey will not be easy. The world she seeks to enter has long warred with the Meduse, an alien race that has become the stuff of nightmares. Oomza University has wronged the Meduse, and Binti's stellar travel will bring her within their deadly reach. If Binti hopes to survive the legacy of a war not of her making, she will need both the gifts of her people and the wisdom enshrined within the University, itself--but first she has to make it there, alive.
Black Panther.
ISBN: 1302905384 OCLC: 1012812332 As the Black Panther and an Avenger, T'Challa has had to save the world time and again - but those duties pale in comparison to his responsibilities as king of Wakanda.
Broken places & outer spaces :
ISBN: 1501195476 OCLC: 1056733522 "Nnedi Okorafor was never supposed to be paralyzed. A college track star and budding entomologist, Nnedi's lifelong battle with scoliosis was just a bump in her plan--something a simple operation would easily correct. But when Nnedi wakes from the surgery to find she can't move her legs, her entire sense of self begins to waver. Confined to a hospital bed for months, unusual things begin to happen. Psychedelic bugs crawl her hospital walls; strange dreams visit her nightly. Nnedi begins to put these experiences into writing, conjuring up strange, fantastical stories. What Nnedi discovers during her confinement would prove to be the key to her life as a successful science fiction author: In science fiction, when something breaks, something greater often emerges from the cracks. In Broken Places & Outer Spaces, Nnedi takes the reader on a journey from her hospital bed deep into her memories, from her painful first experiences with racism as a child in Chicago to her powerful visits to her parents' hometown in Nigeria. From Frida Kahlo to Mary Shelly, she examines great artists and writers who have pushed through their limitations, using hardship to fuel their work. Through these compelling stories and her own, Nnedi reveals a universal truth: What we perceive as limitations have the potential to become our greatest strengths--far greater than when we were unbroken. A guidebook for anyone eager to understand how their limitations might actually be used as a creative springboard, Broken Places & Outer Spaces is an inspiring look at how to open up new windows in your mind."--Provided by publisher.
Chicken in the kitchen /
ISBN: 0993225306 OCLC: 927986402 "What would you do if you woke up one night to find the shadow of a giant chicken passing your bedroom door? Go and investigate of course! When Anyaugo follows a giant chicken into her kitchen one warm night in Nigeria, she embarks on a hilarious adventure where nothing is quite as it seems. Is the nature spirit that lives in the wooden walls of her house a help or a hindrance? Is the mischievous giant chicken a friend or a foe? Most importantly, will Anyaugo be able to save the food her aunties have cooked for the New Yam Festival the next day? World Fantasy Award-winning author Nnedi Okorafor provides us with a hugely entertaining look at the fascinating masquerade culture of West Africa, told from the perspective of a plucky young Nigerian girl who finds the courage to protect the traditions she loves"--Back cover.
Ikenga /
ISBN: 0593113527 OCLC: 1129031873 In southeastern Nigeria, twelve-year-old Nnamdi is determined to avenge his police chief father, who was murdered while triyng to rid the town of criminals, but Nnamdi feels powerless until he receives a magical object which gives him superpowers.
Kabu kabu /
ISBN: 160701405X OCLC: 841892404 Presents a variety of takes on the future of Africa, including robots serving foreign interests find common cause with artists, women fall victim to society's order, and assassins ponder the effects of their efforts to provoke reform.
Lagoon /
ISBN: 1481440888 OCLC: 910980687 "It's up to a famous rapper, a biologist, and a rogue soldier to handle humanity's first contact with an alien ambassador--and prevent mass extinction--in this novel that blends magical realism with high-stakes action. After word gets out on the Internet that aliens have landed in the waters outside of the world's fifth most populous city, chaos ensues. Soon the military, religious leaders, thieves, and crackpots are trying to control the message on YouTube and on the streets. Meanwhile, the earth's political superpowers are considering a preemptive nuclear launch to eradicate the intruders. All that stands between 17 million anarchic residents and death is an alien ambassador, a biologist, a rapper, a soldier, and a myth that may be the size of a giant spider, or a god revealed"--
LaGuardia :
ISBN: 1506710751 OCLC: 1090278144 "In an alternate world where aliens have integrated with society, pregnant Nigerian-American doctor Future Nwafor Chukwuebuka has just smuggled an illegal alien plant named Letme Live through LaGuardia International and Interstellar Airport ... and that's not the only thing she's hiding. She and Letme become part of a community of human and alien immigrants; but as their crusade for equality continues and the birth of her child nears, Future -- and her entire world -- begins to change."--
Long Juju Man /
ISBN: 0230722075 OCLC: 713231084
NOOR.
ISBN: 0756416094 OCLC: 1245345534
Remote control /
ISBN: 125077280X OCLC: 1191457705 "The day Fatima forgot her name, Death paid a visit. From here on in she would be known as Sankofa--a name that meant nothing to anyone but her, the only tie to her family and her past. Her touch is death, and with a glance a town can fall. And she walks--alone, except for her fox companion--searching for the object that came from the sky and gave itself to her when the meteors fell and when she was yet unchanged; searching for answers. But is there a greater purpose for Sankofa, now that Death is her constant companion?"--
Shuri.
ISBN: 1302915231 OCLC: 1047446276 "The Black Panther has disappeared, lost on a mission in space. And in his absence, everyone's looking at the next in line for the throne. But Shuri is happiest in a lab, surrounded by gadgets of her own creation. She'd rather be testing gauntlets than throwing them. But a nation without a leader is a vulnerable one - and Shuri may have to choose between Wakanda's welfare and her own"--Provided by publisher.
The book of Phoenix /
ISBN: 0756410193 OCLC: 892041517 "Phoenix was grown and raised among other genetic experiments in New York's Tower 7. She is an 'accelerated woman'--only two years old but with the body and mind of an adult, Phoenix's abilities far exceed those of a normal human. Still innocent and inexperienced in the ways of the world, she is content living in her room speed reading e-books, running on her treadmill, and basking in the love of Saeed, another biologically altered human of Tower 7. Then one evening, Saeed witnesses something so terrible that he takes his own life. Devastated by his death and Tower 7's refusal to answer her questions, Phoenix finally begins to realize that her home is really her prison, and she becomes desperate to escape. But Phoenix's escape, and her destruction of Tower 7, is just the beginning of her story. Before her story ends, Phoenix will travel from the United States to Africa and back, changing the entire course of humanity's future"--
The shadow speaker /
ISBN: 1423100336 OCLC: 124156424 Jump at the Sun/Hyperion Books for Children, New York : 2007. In West Africa in 2070, after fifteen-year-old "shadow speaker" Ejii witnesses her father's beheading, she embarks on a dangerous journey across the Sahara to find Jaa, her father's killer, and upon finding her, she also discovers a greater purpose to her life and to the mystical powers she possesses.
Who fears death /
ISBN: 0756406692 OCLC: 462898816 In a far future, post-nuclear-holocaust Africa, genocide plagues one region. The aggressors, the Nuru, have decided to follow the Great Book and exterminate the Okeke. But when the only surviving member of a slain Okeke village is brutally raped, she manages to escape, wandering farther into the desert. She gives birth to a baby girl with hair and skin the color of sand and instinctively knows that her daughter is different. She names her daughter Onyesonwu, which means "Who Fears Death?" in an ancient African tongue. Reared under the tutelage of a mysterious and traditional shaman, Onyesonwu discovers her magical destiny -- to end the genocide of her people. The journey to fulfill her destiny will force her to grapple with nature, tradition, history, true love, the spiritual mysteries of her culture -- and eventually death itself.
Without a map
ISBN: 9781933500416 OCLC: 895919163 Consists of an excerpt from a novel by Nnedi Okorafor and a mix of stories, poems, and essays by Mary Anne Mohanraj.
Zahrah the Windseeker /
ISBN: 0547020287 OCLC: 56104248 Houghton Mifflin, Boston : 2005. Zahrah, a timid thirteen-year-old girl, undertakes a dangerous quest into the Forbidden Greeny Jungle to seek the antidote for her best friend after he is bitten by a snake, and finds knowledge, courage, and hidden powers along the way.