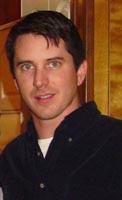 William Allegrezza
Born:
Jackson, Mississippi
Pen Name:
None
Connection to Illinois
: Allegrezza lived in Chicago, Illinois.
Biography
: William Allegrezza grew up in Mississippi. He has lived in Texas, Louisiana, Chicago and now lives in Kalamazoo, Michigan. He teaches at Indiana University Northwest. He has a B.A. in English from the University of Dallas and a M.A. in English and Ph.D. in Comparative Literature from Louisiana State University. Currenlty, Willian edits the e-zine ''Moria''and is the editor-in-chief of ''Cracked Slab Books''. He also curates a reading series, ''series A'', at the Hyde Park Art Center in Chicago.Allegrezza's interests include: contemporary poetry as well as American, Italian, and Greek literature. He also enjoys hiking, sailing, poetry, teaching, and music.
---
Awards
:
Primary Literary Genre(s):
Poetry
Email:
editor@moriapoetry.com
Website:
http://www.moriapoetry.com/allegrezzabill.html
William Allegrezza on WorldCat :
http://www.worldcat.org/search?q=william++allegrezza
---
Selected Titles
Collective instant
ISBN: 9780980509601 OCLC: 433096945 Otoliths, Rockhampton, QLD, Australia : 2008.
Fragile replacements
ISBN: 9780979411908 OCLC: 166372599 Meritage Press, San Francisco : 2007.
In the weaver's valley /
ISBN: 952564507X OCLC: 75485189 Blue Lion Books, Espoo, Finland ; 2006.
Ladders in July
ISBN: 9781934289167 OCLC: 105647913 Blaze Vox Books, Buffalo, N.Y. : ©2004.
The alteration of silence :
ISBN: 9781935084167 OCLC: 857285536 Dialogos Books, New Orleans : ©2013.
The City visible :
ISBN: 0978644018 OCLC: 162101761
The Salt companion to Charles Bernstein
ISBN: 9781844714858 OCLC: 701021037 Salt Publishing, London : 2012.
The vicious bunny translations /
ISBN: 1411656962 OCLC: 76955197 [publisher not identified], [Place of publication not identified] : [2005?]