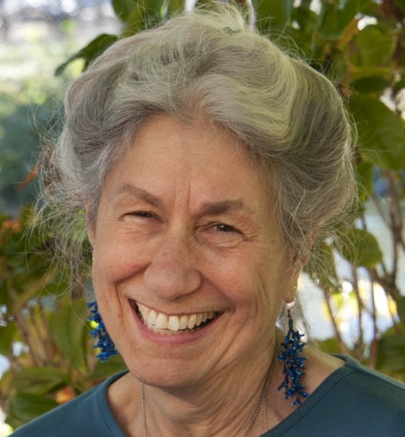 Judith Arcana
Born:
1943 in Cleveland, Ohio
Pen Name:
None
Connection to Illinois
: Arcana lived in Illinois nearly forty years, mostly in Chicago (also in Champaign and Skokie). She has strong memories of the northwestern part of the state (especially the Mississippi Palisades and Pecatonica) and of pre-interstate highway travel, heading north to Wisconsin on Route 41. Her father was born and raised in Chicago and downstate, in the tri-state region by the river; her son, born in the same Chicago hospital as his grandfather, was also raised there. All of Judith's graduations were in Illinois: 8th grade from Sharp Corner School, high school from Niles Township HS-East (the original beautiful building), BA from Northwestern University, MA from Goddard College's Chicago outpost, Phd from Loyola University of Chicago (she also attended the University of Illinois and Depaul).
Biography
: Judith Arcana's biographical, professional information, can be found on her website as can information about her writing that appears in anthologies and journals. * [http://www.juditharcana.com/bio/ Bio]* [http://www.juditharcana.com/writing/ Writing]* [http://www.juditharcana.com/anthologies Anthologies] * [http://www.juditharcana.com/selected-forthcoming Journals]Along with the books listed below, she has also written the chapbook, ''Soon to be a Major Motion Picture'' and Zine ''Janebill: Keesha, Joanie and JANE.''
---
Awards
:
Primary Literary Genre(s):
Fiction; Non-Fiction; Poetry
Primary Audience(s):
Adult readers
Email:
ja@juditharcana.com
Website:
http://www.juditharcana.com
Judith Arcana on WorldCat :
http://www.worldcat.org/search?q=judith+arcana
---
Selected Titles
4th period English /
ISBN: 0615281834 OCLC: 399645151 [Ash Creek Press?], [Portland, OR?] : 2009.
Every mother's son /
ISBN: 0931188393 OCLC: 13331602 Seal Press, Seattle, Wash. : ©1986.
Every mother's son :
ISBN: 0704339161 OCLC: 28907456 Women's Press, London : 1983
Grace Paley's life stories :
ISBN: 025206447X OCLC: 40856195 University of Illinois Press, Urbana : ©1994, ©1993.
Here From Somewhere Else
ISBN: 9780692589526 OCLC: 994010574
Our mothers's daughters /
ISBN: 0704338645 OCLC: 10375897 Women's Press, London : 1981, ©1979.
The parachute jump effect
ISBN: 9780982371695 OCLC: 842011009 Uttered Chaos, [Eugene, Or.] : ©2012.
What if your mother /
ISBN: 188734411X OCLC: 60767034 Chicory Blue Press, Goshen, Conn. : ©2005.