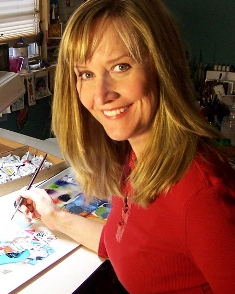 Terri Murphy
Born:
Pen Name:
None
Connection to Illinois
: Murphy was raised in Chicago and attended The American Academy of Art in Chicago. She works in Prospect Heights.
Biography
: Terri Murphy is an illustrator for children's books, magazines and educational materials. In addition to illustrating children's media, Terri divides her time as a part-time children's librarian at the Prospect Heights Public Library and the Illinois Illustrators Network coordinator for SCBWI. In 2010, she began a venture of facilitating traveling art workshops for kids, where she takes what she's learned in the studio and applies it to children's art projects. She has presented Young Artists Workshops to library groups, art camps, and at senior centers.In 2013, Murphy was the premier artist for the Illinois Library Association's iREAD summer reading program in all three categories, youth, young adult and adults. Her art was featured in all Illinois libraries, and on U.S.A. military base libraries in 24 countries. Her work was highlighted again for the Illinois Library Association's 2018 iREAD Children's poster.
---
Awards
:
Primary Literary Genre(s):
Illustrator
Primary Audience(s):
Children
Blog:
http://terrimurphy.typepad.com/mermaid_waves/
Email:
terri@terrimurphyart.com
Website:
http://terrimurphyart.com
Terri Murphy on WorldCat :
http://www.worldcat.org/search?q=terri+murphy
---
Selected Titles
Climb inside a poem :
ISBN: 032500983X OCLC: 274322806
Dance, y'all, dance /
ISBN: 1933979658 OCLC: 368038345 Rhyming text invites the reader to a Texas dance hall on a Saturday night, when a community gathers to share news and fun. Includes historical notes about dance halls, particularly Gruene Hall in Gruene, Texas, and the dance known as the Two-Step.
One day I went rambling /
ISBN: 1936474069 OCLC: 704391194 Bright Sky Press, Houston, TX : ©2012. At first, Zane's friends think he is crazy when he goes rambling, collecting all sorts of things like a "lasso" that is really a vine, or a "pirate's ring" that is a pop-top, but soon they are caught up in his imaginative game.
Reading powerworks.
ISBN: 9780760893098 OCLC: 60621635 Sundance Publishing, Northborough, MA : ©2005.
The centurion at the cross :
ISBN: 9780758612601 OCLC: 85554143 Concordia Pub. House, St. Louis, MO : ©2007. With rhyming text, retells the story of Jesus' crucifixion and resurrection from the perspective of the Roman centurion at the cross.
The ten plagues :
ISBN: 0758608756 OCLC: 237320721 Arch Books, St. Louis, MO : ©2006.