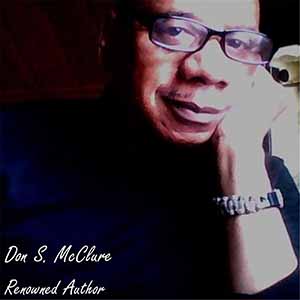 Don S. McClure
Born:
1956 in Chicago
Pen Name:
None
Connection to Illinois
: McClure was born on the west side of Chicago. Several of his books were set in Chicago.
Biography
: Don S. McClure, a renowned American author, ranked as one of the top 100 highest paid authors in America by Amazon was born on the west side of the city of Chicago. He is the youngest son of Archie and Inez Johnson-McClure. His books have inspired many across the nation. He began writing his first autobiography, ''Broken Wings Fallen Angels'' in August 2009; it was published in December that same year. His creative style of writing has inspired many other publications that range from fiction, poetry, romance to non-fiction.
---
Awards
:
To Have A Friend 36 Governor Proclamations
Primary Literary Genre(s):
Fiction; Non-Fiction; Poetry; Romance
Primary Audience(s):
Adult readers
E-Mail:
donsmcclure@dsmpublications.net
Facebook:
https://www.facebook.com/mccluredons
Instagram:
https://www.pictame.com/user/donsmcclure_author/8460679186
LinkedIn:
https://www.linkedin.com/in/don-s-mcclure-1a677b41
Twitter:
https://twitter.com/donddsm26?lang=en
Web:
https://www.dsmpublications.net/
Web:
https://www.goodreads.com/author/show/4806141.Don_S_McClure
Web:
https://www.blogtalkradio.com/donsmcclure
---
Selected Titles
Bass Reeves First Black U.S. Deputy Marshal 1875
ISBN: B0863TL226 OCLC: Independently Published 2020 Writing the story of Bass Reeves, the first black U.S. Deputy Marshal in the history of the United States, while including various true-life events, is a daunting task. But one that I celebrate as a creative challenge. This man survived in one of the most dangerous professions — as a lawman in the Indian territory — for over 32 years. Bass Reeves faced the possibility of his life being taken on any given day while he rode throughout this violent part of the country, a region where the law was not respected nor feared. Of the men he faced, some would become famous names in history; at the time, those who were unknown outlaws, but still just as evil, had to be brought to justice in Fort Smith Arkansas for their crimes. These men and women killed anyone or anything that came between them and what they desired out of life. I am proud to share my version in writing, among the many others, about this extraordinary man. He was born in the month of July 1838, and died in the year 1910, at the age of 71 years old, on January 12, 1910, two years after retiring from the Muskogee Police Department, due to an ongoing illness of Bright's disease. In my writings, I feature his two wives, both of whom he truly loved, as well as the men who played a major role in his predestination as they traveled the path of destiny in their own lives, some not realizing how they would help to shape the story of a man who stood over 6 ft 2 inches tall and those who never knew they played a role in his destiny in the pages of history. This book is my moment of triumph to bring to life a story about a man that should not be submerged under the waves of history but celebrated as an American icon.
Beyond Dreams 9 On The Field
ISBN: 1544219954 OCLC: Preface: Renowned American Author Don S. McClure created this incredible story of two talented young ladies who, because of their separate life challenges since birth, fight their way to the top of their field while growing up to make their dreams a reality. One girl will bring total victory for those like her. She is living with an impairment that costs her 90% of sight. Her name is Sierra Leone Winston, and she will force the world to understand and respect her as a whole human being who just happens to be different from birth. She will become one of the best female pitchers in the high school public baseball series. Our story includes the courageous views of Sierra's two loving parents who are willing to face the world and all its ugly perceptions of their child, who was born with an affliction, or disease, of her eyes through no fault of either parent. She was the child that God blessed them with to care for, guide through life, and shield from the unacceptance of those who saw her as a child with a handicap. Many felt she would not be able to cope in society or compete with those who were considered normal children in the educational system or in life itself. Amaryllis Martinez is the second young female pitcher who is determined to change the way girls are viewed based on their countries of origin. Her desire to become the best in this field could bring substantial changes to education and sports in her country of Cuba and could improve the value of young women in baseball worldwide. She has made one of her dreams a reality becoming ranked as one of the best in baseball in the Catholic League Division. Amaryllis is one of the top five ranked pitchers in high school history. In this unique story, you will learn the value of true friendship in each of their lives, from their parents to their communities, schools, close friends, and teammates.
Broken Wings Fallen Angels
ISBN: 1449923496 OCLC: Prologue In this book I will talk about many of the decisions I have made in life and the outcome of each. It is about reflections, the roads I have traveled, the people I have become friends with, the acquaintances that were made, the bonds that were built along the way and the relation- ships that were broken. It is the story of the love that came from my family through all of my missteps, no matter how far I ventured off the path set for me at birth. I will share with you my personal relationship with God and His purpose for my life at its current position. I realize, though, that His purpose is filtered through my own decisions, because He truly gives us the gift of choice. As you travel through these pages, I will reveal to you my issues of self-determination and how I discovered what it is I wanted out of life. Equally important are the dreams and aspirations that took me there. It is also the story of the examination of the commitment to purpose that drove me to succeed, and the betrayal of good decisions that brought me down to my lowest points. The issues of diversity, cultural bias and the racism I faced in my personal as well as corporate life also play a strong role in this tale. You will become aware of the trials and tribulations that filled many days, months and years on my road to successful realization of the value of my creative talent and the gifts God has given me in order to become triumphant. From my birth to my adventures you will pass through various doors with many names, dates and places. The results will be amazing at some moments, while in the next there will be sadness and pain. Through it all, I can only hope you find your own self-value. But this much I do know, in the end you can only become what you have inside.
Dark Side of the Earth Demons And Angels At First Glance
ISBN: 1495282880 OCLC: on S. McClure has fascinated variations of readers with his style of writing. Now McClure gives us Dark Side of the Earth Demons and Angels At First Glance, a mesmerizing while exciting story at the same time. It is a story of breathtaking energy and suspense that will take you on an extraordinary journey into the uncharted depths of the human mind and the most agonizing questions of faith and the human soul. Laced with themes of love and faith, sin and forgiveness, compassion and understanding. Dark Side of The Earth Demons and Angels at First Glance opens in the world's most isolated, inspiring and beautiful place in Mexico, the Island of Purgatorio.
I Love Being a Butterfly
ISBN: 1986569977 OCLC: Renowned American Author, Don S. McClure, believes that through the art of storytelling, many individuals facing issues in life can find the courage and strength to continue the fight. To make their place in the world as they see it, more significant, through faith. This unique story, I Love Being A Butterfly, A New World of Adventure is based on the fact that once, a new friendship begins. No matter what happens in the days that follow, there will be an everlasting bond that will not be broken when that friendship is sincere. The story brings to life the desire of one friend who has the hope to live forever in some form and only has 115 days to live. The other friend is a young woman, who starts her day like any other, with joy in her life, but is faced with the reckless driving behavior of another individual. Placing her in a life-threatening accident, as he runs a stop sign. More precisely, it is the story of one human being who needs to find her courage to rebuild her life, to believe that all is not lost. Restoring the young woman's faith will not be easy during this adventure, or shall I say, the quest for eternal life and purpose. The story contains the themes of danger, hope, and personal loss combined with the understanding of true love. These three butterflies that are different become best friends and work together as one group. One is a blue morpho, the other a royal monarch, and the third is a beautiful black butterfly. The butterflies create bonds of respect and love for each other as they help Rita find the healing waters of the Sierra Mountains during their adventure.
I Love Writing, A Fun Love Story
ISBN: 1499770111 OCLC: I Love Writing A Fun Love Story: Is an American love story by Renowned Author Don S. McClure. This story is all about love, friendship, and determination, but I think it proves that in real life, love conquers all as well. Funny and strangely romantic. I Love Writing A Fun Love Story brings together two people who make a significant impact on the lives of others while finding ways to be secure in who they are as individuals. Jason Marcellus De Witt, one of the up and coming rising stars in the world of publishing, who now holds the position as one of the top 100 highest paid Authors in America has found the love of his life by accident. The girl he never expected to meet is the beautiful, hardworking track coach for an all-girls High School track team named the Olympians. Her name is Juliana Samantha Marguerite Connors, but everyone calls her Sam for short. The two meet while Jason is followed by a security team appointed by Nicholas Duval world famous publisher and one of the most powerful and wealthiest publishers in the world. Of course, Jason has no knowledge that he has a seven men Security team appointed to protect him at all cost and that is where the chase and the fun start. As Jason tries to elude them while running between the two cities. Not to mention he evolves his best friend in this fast paced adventure. The Story is set with undertones of two cities, one being Chicago, where Jason is born and works for the Duval Publishing Company located on Michigan Ave, better known as the Magnificent Mile and the other is Indianapolis, Indiana, which features the downtown restaurants and five star hotels where (Sam) works part-time. What could be just a romantic encounter becomes a well-paced, and thoughtful love story capable of leaving you with tears in your eyes and a lot of laughter in your heart. Join the excitement and adventure of this unique and funny love story. You just might fall in love all over again.
My Sister Tiaunna: A Spy thriller unmatched by any other
ISBN: 1530285011 OCLC: PREFACE My Sister Tiaunna was created by renowned American author, Don S. McClure. The story centers around the lives of three sisters and one courageous daughter who is willing to fight for the very life of each. The sisters are identical triplets, which makes this tale of intrigue so unusual because this situation occurs only once in every 500,000 births. Those same odds makes this tale of adventure more than the human imagination can accept as fiction, making each page feel real. The event opens when the middle sister, Tiara, has the misfortune of being misidentified as Trajan, the top espionage operative for the U.S. Tiara is captured in the South Hamgyong Province of North Korea while on an assignment to take photos of one of the most beautiful hotels there, at the request of the wife of the President of North Korea. Trajan, who is the youngest sister in this set of identical triplets, is the leading female agent in the world of clandestine affairs, working for the group known as La Nava, who are considered more dangerous than the CIA, MI6, MI5, or the KGB, and capable of getting the results the United States needs in the war against terrorism. Her code name is Malaiensis, which means Black Eagle. The events in the lives of these three sisters, through the eyes of a daughter, will have you wondering about your life, and how far into the world of danger you are willing to venture for a family member of your own. McClure left nothing out of this story when it came to excitement. My Sister Tiaunna will leave you mesmerized up to the last page.
Romantic Images of You
ISBN: 1453876995 OCLC: Where My Heart Belongs is a true love story of poems it is the fascinating story of pure love and constant desire from the hearts of two people who spend time away from each other and yet always find their emotions embedded deep within their minds and souls. The author brings the reader closer to both David Stuart, the highly creative, success-driven, and sought-after promotional presentation producer, and Tiaunna, the woman with whom he has fallen in love. Her life as an art gallery owner is filled with success, and her world is consumed with her love for the man who captured her heart in a matter of seconds. From the first page to the last, the reader will feel an emotional connection to both of these fascinating individuals. Inside the couple's world of passion and the simple beauty of caring for each other, the reader will experience David's first hello, which begins the love affair, and his occasional departures from his beloved as he travels the country on work-related adventures and as he embarks on new projects. When he ends his evening and he is alone David's thoughts are always on Tiaunna and the times they shared. The author shares special moments with the reader: a long phone call, a warm touch from Tiaunna, a kiss, a close embrace, or simply the days and nights they spent together. This love affair is by no means over—David's thoughts keep them close when they are apart. The love they share was built on real love that forced itself deep inside their hearts, and as the days go by, David expresses them in the poems he writes for Tiaunna. When David grieves, he makes the reader sincerely enjoy the way he misses Tiaunna. His thoughts are not sad; rather, they are the dreams and imaginations of the love they share as a couple. Their love affair shows clearly that love is something far beyond the imagination or the chemicals in our brain. These are real, intimate feelings. This is truly a classic and brilliant piece of work. As the reader, you will travel to places in the minds of this love affair and the locations the couple share—some private and some public.
Santa Claus VS the Aliens
ISBN: 146795134X OCLC: PROLOGUE This amazing story, Santa Claus vs. The Aliens: A Christmas Wish, written by Don S. McClure from Chicago, Illinois, truly brings to life a Christmas story that old and young alike will enjoy for years to come. This story will bring you, the reader, to a level of amazement as you experience the pure magic and moral values in the pages of this fascinating adventure story. Only once in our lifetime does an author capture the essence of life and combine it with the issues of everyday living to share the very meaning of the Christmas season as well as Don S. McClure has with this masterpiece. The characters will entertain and amaze you. The story of a little girl's wish to end the wars on her planet—which Santa has never been to and whose people have never heard of Christmas or the man in the red suit—will make you enjoy this classic version of a Christmas tale, which is unlike any other you have ever read before. If you enjoyed any of the previous work created by Don S. McClure, you will list this among his best, including his autobiography, Broken Wings, Fallen Angels, and his second book, Romantic Images of You: Where My Heart Belongs, and the Kindle version, which placed him in the Amazon Top 100 Highest Paid Authors in America. Soon McClure's other titles will be released for your enjoyment, such as The Gods and The Beginning of Life and his crime thriller, To Have a Friend. This release of Santa Claus vs. The Aliens: A Christmas Wish will win the hearts and minds of all who read it, and surely will become a must-share with family and friends, year after year, as one of the great holiday tales of all times.
The Book of Inspiration: A Mind at Peace
ISBN: 1512099627 OCLC: THE BOOK OF INSPIRATION, A MIND AT PEACE, offers solid hope and comfort for times when you are faced with doubt, depression, frustration and disappointment. It will allow you to find joy and peace in your daily life. The Book of Inspiration begins as a story told in alternating sections between poems, words, and photographs. The photographic images captured by Renowned American Author Don S. McClure while traveling from city to city and state to state makes this wonderful journey of enlightenment one worth sharing with the general public. You will find his words enduring as he attacks the very thoughts of fulfillment or hardship and sometimes loneliness. While always bringing his thoughts back to the joys of looking at the beauty of life all around us; which seems to be easily overlooked by us. His concept of peace built from within is astonishing as you read page after page finding peace in your mind. He extracts wisdom from his journey of life presented to him through words and images. These
The Gods and the Beginning of Life
ISBN: 1461175623 OCLC: The Gods and the Beginning of Life, Don S. McClure's epic adventure about the gods, is his latest book release. This book is one of the most exciting fiction novels to come along in years written by this prolific writer. In it, he expresses his views on how mankind became the way it is today. McClure brings to life the story of the first gods, long before the stories of Homer and Mount Olympus or Zeus, or any of the gods long before the Titans. Long before Hector and Achilles or the god Apollo. This was the time when the gods were formed, and there was not one god who had more power than another. They possessed only cunning to survive and the wherewithal to understand that they would either stand or fall. McClure's latest work features the two main characters from his second book, Romantic Images of You: Where My Heart Belongs, David Stuart and Tiaunna. The loving couple finds themselves caught in a world of information and knowledge, and they hope that one day they will be able to share this information and better understand mankind and its actions. The book's introduction opens like a powerful motion picture: "There are many stories of how man conceived all of his human ways and instincts. Some say he was born decent, with morals and character. "Some say that from the time he was created there was no good in him at all. Just some small reflections of right or wrong and the desire to become the only power on earth, being judged by no one. "But I once spent seven days on the road with the woman I loved in the summer of 2001 crossing the Great Northern Plains, where I found the basis for what I learned about man and his beginning.
The World of Kolor finding lights for Christmas
ISBN: B0BRLVNZSZ OCLC: Independently Published 2023 Don S. McClure, a Renowned American Author, has created another fantastic fantasy adventure. Our new adventure features Krystal Katherine Magic, aka K.K., and her two friends, Sky Star and Catoria Catrina, who serve under Commander K.K. as Battle Sled fighters on the U.S.S. Nighthawk. Of course, her boyfriend, The Postman, will always join in the adventure to keep K.K. safe as we take you to another far-off planet. Where all the lights for Christmas have been taken to the Cave of Despair as promised by the leader of Evil Trees of color and never to return for the children to enjoy. Or used to celebrate the magic and joy of the Christmas spirit. Filled with beautiful lights of color for family and friends. But, they are so mean they changed the spelling of the word. "Kolor."
To have a friend :
ISBN: 1480244619 OCLC: 948308706
What Price Freedom
ISBN: 9781537304557 OCLC: 993940217 What Price Freedom-Yesterday -Today -Tomorrow "I once wrote that the very foundation of thought inside of a man is the word "freedom." A book filled with amazing details concerning the issues of Diversity in America and the various Black History icons who gave much to the world. All based on the word "Freedom." A book filled with amazing details concerning the issues of Diversity in America and the various Black History icons who gave much to the world. All based on the word "Freedom." It is the one feeling given to man by God that drives him to seek individualism, to understand that he and he alone can control his destiny. He will search to separate the difference between moral freedom and freedom of choice. His guidance of moral freedom will be directed by his understanding that God created all men equal, no matter the issues of race, creed, or color. The freedom to build a good life is based on the ideals of what a man dreams,develops through hard work, and never takes for granted. God gave him a mind to create incredible achievements that will undoubtedly continue to transform his life. His belief that freedom is his God-given right to life means that he will not forsake that one thought, that one feeling, that one desire to always remain an individual who was born free. He will fight for his value and understanding of the word