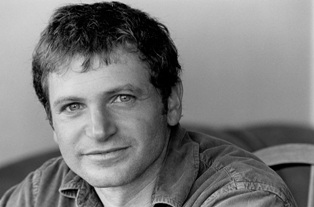 Peter Orner
Born:
1968 in Highland Park, Illinois
Pen Name:
None
Connection to Illinois
: Orner grew up in Highland Park and graduated from Northwestern University in Evanston.
Biography
: Peter Orner is a is a Professor of English and Creative Writing at Dartmouth College. He is a two-time recipient of the Pushcart Prize and the recipient of the Rome Prize, a Guggenheim Fellowship, and a Fullbright to Namibia. His fiction has appeared in The Atlantic, The Paris Review, Tin House, and Granta, and has been anthologized in The Best American Short Stories. His memoir is titled, Am I Alone Here? A graduate of the University of Michigan, Northeastern University School of Law, and the University of Iowa Writers' Workshop. Orner is also a former member of the Bolinas, California Volunteer Fire Department in Bolinas, California.
---
Awards
:
"""Esther Stories"""
-- Rome Prize in Literature, American Academy of Arts and Letters
-- Goldberg Prize for Jewish Fiction
-- Finalist, Pen Hemingway Award
-- Young Lions Award Finalist, New York Public Library
-- Notable Book, New York Times, 2001
Primary Literary Genre(s):
Fiction; Non-Fiction
Primary Audience(s):
Adult readers
E-Mail:
peterorner(SIGNFORAT)gmail.com
Facebook:
https://www.facebook.com/peterorner/
Twitter:
https://twitter.com/peter_orner
Website:
http://www.peterorner.net
Wikipedia:
https://en.wikipedia.org/wiki/Peter_Orner
Peter Orner on WorldCat:
http://www.worldcat.org/search?q=peter+orner
---
Selected Titles
Am I alone here? :
ISBN: 1936787253 OCLC: 939427361 'Stories, both my own and those I've taken to heart, make up whoever it is that I've become, ' Peter Orner writes in this collection of essays about reading, writing, and living. Orner reads and writes everywhere he finds himself: a hospital cafeteria, a coffee shop in Albania, or a crowded bus in Haiti. The result is 'a book of unlearned meditations that stumbles into memoir.' Among the many writers Orner addresses are Isaac Babel and Zora Neale Hurston, both of whom told their truths and were silenced; Franz Kafka, who professed loneliness but craved connection; Robert Walser, who spent the last twenty-three years of his life in a Swiss insane asylum, "working" at being crazy; and Juan Rulfo, who practiced the difficult art of silence. Virginia Woolf, Eudora Welty, Yasunari Kawabata, Saul Bellow, Mavis Gallant, John Edgar Wideman, William Trevor, and Vac̀lav Havel make appearances, as well as the poet Herbert Morris about whom almost nothing is known. An elegy for an eccentric late father, and the end of a marriage, Am I Alone Here? is also a celebration of the possibility of renewal.
Esther stories /
ISBN: 0618128735 OCLC: 46959652 Houghton Mifflin, Boston : 2001. A debut collection of thirty-two pieces of short fiction explores the influence of life's brief but essential moments on the future lives of the characters as it chronicles the fates both of unrelated strangers and of two Jewish families, one from the East Coast, the other from the Midwest.
Last car over the Sagamore Bridge :
ISBN: 0316224642 OCLC: 816563550 "In Last Car Over the Sagamore Bridge, Peter Orner zeroes in on the strange ways our memories define us: A woman's husband dies before their divorce is finalized; a man runs for governor of Illinois and loses much more than an election; two brothers play beneath the infamous bridge at Chappaquiddick. Employing the masterful compression for which he's become known, Orner presents a kaleidoscope of individual lives viewed in startling, intimate close-up. Whether writing of Geraldo Rivera's attempt to reveal the contents of Al Capone's vault or of a father and daughter trying to outrun a hurricane, he illuminates universal themes. In stories that span considerable geographic ground--from Chicago to Wyoming, from Massachusetts to the Czech Republic--he writes of the past we can't seem to shake, the losses we can't make up for, and how our stories help us reclaim what we thought was gone forever."--Jacket.
Love and shame and love :
ISBN: 0316129399 OCLC: 707964698 Little, Brown and Co., New York : 2011. The interactions of four generations of the Popper family reveal the ways in which love, memory, and connections can make individuals whole or completely unravel them.
Maggie Brown & others /
ISBN: 0316516112 OCLC: 1063758836 In his orchestral and moving new book, Peter Orner ... chronicles people whose lives are at inflection points. In forty-four compressed gems, he grips us with a series of defining moments. Whether it's a first date that turns into a late-night road trip to a séance in an abandoned airplane hangar, or a family's memories of the painful mystery surrounding a forgotten uncle's demise, Orner reveals how our fleeting decisions between kindness and abandonment chase us across time.
The second coming of Mavala Shikongo /
ISBN: 0316066338 OCLC: 123797618 Little, Brown, Boston, Mass. ; 2007. "When Mavala Shikongo deserted them, the teachers at Goas weren't surprised. How could they be? She was too beautiful, too powerful, and too mysterious for their tiny, remote world. They had a thousand theories about their departed colleague and only one essential fact: she was a combat veteran of Namibia's brutal war for independence. She must have had something to hide - why else would she have endured the long days and cold nights at this threadbare boys' school, so deep in the veld that, the teachers say "even the baboons feel sorry for us"?" "So when Mavala returns to Goas their astonishment is genuine. In her arms is a baby son, and there is no mention of a husband. Awed by her boldness, the teachers try hard, once again, not to fall in love with her. They all fail, immediately and miserably, especially the American volunteer, Larry Kaplanski."
Underground America :
ISBN: 1786632276 OCLC: 957133127 Millions of immigrants risk deportation and imprisonment by living in the US without legal status. They are living underground, with little protection from exploitation at the hands of human smugglers, employers, or law enforcement. Underground America presents the remarkable oral histories of men and women living without legal status and struggling to carve lives for themselves in the U.S.