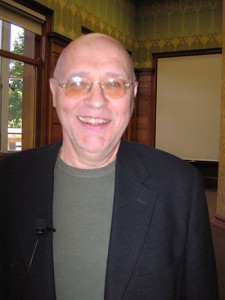 Robert Burleigh
Born:
1936 in Chicago, Illinois
Pen Name:
None
Connection to Illinois
: Burleigh was born and raised in Chicago. He graduated from DePauw University and received his MA from the University of Chicago.
Biography
: Robert Burleigh is an author and a painter. He paints under the name, Burleigh Kronquist. He has also published poems, reviews, essays, many filmstrips and videos, and more than 45 childrenís picture books since the early 1980s. His books' subjects run a broad gamut, from stories geared for pre-schoolers to survival stories, sports stories, and biographies for younger readers. He currently resides in Michigan.
---
Awards
:
'''Body of Work'''
-- Prairie State Author of the Year, Illinois Reading Council, 2011
'''''Edward Hopper Paints His World'''''
-- ILLINOIS READS Book Selection, Illinois Reading Council, 2015
Primary Literary Genre(s):
Fiction; Illustrator; Non-Fiction
Primary Audience(s):
Children
E-Mail:
roburleigh@earthlink.net
Website:
http://robertburleigh.com
---
Selected Titles
A man named Thoreau /
ISBN: 0021795010 OCLC: 32359876 Macmillan/McGraw-Hill School Pub. Co., New York : 1994. Presents the life and ideas of the renowned nineteenth-century American author.
Abraham Lincoln comes home /
ISBN: 0805075291 OCLC: 175289878 Told through the eyes of a young boy, the sober mood of the country after the Lincoln assassination is presented as he and many other mourners wait to pay their respects to their fallen president as Lincoln's funeral train travels from Washington, D.C., to Springfield, Illinois, in 1865.
Amelia Earhart free in the skies /
ISBN: 0152168109 OCLC: 48817932 Silver Whistle Harcourt, Orlando, Fla. : ©2003. An illustrated biography of the world-famous woman pilot known for her long and daring flights.
American moments :
ISBN: 0805070826 OCLC: 52108580 Henry Holt and Co., New York : 2004. A look at a cross-section of people and events in American history from 1621 to 2001 representing the many facets of American life.
Black whiteness :
ISBN: 1442453346 OCLC: 34912621 Atheneum Books for Young Readers, New York : ©1998. An account of Admiral Richard Byrd's stay alone in a small shack during an antarctic winter.
Breaking waves :
ISBN: 0823447022 OCLC: 1159621201 "A picture book about painter Winslow Homer's fascination with waves and the ocean"--
By my brother's side /
ISBN: 0689865597 OCLC: 52644547 Introduces twin brothers Tiki and Ronde Barber, who worked hard to overcome obstacles and became National Football League stars, one as runningback for the New York Giants, the other as cornerback for the Tampa Bay Bucs.
Chocolate /
ISBN: 0810957345 OCLC: 47254125 Traces the history of chocolate from a drink of the Olmec and Maya and later in Europe to its popularity around the world today.
Clang! Clang! Beep! Beep! :
ISBN: 1416940529 OCLC: 190760585 Simon & Schuster Books for Young Readers, New York : ©2009. From morning until night, a city is filled with such sounds as the roars and snores of a subway ride, the flutters and coos of pigeons, and the shouts and beeps of drivers in traffic.
Earth from above for young readers /
ISBN: 0810934868 OCLC: 49531245 Harry N. Abrams, New York : 2002. Presents aerial photographs of various scenes from around the world including fishermen in Morrocco, a farm on the island of Crete, and a mangrove forest in New Caledonia.
Edna /
ISBN: 0531302466 OCLC: 42389523 Orchard Books, New York : 2000. Uses the imagined viewpoint of Edna St. Vincent Millay to recreate her early years as a poet in New York City. Includes her poem "Recuerdo" and a brief profile of her life.
Edward Hopper paints his world /
ISBN: 0805087524 OCLC: 858730913 "As a boy, Edward Hopper knew exactly what he wanted to be when he grew up: on the cover of his pencil box, he wrote the words EDWARD HOPPER, WOULD-BE ARTIST. He traveled to New York and to Paris to hone his craft. And even though no one wanted to buy his paintings for a long time, he never stopped believing in his dream to be an artist. He was fascinated with painting light and shadow and his works explore this challenge. Edward Hopper's story is one of courage, resilience, and determination. In this striking picture book biography, Robert Burleigh and Wendell Minor invite young readers into the world of a truly special American painter (most celebrated for his paintings "Nighthawks" and "Gas")"--
Flight :
ISBN: 0399222723 OCLC: 21562856 Philomel Books, New York : ©1991. Describes how Charles Lindbergh achieved the remarkable feat of flying nonstop and solo from New York to Paris in 1927.
Flight of the last dragon /
ISBN: 0399252002 OCLC: 769289512 Philomel Books, New York : ©2012. Ultimon, once king of the dragons and now the last survivor, climbs out of the sewers in which he has been hiding and takes one last flight. Includes notes about the constellation Draco.
Fly, Cher Ami, fly! :
ISBN: 081097097X OCLC: 180573303 Abrams Books for Young Readers, New York : 2008. Cher Ami was one of six hundred carrier pigeons used by the American Army during World War I. Cher Ami was a hero who, against all odds, helped rescue a lost battalion of soldiers.
Game day /
ISBN: 1416900934 OCLC: 56482212 Simon & Schuster Books for Young Readers, New York : ©2005. Twin brothers Tiki and Ronde Barber share a story of perseverance and teamwork from when they were growing up and playing for the Cave Springs Vikings before they became NFL superstars. Ronde and Tiki are a team. They are twins, they are each other's best friends and biggest fans, and they play on the same football team, the Cave Spring Vikings. Ronde is #21 and Tiki is #22, always side by side. Tiki has had seven long touch-down runs this season, and Ronde is proud of his brother, but he can't help feeling a little down when Tiki gets all the glory. If Ronde hadn't been leading the way with his blocks, Tiki wouldn't have been clear to score. Ronde thinks nobody notices the guy who blocks; they only notice the guy who scores. Will the day ever come when Ronde will get his chance? Written by two NFL superstars, this story of perseverance and teamwork will inspire. Barry Root's glowing illustrations bring to life all the excitement and energy of a great game and a team working together.
George Bellows :
ISBN: 1419701665 OCLC: 747331973 No punches are pulled in this fascinating biography that covers the life and work of the prolific artist George Bellows. Having spent most of his adult life in New York City, Bellows left behind an extraordinary body of work that captures life in this dynamic city: bustling street scenes, ringside views of boxing matches, and boys diving and swimming in the East River. Art reproductions and photographs from his youth round out the book.
Goal /
ISBN: 0152017895 OCLC: 40452943 Harcourt Brace, San Diego, Ca. : 2001. Illustrations and poetic text describe the movement and feel of a fast-paced game of soccer.
Good-bye, Sheepie /
ISBN: 0761455981 OCLC: 311309975 Marshall Cavendish Children, Tarrytown, N.Y. : ©2010. A father teaches his young son about death and remembrance as he buries their beloved dog.
Hercules /
ISBN: 0152016678 OCLC: 38289165 Silver Whistle, San Diego : c1999. Retells the story of the final, and most difficult, labor of Hercules, known as Heracles in Greek mythology, in which he must go to Underworld and bring back the three-headed dog, Cerberus.
Hit the road, Jack /
ISBN: 1419703994 OCLC: 781677460 Abrams Books for Young Readers, New York : ©2012. A rabbit named Jack travels across the United States in a story based on the life of author Jack Kerouac.
Home Run
ISBN: 0613598997 OCLC: 43415234 Voyager Books 1998
Hoops /
ISBN: 0152014500 OCLC: 34669311 Illustrations and poetic text describe the movement and feel of the game of basketball.
I love going through this book /
ISBN: 006028806X OCLC: 43063209 For one reader, going through a book is an incredible adventure.
Into the air :
ISBN: 0152024921 OCLC: 44914118 Silver Whistle, San Diego : ©2002. Describes how the Wright Brothers came to build and fly the first powered aircraft.
Into the woods :
ISBN: 1442453370 OCLC: 941033691
It's funny where Ben's train takes him /
ISBN: 0531301060 OCLC: 38355443 Orchard Books, New York : 1999. Ben draws a train that takes him to all sorts of wonderful places before returning him to his own bed.
Langston's train ride /
ISBN: 0439352398 OCLC: 52520229 Describes how the twentieth-century African American poet Langston Hughes affirms his vocation as a writer through the composition of his famous 1921 poem "The Negro Speaks of Rivers."
Look Up! :
ISBN: 1416958193 OCLC: 233798854 Simon & Schuster Books for Young Readers, New York : ©2013. An illustrated portrait of astronomer Henrietta Swan Leavitt traces the years she spent measuring stars from her position at the Harvard College Observatory and her important discoveries that enabled the scientific community to gain a fuller understanding of the universe's vast size.
Lookin' for Bird in the big city /
ISBN: 0152020314 OCLC: 39202206 Harcourt, San Diego, Calif. : 2001. A fictionalized account of the time when, as a teen-age music student, trumpeter Miles Davis spent many hours trying to find Charlie Parker in New York City.
Messenger, messenger /
ISBN: 0689821034 OCLC: 39116626 Atheneum Books for Young Readers, New York : ©2000. Calvin Curbhopper, a bicycle messenger, makes his way through the city in all kinds of conditions to make sure that his messages get delivered on time.
Napoleon :
ISBN: 081091378x OCLC: 70668805 Abrams Books for Young Readers, published in association with the American Federation of Arts, New York : 2007. A brief introductory biography of Napoleon.
Night flight :
ISBN: 9781416967330 OCLC: 289067817 An account of Amelia Earhart's dangerous 1932 flight across the Atlantic Ocean from Newfoundland to Ireland, in which she survived bad weather and a malfunctioning airplane. Includes a brief biography of the aviator.
O captain, my captain :
ISBN: 1419733583 OCLC: 1030447313 Nonfiction picture book recounts how President Abraham Lincoln inspired the poet Walt Whitman during the Civil War.
One giant leap /
ISBN: 9780147511652 OCLC: 881522287 A historical account of man's first walk on the moon, this book is a tribute that transports readers to the stars, where they will experience the moon landing just as Neil Armstrong and Buzz Aldrin did.
Pandora /
ISBN: 0152021787 OCLC: 49499199 Although Pandora has a house, gardens, and numerous gifts, she is drawn to the room that holds a forbidden jar. Is her curiosity a gift or a curse?
Paul CeŐĀzanne :
ISBN: 0810957841 OCLC: 59879438 H.N. Abrams ; New York : 2006. Introduces the life and work of the French painter, discussing the struggles of his early life, his friendships with other artists, and his lifelong commitment to developing his own unique style. Filled with Cezanne's paintings, period photographs, and the works of his contemporaries, this picture book biography illuminates the life and art of Cezanne for youngsters everywhere. A great and difficult artist, Cezanne's life and work are easily laid out for children in this important addition to the Abrams collection of picture book biographies. Burleigh tells how Cezanne overcame his father's rejection, critics' scorn, and public indifference to create his art and follow his own inner voice. Children will find inspiration in his story to follow their own dreams and to believe in themselves-as well as learning about Cezanne's major contributions to the history of art.
Play ball! /
ISBN: 141699825X OCLC: 424555582 Simon & Schuster Books for Young Reader, New York : 2010. Presents a story of right-handed Jorge Posada being coached by his father to bat left-handed, and how it leads right to the major leagues.
Seurat and La Grande Jatte :
ISBN: 0810948117 OCLC: 52775123 H.N. Abrams in association with the Art Institute of Chicago, New York : 2004. An analysis of Georges Seurat's famous painting, A Sunday on La Grande Jatte, including where and when it was made, interesting details, and the techniques used to create a sense of stillness.
Solving the Puzzle Under the Sea: Marie Tharp Maps the Ocean Floor
ISBN: 1481416006 OCLC: 890011300 Simon & Schuster 2016 "This illustrated biography shares the story of female scientist, Marie Tharp, a pioneering woman scientist and the first person to ever successfully map the ocean floor"--
Stealing home :
ISBN: 0689862768 OCLC: 63122746 Simon & Schuster Books for Young Readers, New York : ©2007. A look at the the personal life and baseball career of the legendary player, Jackie Robinson who was the first African American to play in the majors.
Sylvia's Bookshop :
ISBN: 1481472453 OCLC: 1048020498 "The story of the legendary Shakespeare & Company bookstore and its owner Sylvia Beach and the many great writers who came to meet, read and share ideas"--
Teammates /
ISBN: 1442412623 OCLC: 62172782 "A story of teamwork and perseverance based on the childhood of National Football League stars and twin brothers Tiki and Ronde Barber"--Provided by publisher.
The adventures of Mark Twain by Huckleberry Finn /
ISBN: 0689830416 OCLC: 464593086 Atheneum Books for Young Readers, New York : ©2011. An introduction to the life and career of American author Mark Twain told in the voice of Huckleberry Finn, one of his most enduring characters.
The crossing /
ISBN: 1442104481 OCLC: 662600964 AntiPress, Chicago : ©2009.
The future of the earth :
ISBN: 0810950189 OCLC: 54479249 Harry N. Abrams, New York, NY : ©2004. An attention-grabbing primer on mankind's direct and indirect effects on the natural world. This important book explains how such topics as global trends, economic disparity, and invasive species, among others, have changed the world in which we live. World-renowned photographer Yann Arthus-Bertrand's spectacular photographs feature fragile environments that are at risk of being lost as well as places that have already seen the devastating effects of human behavior. A poignant overview of the state of the globe, this book encourages readers to understand what is happening in the environment and to take action. From the best-selling author and photographer of Earth from Above for Kids comes a great introduction to various developments affecting the earth on a global level-perfect for the classroom!
The sea :
ISBN: 0810945916 OCLC: 51613797 H.N. Abrams, New York : 2003. Text and photographs of storms, ports, pollution, diving, rescues, surfing, lighthouses, tides, and many kinds of boats, plants, and animals reveal the world's oceans and the people who live on or near them.
The secret of the great Houdini /
ISBN: 0689832672 OCLC: 44174125 Atheneum Books for Young Readers, New York : ©2002. As Sam and Uncle Ezra watch, the Great Houdini escapes from a trunk at the bottom of the river. Includes factual information about Houdini and his career as a magician and escape artist.
The Triumph of Mittens
ISBN: B00227LJUO OCLC:
Tiger of the snows :
ISBN: 1442421924 OCLC: 57422622 Atheneum Books for Young Readers, New York : ©2006 Describes the first successful climb to the top of Mount Everest by the Sherpa Tenzing Norkey and Sir Edmund Hillary in 1953.
Tiny bird :
ISBN: 1627793690 OCLC: 1089265429 As autumn nears, flowers fade and insects become quiet, and Tiny Bird leaves his northern home for the long and perilous journey to lush southern forests. Includes facts about hummingbirds.
Toulouse-Lautrec :
ISBN: 0810958678 OCLC: 56658148 H.N. Abrams in association with the Art Institute of Chicago, New York : 2005. A short biography of the artist and a look at the city he loved. Presents the life of the French artist, discussing how he overcame childhood injuries and went on to become one of the acknowledged masters of French painting of the nineteenth century.
Trapped! A Whale's Rescue
ISBN: B01K17BLMC OCLC:
Volcanoes :
ISBN: 0810945908 OCLC: 51615197 H.N. Abrams, New York : 2003. Over thirty photographs and accompanying text reveal the facts about the world's volcanoes.
Who said that? :
ISBN: 0805043942 OCLC: 34824041 Henry Holt, New York : 1997. A collection of quotations along with the story behind the words and the people who voiced them.
Wilbur Wright meets Lady Liberty /
ISBN: 1627793682 OCLC: 1141988259 "Two American icons meet in this nonfiction picture book that tells the dramatic true tale of Wilbur Wright's flight circling the Statue of Liberty"--
Zoom! Zoom! :
ISBN: 1442483156 OCLC: 815043649 Simon & Schuster Books for Young Readers, New York : ©2014. From morning's joggers until night's last train, a boy notices and enjoys the many sounds made by people and things in a big city.