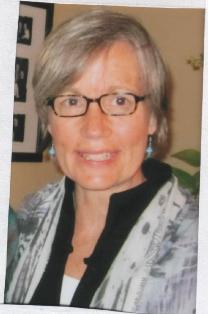 Laurie Lawlor
Born:
1953 in Oak Park, Illinois
Pen Name:
None
Connection to Illinois
: Lawlor was born in Oak Park, grew up in LaGrange and attended Northwestern University. She currently resides in Evanston and is a part-time faculty member at Chicago's Columbia College.
Biography
: Laurie Lawlor is the author of 42 works of award-winning fiction and nonfiction for children and young adults. She has taught creative writing at many colleges, including Northwestern University, and workshops throughout the Midwest.
---
Awards
:
Super Women Outstanding Science Trade Book, Children's Book Council (CBC) 2018, Outstanding Science Trade Book, NSTA, 2018
Rachel Carson and Her Book That Changed the World John Burroughs Riverby Award for Excellence in Nature Writing, 2012, Amelia Bloomer Award List, ALA, 2012, Illinois READS Book Selection, Illinois Reading Council, 2014
Restoring Prairie, Woods, and Pond Illinois READS Book Selection, Illinois Reading Council, 2024
Primary Literary Genre(s):
Fiction; Non-Fiction
Primary Audience(s):
Children; Young adult readers
Web:
http://www.laurielawlor.com
---
Selected Titles
Addie across the prairie /
ISBN: 0807501654 OCLC: 12314118 A. Whitman, Niles, Ill. : 1986. Unhappy to leave her home and friends, Addie reluctantly accompanies her family to the Dakota Territory and slowly begins to adjust to life on the prairie. Nine-year-old Addie learns about sod houses and curious Indians as her family travels cross-country to the Dakota Territory.
Addie's Dakota winter
ISBN: 0671701487 OCLC: 24942518 Pocket Books, New York : 1991, ©1989. In her new pioneer home of Dakota, ten-year-old Addie finds an unlikely friend and, stranded alone during a blizzard, learns about courage. She wants a perfect friend -- But can she be a perfect friend. Addie can't wait for school to begin. ALl she wants is one special friend. But scrawny, scrappy Tilla Bergstrom isn't the friend she imagined. Addie even thinks Tilla lies! But she'll have to do until somebody better comes along. The girls are having fun -- until some bullies threaten Tilla because of Addie's lie. When Tilla disappears, Addie sets out on the long trek to her house to apologize and to bring her back. But Tilla can't return to school. And Addie is soon trapped in a blinding blizzard, fighting for her life -- and the friend she almost lost!
Addie's forever friend /
ISBN: 0807501646 OCLC: 36201474 A. Whitman, Morton Grove, Ill. : ©1997. While her father is looking for a homestead in the Dakotas, Addie and her mother and brothers spend the summer with her aunt and uncle in Sabula, Iowa, where she rescues her best friend during a flood and where her baby sister is born.
Addie's long summer /
ISBN: 0807501670 OCLC: 24503116 Albert Whitman, Morton Grove, Ill. : 1992. Twelve-year-old Addie eagerly awaits her cousins' summer visit to her prairie home but, once they arrive, finds things much more complicated than she had ever imagined. In this third story about the farm life of the Mills family in the late nineteenth century, Addie can't wait to share the summer with her cousins, but they don't fit in easily at first. Addie is disappointed to find that her cousins do not fit into pioneer farm life.
American Sisters, Horseback on the Boston Post Road, 1704
ISBN: 0743436261 OCLC: 45658987 Pocket Books, New York : 2000. As war with the French and Indians begins in 1704, Madame Sarah Kemble Knight is instructed to bring twin servant girls Hester and Philena on a perilous journey by horse from Boston to New Haven, Connecticut.
American Sisters, Pacific Odyssey to California, 1905
ISBN: 0671039253 OCLC: 47245907 Pocket Books, New York : ©2001. Eleven-year-old Su-Na and her family immigrate from Korea to the island of Hawaii hoping to find prosperity and good fortune, but racism and poor job prospects force the family to move on to California.
American Sisters: A Titanic Journey Across the Sea, 1912
ISBN: 0671027182 OCLC: 39934315 Pocket Books, New York : 1998. A story of two sisters, Alfreda and Erna, who reunited on the Titanic and met a destiny no one could have foretold.
American Sisters: Adventure on the Wilderness Road, 1775
ISBN: 0671015532 OCLC: 40808957 Pocket Books, New York : ©1999. In 1775, while traveling with her family from Virginia to Kentucky, and joined by another family along the way, eleven-year-old Elizabeth reads Gulliver's Travels to the children and keeps a journal of their adventures, which include a runaway slave, encounters with Cherokees, and a near-fatal accident.
American Sisters: Crossing the Colorado Rockies, 1864
ISBN: 0671775723 OCLC: 41094341 Pocket Books, New York : ©1999. The Hitchcocks seek gold but face poverty and their own prejudices.
American Sisters: Down the Rio Grande, 1829
ISBN: 0671039229 OCLC: 44993243 Pocket Books, New York : ©2000. Sixteen-year-old Rosita Trevino dreams of a better life, as does her book loving stepsister, Maria Alvarez. Neither girl can imagine the danger they will face when they run away and catch a steamboat bound for Texas.
American Sisters: Exploring the Chicago World's Fair, 1893
ISBN: 074343630X OCLC: 46670291 Pocket Books, New York : ©2001. After moving to Chicago so their father can work for Buffalo Bill's Wild West show, twelve-year-old Dora and her three younger sisters find jobs and amusement at the 1893 World's Columbian Exposition, while also worrying about their family's poverty.
American Sisters: Voyage to a Free Land, 1630
ISBN: 0671015524 OCLC: 40695618 Pocket Books, New York : ©1999. Abigail Garrett and her older sister, Hannah, leave their home in England to board a ship bound for the New World and freedom from religious persecution. By the time they reach their destination, the two girls have weathered a difficult journey and become friends.
American Sisters: West Along the Wagon Road, 1852
ISBN: 0671015516 OCLC: 39855092 Pocket Books, New York : ©1998. Eleven-year-old Harriet
Big tree down! /
ISBN: 0823436616 OCLC: 993672581
Daniel Boone /
ISBN: 0807514624 OCLC: 16830682 A. Whitman, Niles, Ill. : 1989. Traces the life of the colonial pioneer, hunter, and woodsman, from his youth in the Pennsylvania wilderness to his adventures exploring the frontier, especially the
Dead reckoning :
ISBN: 0689865775 OCLC: 56631686 Simon & Schuster Books for Young Readers, New York : ©2005. Emmet, a fifteen-year-old orphan, learns hard lessons about survival when he sails from England in 1577 as a servant aboard the Golden Hind--the ship of his cousin, the explorer and pirate Francis Drake--on its three-year circumnavigation of the world.
Fearless world traveler :
ISBN: 0823439593 OCLC: 1193560107
George on his own /
ISBN: 0807528234 OCLC: 26404678 A. Whitman, Morton Grove, Ill. : ©1993. Addie's twelve-year-old brother, George, doesn't think anyone appreciates his musical talent, and when his father threatens to sell his trombone, George decides to run away from the family's prairie home.
Gold in the hills /
ISBN: 0802783716 OCLC: 31376056 Walker, New York : 1995. When they are left with relatives while their father goes prospecting for gold in the Colorado mountains, ten-year-old Hattie and her older brother depend on their friendship with a recluse who lives nearby to make their lives bearable.
He will go fearless /
ISBN: 0689865791 OCLC: 58431659 Simon & Schuster Books for Young Readers, New York : ©2006. With the Civil War ended and Reconstruction begun, fifteen-year-old Billy resolves to make the dangerous and challenging journey West in search of real fortune--his true father.
HEARTLAND SERIES #1: COME AWAY WITH ME
ISBN: 0671537164 OCLC: 35090007 Pocket Books, New York : ©1996. Madeline "Moe" McDonohugh finally finds adventure when her father buys a Ford Model T.
HEARTLAND SERIES #2: TAKE TO THE SKY
ISBN: 0671537172 OCLC: 35300802 Pocket Books, New York : ©1996. "Moe" McDonohugh is a girl who wants to fly in her own plane and she has a lot of adventures trying to get the money to buy one.
HEARTLAND SERIES #3: LUCK FOLLOWS ME
ISBN: 0671537180 OCLC: 35853382 Pocket Books, New York : 1996. It's 1910, and Halley's comet is coming. Some people think it will cause fires, floods, earthquakes, all kinds of terrible things. But Moe knows better. The comet will just be one spectacular show! And who better to watch it with than Grandfather? But it's not all fun visiting Grandfather's house. Grandmother is stern, forbidding and hiding secrets about the past, Moe's new friend, Phoebe, swears there's a ghost in the attic and Moe finds out that Grandfather thinks he's going to die when the comet passes by. Can Moe and Phoebe save him?
Helen Keller :
ISBN: 0823415880 OCLC: 44162475 Holiday House, New York : ©2001. Recounts the life and achievements of Helen Keller who overcame the handicaps of being deaf and blind.
How to survive third grade
ISBN: 0671677136 OCLC: 23057745 Published by Pocket Books, New York : [1991], ©1988. Ernest, an unpopular third grader, has a difficult adjustment to make until he finds a friend and experiences his first real successes in life.
Little women /
ISBN: 1557042160 OCLC: 31288961 Newmarket Press, New York : 1994. This version of the classic story of four sisters in nineteenth-century New England is based on the Columbia Pictures movie.
Magnificent voyage :
ISBN: 0823415759 OCLC: 49011139 Holiday House, New York : ©2002. Based on the writings of John Ledyard, an American cook on the ship Resolution, tells of explorer James Cook's final voyage in search of the Northwest Passage, discovery of the Hawaiian Islands, and murder.
Muddy as a duck puddle and other American similes /
ISBN: 0823422291 OCLC: 429227124 Holiday House, New York : ©2010. A collection of 26 American similes--one for each letter of the alphabet--including notes on the origins and meanings of each.
Old Crump :
ISBN: 0823416089 OCLC: 46538374 Holiday House, New York : 2002. In 1850, a faithful ox helps a group of travelers survive their trip through Death Valley.
Rachel Carson and her book that changed the world /
ISBN: 0823423700 OCLC: 683247701 Retells the story of Rachel Carson, a pioneering environmentalist who wrote and published "Silent Spring," the revolutionary book pointing out the dangerous effects of chemicals on the living world.
Restoring Prairie, Woods, and Pond: How a Small Trail Can Make a Big Difference (Books for a Better Earth)
ISBN: 0823451658 OCLC: Holiday House 2023 A small town with few resources comes together to restore nature and create a valuable resource for the entire community in this inspiring middle grade nonfiction book. Restoring Prairie, Woods, and Pond is about activism at the community level—and tells how a small village transformed a city-owned dumping ground into a nature trail with three distinct ecosystems that runs from an elementary school to a public library and community center. Filled with beautiful photos the book will explain how this trail became a valuable outdoor classroom during covid, a STEM teaching center, a respite for people young and old, and a place for community engagement. Books for a Better Earth are designed to inspire children to become active, knowledgeable participants in caring for the planet they live on.
Second-grade dog /
ISBN: 0807572802 OCLC: 20295066 A. Whitman, Niles, Ill. : 1990. Lonely Bones, the Mudheads' dog, disguises himself as a second-grader and spends an adventurous day at school.
Shadow catcher :
ISBN: 0802782884 OCLC: 29428638 Walker, New York : 1994. Describes the life and work of the man who photographed numerous Native American Indian tribes when he feared their way of life was about to vanish and whom the Indians named Shadow Catcher.
Super women :
ISBN: 0823436756 OCLC: 951742178 Profiles six women scientists who persevered in the face of prejudice, including ichthyologist Eugenie Clark and mathematician Katherine Coleman Johnson.
The biggest pest on Eighth Avenue /
ISBN: 0823413217 OCLC: 36364105 Holiday House, New York : ©1997. An amateur horror show scares no one except its creators until a frightful actor appears on the scene.
The real Johnny Appleseed /
ISBN: 0807569097 OCLC: 30737599 A. Whitman, Morton Grove, Ill. : 1995. Relates the travels of folk hero John Chapman who planted apple trees across America during the nineteenth century.
The school at Crooked Creek /
ISBN: 082341812X OCLC: 52877515 Holiday House, New York : ©2004. Living on the nineteenth-century Indiana frontier with his parents and irritable older sister Louise, six-year-old Beansie dreads his first day of school, but his resilience surprises even his sister.
The two loves of Will Shakespeare :
ISBN: 0823419010 OCLC: 61456727 Holiday House, New York : ©2006. After falling in love, eighteen-year-old Will Shakespeare, a bored apprentice in his father's glove business and often in trouble for various misdeeds, vows to live an upstanding life and pursue his passion for writing.
The worm club /
ISBN: 0671789007 OCLC: 30397424 Published by Pocket Books, New York : ©1994. Arthur dreams of being on the school safety patrol. When the class bully, Martin, befriends him, Arthur is headed for trouble.
The worst kid who ever lived on Eighth Avenue /
ISBN: 0823413500 OCLC: 37281577 Holiday House, New York : ©1998. Trying to be detectives, Mary Lou and her friends imagine that terrible crimes are being committed when Leroy, the worst kid who ever lived on Eighth Avenue, returns to the house next door.
This tender place :
ISBN: 0299214605 OCLC: 794702190 University of Wisconsin Press, Madison, Wis. : ©2005.
Where will this shoe take you? :
ISBN: 0802784348 OCLC: 34193136 Walker & Co., New York : 1996. A history of fashion in footwear through the ages.
Willard & Spackman's occupational therapy.
ISBN: 9780781760041 OCLC: 181069203 Wolters Kluwer Health/Lippincott Williams & Wilkins, Philadelphia : ©2009. As a reference, this text provides a current and comprehensive presentation of occupational therapy concepts and practice. An occupation-based, client-centered and evidence-based approach to practice is described across a variety of community, education, and medical-based practice arenas. It answers the questions: What will I do as an OT, Who will I treat, and Where will I practice?
Wind on the river /
ISBN: 0809205823 OCLC: 44140832 Jamestown Publishers, Lincolnwood, Ill. : ©2000. In 1863, fifteen-year-old Private Allen of South Carolina, captured at the Battle of Gettysburg, decides to switch his allegiance to the Union and is sent to fight "savages" in Dakota Territory, where he confronts his prejudices and learns what heroism really means.
Window on the West :
ISBN: 0823413802 OCLC: 40667966 Holiday House, New York : ©1999. Presents the photographs taken by William Henry Jackson from 1869 to 1893, discussing his life and how his work captured and introduced the American West to the public.