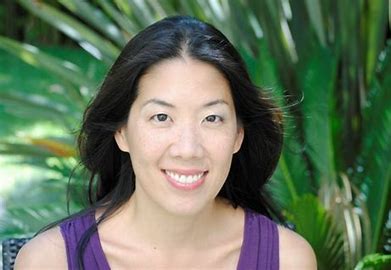 Cynthea Liu
Born:
Pen Name:
None
Connection to Illinois
: Liu lives and works in Chicago.
Biography
: Cynthea Liu spent her formative years in Oklahoma and Texas where she was a Whiz Quiz member, an Academic Decathloner, and a spelling bee champion. After attending college on the East Coast, she worked in a corporate position until becoming a full-time childrens author.Along with the books she has written, Liu has also been involved in the creation of an anthology and a contributor to the second volume of the ''The New Writer's Handbook'' and ''A Practical Anthology of Best Advice for Your Craft and Career.'' Liu was the inspiration behind the creation of the anthology, ''I Took the Dare: 1 Book. 1 Social Experiment. 18 Young Writers.'' The 2nd - 7th grade writers took Liu's dare to better themselves for seven days and write about it. The stories give readers a glimpse into tween minds as they struggle with issues like sibling rivalry, self-esteem, bullying, friendship, etc.
---
Awards
:
'''''Paris Pan Takes the Dare'''''
-- Scholastic Book Clubs selection
-- Oklahoma Book Award Finalist
-- APALA Book List selection
-- Accelerated Reader program Book
-- Scholastic Reading Counts Book '''''The Great Call of China'''''
-- NoveList Best Title
-- Grab-an
Primary Literary Genre(s):
Fiction; Non-Fiction
Primary Audience(s):
Adult readers; Children; Young adult readers
Email:
Liu
Cynthea Liu on WorldCat :
http://www.worldcat.org/search?q=cynthea+++liu+
---
Selected Titles
Bike on, Bear! /
ISBN: 1481405063 OCLC: 893784246 "Bear is an extraordinary, genius bear, who can do anything except ride a bike. Can Bear figure out how to get on two wheels?"--
Paris Pan takes the dare /
ISBN: 0399250433 OCLC: 259754275 G.P. Putnam's Sons, New York : ©2009. Friendless because of her family's frequent moves, twelve-year-old Chinese American Paris Pan wants very much to fit in with the seemingly friendly girls in her new school, even if it means taking a dare to spend the night in a spooky woods, reputedly haunted by the ghost of a girl who died there years ago.
Paris Pan Takes the Dare.
ISBN: 9780142417461 OCLC: 535490644 Puffin 2011.
The great call of China
ISBN: 9781101019894 OCLC: 495792669 Speak, New York : 2008. Sixteen-year-old Cece travels to China in an attempt to discover her roots and possibly find out about her birth parents.
The Great Call of China /
ISBN: 0142411345 OCLC: 237881931 Speak, New York : ©2009. Chinese-born Ceca was adopted when she was two years old by her American parents. Living in Texas, she's bored of her ho-hum high school and dull job. So when she learns about the S.A.S.S. program to Xi'an, China, she jumps at the chance. She'll be able to learn about her passion - anthropology - and it will give her the opportunity to explore her roots. But when she arrives, she receives quite a culture shock. And the closer she comes to finding out about her birth parents, the more apprehensive she gets. Enter Will, the cute guy she first meets on the plane. He and Ceca really connect during the program. But can he help her get accustomed to a culture she should already know about, or will she leave China without the answers she's been looking for?
Wooby & Peep :
ISBN: 9781402796449 OCLC: 794306372 Sterling Children's Books, New York, NY : c2013. When Peep leaves the city to live in the country with her pet iguana, her new neighbor, Wooby is concerned but tries to be polite and neighborly, even when her efforts to become his friend lead to disaster.
Writing for children & teens :
ISBN: 1605301140 OCLC: 230767769 Pivotal Pub., Chicago [Ill.?] : 2008.