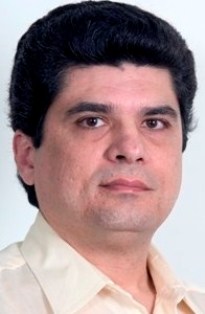 Orlando Menes
Born:
1958 in Lima Peru
Pen Name:
Orlando Ricardo Menes
Connection to Illinois
: Menes attended the University of Illinois-Chicago and received a Ph. D. in Creative Writing.
Biography
: Orlando Ricardo Menes was born in Lima, Perú, to Cuban parents but has lived most of his life in Miami, Florida. He spent two years in Spain in the early 70's. He holds a BA and MA in English at the University of Florida. His poems have appeared in many journals including: ''The Florida Review'', ''Poem'', ''Negative Capability'' and ''The Ohio Poetry Review''. Since 2000 he has taught in the Creative Writing Program at the University of Notre Dame, where he is currently serving as its director. In addition to the books he has published, Menes has edited two anthologies of poetry: [http://www.amazon.com/s/ref=nb_sb_noss?url=search-alias%3Dstripbooks&field-keywords=%27%27THE+OPEN+LIGHT%3A+POETS+FROM+NOTRE+DAME%2C+1991-2008%27%27+ ''The Open Light: Poets from Notre Dame, 1991-2008''] and [http://www.amazon.com/Renaming-Ecstasy-Latino-Writings-Sacred/dp/1931010153/ref=sr_1_1?s=books&ie=UTF8&qid=1418680409&sr=1-1&keywords=%27%27RENAMING+ECSTASY%3A+LATINO+WRITINGS+ON+THE+SACRED%27%27 ''Renaming Ecstasy: Latino Writings on the Sacred.''] Besides his own poems, Menes has published numerous translations of poetry in Spanish, including ''MY HEART FLOODED WITH WATER: SELECTED POEMS BY ALFONSINA STORNI'' (Latin American Literary Review Press, 2009). That same year he received a Literature Fellowship from the National Endowment for the Arts.
---
Awards
:
Primary Literary Genre(s):
Poetry
Primary Audience(s):
Adult readers
Email:
omenes@nd.edu
Website:
http://www.orlandomenes.com
Orlando Menes on WorldCat :
http://www.worldcat.org/search?q=orlando+menes
---
Selected Titles
Borderlands with angels /
ISBN: 0963784951 OCLC: 32886943 Bacchae Press, [Bristolville, Ohio] : 1994.
Fetish :
ISBN: 0803264917 OCLC: 851972514 University of Nebraska Press, Lincoln : 2013. From sensual pleasures and perils, moments and memories of darkness and light, the poems in Orlando Ricardo Menes's new collection sew together stories of dislocation and loss, of survival and hope, of a world patched together by a family over five generations of diaspora. This is Menes's tapestry of the Americas. From Miami to Cuba, Panama to Bolivia and Peru, through the textures, sounds, colors, shapes, and scents of exile and emigration, we find refuge at last in a sense of wholeness and belonging residing in this intensely felt, finely crafted poetry.
Furia /
ISBN: 1571314202 OCLC: 57069606 Milkweed Editions, Minneapolis : 2005. "In a voice that is fluid and mesmerizing, Furia fuses together geography, memory, and a rich, multicultural ancestry. Born to Cuban parents, with one family line running back to China, Orlando Ricardo Menes was raised in Peru and Miami, and he uses this heritage to fuel his imagination. Divided into three parts - "Furia," "Coolie," and "Rain"--These poems create a vivid, colorful world, exotic in its variety."
Rumba atop the stones /
ISBN: 190071549X OCLC: 48463188 Peepal Tree Press, Leeds [UK] : 2001.