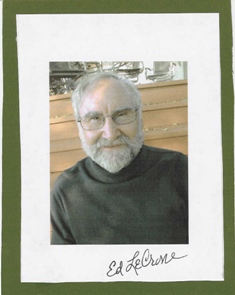 Eddie M. LeCrone
Born:
1938 in Kirksville, Illinois (Moultrie County)
Pen Name:
Ed LeCrone
Connection to Illinois
: LeCrone was born and raised in Illinois. He graduated from Eastern Illinois University in Charleston, Illinois with his Bachelor's and Northern Illinois University with his Master's. LeCrone currently resides in Marengo, Illinois in McHenry County.
Biography
: LeCrone's early life was spent along the tracks of the Chicago and Eastern Illinois Railroad. As a small boy, he observed the WWII troop trains and frequesnt hobos who stopped at his faily's door. In high school, he experienced his family's move from the tiny hamlet to a farm overlooking the Kaskaskia River. Here, LeCrone toiled alongside his father and brothers as they tried to make a living from crops grown in the bottom lands. LeCrone graduated with a BS from Eastern Illinois University with honors in 1960 and married, Darelene Harrmann, his childhood sweetheart who lived just four miles from his boyhood home in the same year. Two daughters and thirty-four years of teaching art followed. In the interim, LeCrone received a Master's degree from Northern Illinois University, a summer grant to study the National Gallery of Art in Washington, DC and a ''Teacher of the Year'' award from the Woodstock VFW Post of McHenry County, Illinois. The author and his wife of forty-nine years make their home on wooded acreage in northern Illinois near the Wisconsin border. When LeCrone isn't writing, he and his wife tend vegetable and flower gardens and enjoy their extended family.
---
Awards
:
Primary Audience(s):
Adult readers
Email:
lecroneart@owc.net
Ed LeCrone on WorldCat :
http://www.worldcat.org/search?q=ed+lecrone
---
Selected Titles
Beyond the point :
ISBN: 1425994628 OCLC: 145569783 AuthorHouse, Bloomington, Ind. : 2007. Eleven short stories that are filled with twists, intrigue and unexpected endings.
Fire on the prairie /
ISBN: 1449075533 OCLC: 611981809 AuthorHouse, Bloomington, IN : ©2010.
Second chance /
ISBN: 1457526433 OCLC: 891084827 Dog Ear Publishing, Indianapolis, Indiana : ©2014. The tension between the United States and the Imperial French government at the close of the Civil War provides the background for this story of the trials and escapes of former Union infantryman Chance Neunan. In searching for his lost love, Andrea Edwards, Neunan becomes involved in spy operations to find out about the activities of French forces in Mexico and the Archduke Maximilian.
The Grave on the Point
ISBN: 1434334201 OCLC: 176872366 AuthorHouse 2007