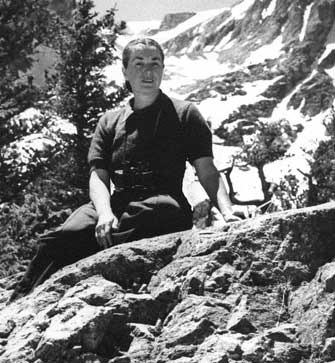 Virginia Eifert
Born:
1911 in Springfield, Illinois
Died:
1966 in Springfield, Illinois
Pen Name:
Virginia S. Eifert
Connection to Illinois
: Eifert lived in Springfield her entire life.
Biography
: Virginia S. Eifert may have lived her entire life in Springfield,Illinois, but her passions took her much farther, traveling and learning about North America's natural and human history on a much broader scale. Born in 1911, she was ill through much of high school and never attained a high school diploma. Instead, she began journaling, learning nature on an intimate level, then developing a 'nature news' publication that she distributed around her neighborhood. Soon she was asked to write in this same style for one of the largest newspapers in Illinois, and by the time she was 19 she was asked to create, write, illustrate and edit a monthly magazine for the Illinois State Museum. She continued with this effort for 326 issues until 1966 and her early death at age 56. Some of her finest writing appeared in ''The Living Museum''. At the museum she also published a series of natural history booklets and wrote for many nationally distributed nature magazines such as ''Audubon'' and ''Nature''. In 1954, she published her first major book for a New York publisher, Dodd Mead, and went on to write 19 more, winning several national awards in the process.
---
Awards
:
Website:
Website:
Virginia Eifert on WorldCat :
http://www.worldcat.org/search?q=virginia+eifert
---
Selected Titles
Birds in your backyard :
ISBN: 0897920317 OCLC: 14871882 Illinois State Museum, Springfield : 1986.
Buffalo trace.
ISBN: 9997482891 OCLC: 948744662 Dodd Mead, [Place of publication not identified] : 1975.
Illinois wild flowers /
ISBN: 0897920708 OCLC: 6252046 Illinois State Museum, Springfield : 1978.
Invitation to birds.
ISBN: 0897920066 OCLC: 948814918 Illinois State Museum, [Place of publication not identified] : 1953.
Journeys in green places :
ISBN: 0940473127 OCLC: 20133797 Wm. Caxton, Sister Bay, Wisc. ; ©1989.
Louis Jolliet, explorer of rivers
ISBN: 9780616634271 OCLC: 1011695571 CNIB, Toronto : 2011. A portrait of a man who, with Father Jacques Marquette in 1673, travelled down the Wisconsin River and found the Mississippi River. 1961.
River reflections :
ISBN: 0871066734 OCLC: 18255306 Globe Pequot, Chester, CT : 1988, ©1985.
Tall trees and far horizons;
ISBN: 0836926862 OCLC: 221151 Books for Libraries Press Freeport, N.Y., [1972, ©1965]