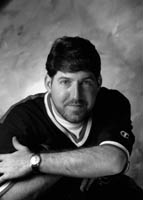 Steve Layne
Born:
1965 in Crawfordsville, Indiana
Pen Name:
Steven L. Layne
Connection to Illinois
: Dr. Layne lives in St. Charles.
Biography
: Steven L. Layne is an associate professor of education and literature at Judson University in Elgin, Illinois.
Public speaking availability:
See author's website for more information.
---
Awards
:
Body of Work Prairie State Award for Excellence in Children's Writing, 2023
This Side of Paradise 2001 - Hal Clement Award Winner for Best New Science Fiction Novel for Young Adults in the US 2001-2002 - Best of the Best for Young Adults, Missouri Library Association 2002-2003 - Read Aloud Books Too Good to Miss, Indiana Library Federation 2003-2004 - Texas Lone Star Top 20 List 2003 - Young Adult Choice Title, International Reading Association
My Brother Dan's Delicious IRA/CBC Children's Choice, 2004
T is for Teacher Learning Magazine Teacher's Choice Award, 2006
The Teachers' Night Before Christmas IRA/CBC Children's Choice, 2002
Primary Literary Genre(s):
Fiction; Non-Fiction
Primary Audience(s):
Adult readers; Children; Young adult readers
Twitter:
https://twitter.com/stevenlayne
Web:
http://www.stevelayne.com
---
Selected Titles
Igniting a passion for reading :
ISBN: 1571103856 OCLC: Portland, Me. : Portland, Me. : Steve Layne shows teachers practical ways to engage and inspire readers from kindergarten through high school, to develop readers who are not only motivated to read great books, but also love reading in its own right. --from publisher description.
In Defense of Read-Aloud: Sustaining Best Practice
ISBN: 1625310404 OCLC: Stenhouse Publishers 2015 A teacher's guide to the benefits of reading to students and having the students read-aloud.
Life's literacy lessons :
ISBN: 0872072770 OCLC: Newark, Del. : International Reading Association, Newark, Del. : ©2003.
Love the baby /
ISBN: 1589803922 OCLC: Gretna, La. : Pelican Pub. Co., Gretna, La. : ©2007. An older brother at first resents his new sibling, but eventually he starts to love the baby.
Mergers /
ISBN: 1589805380 OCLC: Gretna, La. : Pelican, Gretna, La. : 2007. Four deviant teenagers, each with a special power, struggle to survive in a future where the Legion for World Alliance has merged all the earth's peoples into one combined race. --NoveList
My brother Dan's delicious /
ISBN: 1589800710 OCLC: Gretna : Pelican Pub., Gretna : 2003. When he finds that he is home alone for the first time, a bright eight-and-a-half-year-old boy informs any monsters that might be lurking in the house that his older brother Dan is worth the wait.
Over land and sea :
ISBN: 1589801822 OCLC: Gretna, La. : Pelican Pub. Co., Gretna, La. : 2005. Two parents describe their journey over land and sea to find the child that belongs in their family, as well as all of the joy and love the new baby brings.
P Is for Princess: A Royal Alphabet (Sleeping Bear Alphabets)
ISBN: 1585363065 OCLC: Chelsea, MI : Sleeping Bear Press Chelsea, MI : 2007 An A through Z picture book introducing royalty from around the world, both real and make-believe. Topics such as Aurora, emperor, Grace Kelly, Princess, Ka'iulani, King Arthur, nobility, and tiara are included --Provided by publisher.
Paradise lost /
ISBN: 1589805909 OCLC: Gretna, La. : Pelican Pub., Gretna, La. : 2011. When former wallflower Chase Maxfield returns to school in the fall as a hunky high schooler, his too-good-to-be-true physical transformation unsettles Jack, who discovers that the dangerous, utopia-building Mr. Eden may still be alive.
Play with Puppy
ISBN: 1455623741 OCLC: Pelican 2018 When a young bunny gets a puppy for his birthday he has to face the demands on his time that the new pup is making as well as deal with the consequences of what can happen when his new exuberant friend is ignored.
Preacher's night before Christmas /
ISBN: 1589803213 OCLC: Gretna [La.] : Pelican, Gretna [La.] : ©2006. Everything is going wrong as Pastor McDougall tries to get ready for the Christmas Eve play, and it takes a visit from St. Nick to remind him what Christmas is really about.
Share with Brother
ISBN: 1589808606 OCLC: Gretna, La. : Pelican Gretna, La. : 2010 A young boy grows angry at being told, over and over, Share with brother and someday brother will share with you, but finally learns his lesson.
Stay with Sister /
ISBN: 1455615234 OCLC: Gretna, La. : Pelican Pub., Gretna, La. : 2012. When a boy who does not like continually being asked to keep an eye on his younger sister is sent to his room for leaving her alone one too many times, she helps him realize that being a big brother has its rewards.
T Is for Teachers
ISBN: 1585362662 OCLC: Chelsea, Mich. : Sleeping Bear Press Chelsea, Mich. : 2005 An A-Z pictorial for children ages 4-10 explaining school. Letter topics include, the alphabet, kindergarten, books, librarian, and principal. Each is introduced with a poem accompanied by expository text to provide detailed information --Provided by publisher.
Teachers' night before Halloween /
ISBN: 1589805852 OCLC: Gretna, La. : Pelican Pub. Co., Gretna, La. : 2008. In this reimagining of Clement Moore's holiday poem, it's the day before Halloween, and the teachers look for a way to escape the annual Halloween Day parade. But when the principal issues a memo that says all teachers must attend the parade, the faculty wake up on Halloween morning filled with dread.
The principal's night before Christmas /
ISBN: 1589802527 OCLC: Gretna, La. : Pelican Pub., Gretna, La. : 2004. Problems with naughty students, paperwork, and complicated field trips keep Principal Swell at his office on Christmas Eve and he just cannot seem to make it home to his family until a jolly old man appears to help with his chores. After a visit to teachers of the mell, Santa hurries to school to visit with the principal. This parody of Clement Moore's, a Visit from St. Nicholas finds Principal Swell dealing with malfunctioning computers, school bus delays, irate parents, and reports on state mandated testing before he can join his family for the holidays.
The Teachers' Night Before Christmas
ISBN: 1565548337 OCLC: Gretna, LA : Pelican Gretna, LA : 2001 Exhausted from parties and pageants at school but with presents still to buy, teachers are greeted at the mall by an unexpected helper driving a flying schoolbus.
This side of paradise /
ISBN: 1589802543 OCLC: Gretna, La. : Pelican, Gretna, La. : 2005. Jack Barret is a junior in high school. When his perfectionist father starts working for the Eden Corporation and forcibly moves the family to the corporation's village called Paradise, Jack uncovers a sinister plot in the pursuit of perfection.
Thomas's sheep and the great geography test /
ISBN: 1565542746 OCLC: Gretna : Pelican Pub., Gretna : ©1998. Worried about an upcoming geography test, Thomas finds himself unable to fall asleep until he tries counting sheep.
Thomas's sheep and the spectacular science project /
ISBN: 1589802101 OCLC: Gretna, La. : Pelican Pub. Co., Gretna, La. : 2004. Determined to prove himself at his new school by creating the best science project ever, Thomas becomes so immersed in his study of the solar system that he dreams of astronaut sheep who fly a spacecraft to Mars and beyond.
Verses for dad's heart /
ISBN: 1589801458 OCLC: Gretna, La. : Pelican Pub. Co., Gretna, La. : 2004. A collection of poems that celebrate the bond between children and their fathers.
Verses for mom's heart /
ISBN: 1589803205 OCLC: Gretna, La. : Pelican Pub. Co., Gretna, La. : 2005. Verses for mom's heart.
W is for windy city :
ISBN: 9781585365708 OCLC: Lake Shore Drive, the Magnificent Mile, Navy Pier ... just the mention of these iconic sights conjures up a skyline known the world over as the Windy City. Welcome to Chicago! And there's no better guidebook to the city than W is for Windy City: A Chicago Alphabet. Following the alphabet, the city's character and familiar landmarks are fully captured in poem and expository text. A is for Art Institute or Adler Planetarium. And if we want a triple A, we'll add the Shedd Aquarium. Young readers can marvel at the treasures on display at the renowned Art Institute, go window shopping along Michigan Avenue's mile-long Magnificent Mile, or take in an afternoon game at Wrigley Field with the Chicago Cubs.