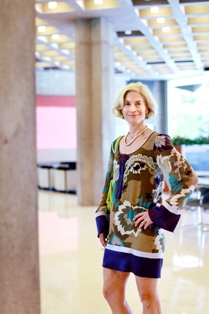 Martha Craven Nussbaum
Born:
1947 in New York City
Pen Name:
None
Connection to Illinois
: Professor Nussbaum has lived and worked in Chicago since the mid 1990's.
Biography
: Professor Nussbaum is the Ernst Freund Distinguished Service Professor of Law and Ethics, appointed in the Law School and Philosophy Department. She is an Associate in the Classics Department, the Divinity School, and the Political Science Department, a Member of the Committee on Southern Asian Studies, and a Board Member of the Human Rights Program.Martha received her BA from NYU and her MA and PhD from Harvard. She has taught at Harvard, Brown, and Oxford Universities. From 1986 to 1993, Ms. Nussbaum was a research advisor at the World Institute for Development Economics Research, Helsinki, a part of the United Nations University. She has chaired the American Philosophical Associationís Committee on International Cooperation, the Committee on the Status of Women, and the Committee for Public Philosophy. In 1999-2000 she was one of the three Presidents of the Association, delivering the Presidential Address in the Central Division. Ms. Nussbaum has been a member of the Council of the American Academy of Arts and Sciences, and a member of the Board of the American Council of Learned Societies. She received the Brandeis Creative Arts Award in Non-Fiction for 1990, and the PEN Spielvogel-Diamondstein Award for the best collection of essays in 1991
---
Awards
:
Primary Literary Genre(s):
Non-Fiction; Other
Primary Audience(s):
Adult readers
Email:
martha_nussbaum@law.uchicago.edu
Martha Craven Nussbaum on WorldCat :
http://www.worldcat.org/search?q=martha+craven+nussbaum
---
Selected Titles
From disgust to humanity :
ISBN: 0195305310 OCLC: 426812934 Oxford University Press, Oxford ; 2010. In this book the author aims her intellectual firepower at a key source of opposition to gay equality: the politics of disgust. She argues that disgust has been among the fundamental motivations of those who are fighting for a variety of legal restrictions affecting lesbian and gay citizens. When confronted with the thought of homosexuality, she writes, they experience "a deep aversion akin to that inspired by bodily wastes, slimy insects, and spoiled food, and then cite that very reaction to justify a range of legal restrictions, from sodomy laws to bans on same-sex marriage." Leon Kass, who was head of the President's Council on Bioethics during the Bush administration, even argues that repugnance has an inherent "wisdom," steering us away from destructive choices." The author believes that the politics of disgust must be confronted directly, for it subverts the basic principle of the equality of all citizens under the law. "It says that the mere fact that you happen to make me want to vomit is reason enough for me to treat you as a social pariah, denying you some of your most basic entitlements as a citizen." In its place she observes and supports an emerging "politics of humanity" based not merely on respect, but on something akin to love, an imaginative engagement with others and an active effort to see the world from their perspectives as fellow human beings." "For too long, overtly and covertly, disgust has shaped constitutional thinking regarding the rights of lesbian and gay Americans. Recent landmark decisions suggest that the Court's views are shifting toward a humanity-centered vision, and the author's arguments will attempt to advance that cause.
Frontiers of justice :
ISBN: 0674019172 OCLC: 434003841 The idea of the social contract is one of the most powerful approaches to social justice in the Western tradition. Exploring the limitations of the social contract, Nussbaum devises an alternative theory based on the idea of capabilities as an approach to social co-operation.
Frontiers of justice :
ISBN: 9780616512005 OCLC: 1012119051 CNIB, Toronto : 2009. Theories of social justice are necessarily abstract, yet such theories, addressing the world and its problems, must respond to the real and changing dilemmas of the day. Taking up three often neglected problems of social justice - the treatment of animals, extending the equal rights of citizenship to the disabled, and justice and dignified life conditions for all people - Nussbaum seeks a more inclusive theory. 2006.
Hiding from humanity :
ISBN: 0691095264 OCLC: 437140487 Princeton University Press, Princeton : ©2004. Should laws about sex and pornography be based on social conventions about what is disgusting? Should felons be required to display bumper stickers or wear T-shirts that announce their crimes? This powerful and elegantly written book, by one of America's most influential philosophers, presents a critique of the role that shame and disgust play in our individual and social lives and, in particular, in the law. Martha Nussbaum argues that we should be wary of these emotions because they are associated in troubling ways with a desire to hide from our humanity, embodying an unrealistic and sometime.
Liberty of conscience :
ISBN: 0465051642 OCLC: 173243801 Basic Books, New York : ©2008. The founders of the United States overcame religious intolerance in favor of a constitutional order dedicated to fair treatment for people's deeply held conscientious beliefs. This respect for religious difference, scholar Nussbaum writes, formed our democracy. Yet today there are signs that this legacy is misunderstood. The prominence of a particular type of Christianity in our public life suggests the unequal worth of citizens who hold different religious beliefs, or no beliefs. Others, meanwhile, seek to curtail the influence of religion in public life in a way that is itself unbalanced and unfair. Such partisan efforts, Nussbaum argues, violate the spirit of our Constitution. This is a historical and conceptual study of the American tradition of religious freedom. Weaving together political history, philosophical ideas, and key constitutional cases, it is a chronicle of an ideal of equality that has always been central to our history but is now in danger.--From publisher description.
Love's knowledge :
ISBN: 0195074858 OCLC: 727948441 Oxford University Press, New York : 1992, ©1990. This volume brings together Nussbaum's published papers on the relationship between literature and philosophy, especially moral philosophy. The papers, many of them previously inaccessible to non-specialist readers, deal with such fundamental issues as the relationship between style andcontent in the exploration of ethical issues; the nature of ethical attention and ethical knowledge and their relationship to written forms and styles; and the role of the emotions in deliberation and self-knowledge. Nussbaum investigates and defends a conception of ethical understanding whichinvolves emotional as well as intellectual activity, and which gives a certain type of priority to the perception of particular people and situations rather than to abstract rules. She argues that this ethical conception cannot be completely and appropriately stated without turning to forms ofwriting usually considered literary rather than philosophical. It is consequently necessary to broaden our conception of moral philosophy in order to include these forms. Featuring two new essays and revised versions of several previously published essays, this collection attempts to articulate therelationship, within such a broader ethical inquiry, between literary and more abstractly theoretical elements.
Not for profit :
ISBN: 0691154481 OCLC: 775028301 Philosopher Martha Nussbaum makes a passionate case for the importance of the liberal arts at all levels of education. Nussbaum argues that we must resist efforts to reduce education to a tool of the gross national product. Rather, we must work to reconnect education to the humanities in order to give students the capacity to be true democratic citizens of their countries and the world.
Not for profit :
ISBN: 069117332X OCLC: 964359192 In this short and powerful book, celebrated philosopher Martha Nussbaum makes a passionate case for the importance of the liberal arts at all levels of education. Historically, the humanities have been central to education because they have been seen as essential for creating competent democratic citizens. But recently, Nussbaum argues, thinking about the aims of education has gone disturbingly awry in the United States and abroad. We increasingly treat education as though its primary goal were to teach students to be economically productive rather than to think critically and become knowledgeable, productive, and empathetic individuals. This shortsighted focus on profitable skills has eroded our ability to criticize authority, reduced our sympathy with the marginalized and different, and damaged our competence to deal with complex global problems. And the loss of these basic capacities jeopardizes the health of democracies and the hope of a decent world. In response to this dire situation, Nussbaum argues that we must resist efforts to reduce education to a tool of the gross national product. Rather, we must work to reconnect education to the humanities in order to give students the capacity to be true democratic citizens of their countries and the world. In a new preface, Nussbaum explores the current state of humanistic education globally and shows why the crisis of the humanities has far from abated. Translated into over twenty languages, Not for Profit draws on the stories of troubling--and hopeful--global educational developments. Nussbaum offers a manifesto that should be a rallying cry for anyone who cares about the deepest purposes of education.
The clash within :
ISBN: 9780674030596 OCLC: 456408136 Belknap Press of Harvard University Press, Cambridge, Mass. : 2007. While America is focused on religious militancy and terrorism in the Middle East, democracy has been under siege from religious extremism in another critical part of the world. As Martha Nussbaum reveals in this penetrating look at India today, the forces of the Hindu right pose a disturbing threat to its democratic traditions and secular state. Since long before the 2002 Gujarat riots--in which nearly two thousand Muslims were killed by Hindu extremists--the power of the Hindu right has been growing, threatening India's hard-won constitutional practices of democracy, tolerance, and religious pluralism. Led politically by the Bharatiya Janata Party, the Hindu right has sought the subordination of other religious groups and has directed particular vitriol against Muslims, who are cast as devils in need of purging. The Hindu right seeks to return to a pure India, unsullied by alien polluters of other faiths, yet the BJP's defeat in recent elections demonstrates the power that India's pluralism continues to wield. The future, however, is far from secure, and Hindu extremism and exclusivity remain a troubling obstacle to harmony in South Asia. Nussbaum's long-standing professional relationship with India makes her an excellent guide to its recent history. Ultimately she argues that the greatest threat comes not from a clash between civilizations, as some believe, but from a clash within each of us, as we oscillate between self-protective aggression and the ability to live in the world with others. India's story is a cautionary political tale for all democratic states striving to act responsibly in an increasingly dangerous world.
The fragility of goodness :
ISBN: 9780521794725 OCLC: 44727859 This book is a study of ancient views about moral luck. It examines the fundamental ethical problem that many of the valued constituents of a well-lived life are vulnerable to factors outside a person's control and asks how this affects our appraisal of persons and their lives. The Greeks made a profound contribution to these questions, yet neither the problems nor the Greek views of the them have received the attention they deserve. This book thus recovers a central dimension of Greek thought and addresses major issues in contemporary ethical theory. One of its most original aspects is its interrelated treatment of both literary and philosophical texts. The Fragility of Goodness has proven to be important reading for philosophers and classicists, and its nontechnical style makes it accessible to any educated person interested in the difficult problems it tackles.--Jacket.
Upheavals of thought :
ISBN: 0521531829 OCLC: 45757787 Cambridge University Press, Cambridge ; 2001. Martha C. Nussbaum presents a powerful argument for treating emotions not as alien forces but as highly discriminating responses to what is of value and importance. Beginning from an intensely personal experience of her own, the grief felt at the death of her mother, she explores and illuminates the structure of a wide range of emotions, in particular, compassion and love. She shows that there can be no adequate ethical theory without an adequate theory of the emotions, and that this involves understanding their cultural sources, their history in infancy and childhood, and their sometimes unpredictable and disorderly operations in our daily lives.