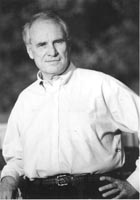 Gerald Duff
Born:
1938 in Beaumont, Texas
Pen Name:
None
Connection to Illinois
: Duff lives in Lebanon, Illinois.
Biography
: In addition to writing fiction, poetry, and scholarly works, Gerald Duff has taught literature and writing at Vanderbilt University, Kenyon College, Rhodes College, and Johns Hopkins University. He has published eleven books, including ''Indian Giver'', finalist for the Great Lakes Colleges Association First Novel Award, and ''Fire Ants'', which was a finalist for the Texas Institute of Letters Jesse Jones Award for the 2007 Best Book of Fiction. His other books of fiction and poetry have won the St. Andrews Prize for Poetry and the Cohen Award for Fiction, and have been nominated for the Edgar Allan Poe Award, the Texas Institute for Letters Award, the University of Michigan Literary Fiction Award, and the PEN/Faulkner Prize.
---
Awards
:
Cohen Prize for Fiction from ''Ploughshares'' and the St. Andrews Prize for Poetry Award of Merit by the Philosophical Society of Texas in 2013 and the best novel about Texas published in 2011 for ''Blue Sabine''
Primary Audience(s):
Adult readers
Email:
gduff@mckendree.edu
Website:
http://www.geraldduff.com
Gerald Duff on WorldCat :
http://www.worldcat.org/search?q=gerald+duff
---
Selected Titles
A ceremony of light :
ISBN: 0904675041 OCLC: 3649311 Interim Press, [Egham] : [1976]
Blue sabine :
ISBN: 0913785342 OCLC: 730054570 Moon City Press, Springfield, Mo. : 2011.
Calling collect :
ISBN: 0813007119 OCLC: 8283150 University Presses of Florida, Orlando : [1982]
Coasters :
ISBN: 1588380297 OCLC: 46835405 Waylon McPhee, middle-aged and divorced, moves back in with his widowed father in hopes of coasting through another year. But his father is dating again, and his sisters are trying to manipulate Waylon into asking their father for their inheritance before he gives it to a second wife. Adding to the pandemonium are an affair with an obsessive married woman, some old high school acquaintances, and Waylon's renewed interest in the Prom Queen from his old high school, the same school where he has taken a job as a substitute teacher. The sarcastic Waylon, juggling his relationships and responsibilities caustically but light-heartedly, hangs on hoping to recover something he lost in his youth: enough momentum to reach escape velocity. By turns humorous and melancholy, this novel cruises to a conclusion where all its characters satisfyingly reap what they have sown. Gerald Duff is a splendid writer of sparkling dialogue, and has perfect pitch for the ennui of contemporary life in the suburbs of the petroleum-chemical corridor that stretches along the Gulf Coast from Texas to Mississippi. -- dust jacket.
Decoration day and other stories /
ISBN: 1936205564 OCLC: 768792830 Stephen F. Austin State University Press, Nacogcohes [i.e. Nacogdoches], Tex. : 2012. "Decoration Day and Other Stories ranges in locale from the piney woods of Deep East Texas, to the mean streets of Memphis, to the suburbs of Washington, DC. Highly comic and deeply serious, the collection reaches from the late 19th century to the present day"--Texas A&M University Press & the Texas Book Consortium website.
Dirty rice :
ISBN: 9781935754138 OCLC: 765881737 University of Louisiana at Lafayette Press, Lafayette, La. : 2012. In the midst of the Great Depression, minor league baseball thrives in small-town South Louisiana, where the Evangeline League, named in honor of Longfellow?s heroine, draws hundreds to dirt fields and grandstands in places like Jeanerette, Abbeville, and Opelousas. In 1935 Gemar Batiste, a talented young pitcher from Texas, is recruited to try out for the Rayne Rice Birds, makes the roster, and immediately begins garnering fame for himself, his team, and the league--Page 4 of cover.
Fire Ants and Other Stories.
ISBN: 9781588382085 OCLC: 923653040 NewSouth, Incorporated, Montgomery : 2006.
Graveyard working :
ISBN: 1880909154 OCLC: 29388286 Baskerville Publishers, Dallas : 1994.
Home truths :
ISBN: 0875654355 OCLC: 692084815 TCU Press, Fort Worth, Tex. : ©2011. In this memoir the author explores just how it was he came to relish the lies, the prevarications that enabled him to endure the tough life of growing up in deep East Texas a bookish boy feeling out of place. He unflinchingly looks at adolescent attitudes about social status, education, sex, and how they shaped his future life as a novelist.
Indian giver /
ISBN: 0253139996 OCLC: 9411960 Indiana University Press, Bloomington : ©1983. Sam Houston Leaping Deer is a Alabama-Coushatta Indian transported by his transcendent basketball talent from the reservation in East Texas to the University of Illinois at Urbana-Champaign (the Fighting Illini), where he immediately becomes a star. Gerald Duff's powerful work of satire, humor, and tragedy tells the story of Sam's encounter with the white man's world of greed and deception. While encountering a cross-section of sixties academia, he retains his inner world of Coushatta legends and traditions, a contradiction that forms the power of this memorable novel.
Memphis ribs
ISBN: 1941298672 OCLC: 911347068
Memphis ribs /
ISBN: 0966452011 OCLC: 41173378 Salvo Press, Bend, OR : 1999. In the midst of the International Barbecue Contest and the Cotton Carnival, J.W. Ragsdale has to investigate two murders and a case of "mass market bad barbecue."--Cover.
Snake song
ISBN: 9781435663695 OCLC: 244628341 Books in Motion, Spokane, WA : 2008. By blood, bone, and history, Austin Buyllock is now chief of his nation. He returns to his people, where murder, tribal custom, legend, and the modern world collide with violent force.
Snake song /
ISBN: 0966452089 OCLC: 45490183 Salvo Press, Bend, Or. : ©2000.
That's all right, Mama :
ISBN: 1880909332 OCLC: 31815467 Baskerville Publishers, Dallas, TX : ©1995. In this account, Elvis Presley's twin brother, Jesse, does not die at birth, but lives to serve his brother. He protects Elvis from school bullies, gets him his first talent show, fills in for him on the Ed Sullivan Show, even makes love to Elvis' wife when Elvis is not up to it. By the author of Indian Giver.
That's all right, mama :
ISBN: 1942531184 OCLC: 946976071 Bookbaby, [Place of publication not identified] : 2016.