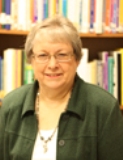 Beverly J Obert
Born:
1949 in Washington, Illinois
Pen Name:
None
Connection to Illinois
: Obert is a graduate of Western Illinois University, in Macomb, Illinois and of the University of Illinois at Urbana-Champaign. She lives and works in central Illinois.
Biography
: Since July 1, 2011 Beverly Obert has been the Resource Sharing Manager of the Illinois Heartland Library System. She has a B.A. in music education from Western Illinois University in Macomb, Illinois and a MSLIS from the University of Illinois Urbana-Champaign. She has been a teacher of music and a public library director. She is an active member of the Illinois Library Association and the Illinois School Library Media Association. Her knowledge of children's choice awards is first hand as a member of the ''Rebecca Caudill Young Readers' Book Award'' Steering Committee since 1994, where she coordinates and edits an activity pack for the list of 20 nominated titles. ''Capturing Readers with Children's Choice Book Awards'' provides a discussion and explanation of Children's Choice Awards in the United States - a program designed to let children nominate and choose those special stories that have classrooms abuzz across the country, as well as a state-by-state directory of award programs and award-winning books. The book provides a history of children's choice awards, a brief explanation for implementing an award program in your school, and a compilation of all the award-wnning books. It's a great resource for implementing an award program in any school, as well as serving as a valuable colletion development tool. It includes How-To steps with suggestions for collaboration, obtaining funding and publicity. A time-line, official Web sites, sample ballots, press releases and promotional activities make this book a great additional to any professional library. Veteran librarians and library students alike will gain invaluable programming ideas with this must-have volume.
---
Awards
:
Primary Literary Genre(s):
Non-Fiction
Primary Audience(s):
Adult readers
Email:
bobert@illinoisheartland.org
Beverly J Obert on WorldCat :
http://www.worldcat.org/search?q=beverly+j+obert
---
Selected Titles