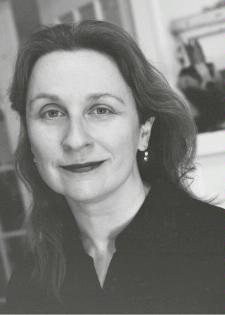 Audrey Niffenegger
Born:
1963 in South Haven, Michigan
Pen Name:
None
Connection to Illinois
: Niffenegger's family moved to Evanston, Illinois when she was very young. She attended the Art Institute of Chicago and Northwestern University. She teaches at Columbia College and has also taught for the Newberry Library, Penland School of Craft and other institutions of higher learning. Niffenegger continues to resides in Chicago.
Biography
: Niffenegger is a visual artist and writer. She was trained as a visual artist at the School of the Art Institute of Chicago, and received her MFA from Northwestern University's Department of Art Theory and Practice. Niffenegger has been making books by hand since the early 1980s. She has exhibited her artist's books, prints, paintings, drawings and comics at Printworks Gallery in Chicago since 1987.Niffenegger is a professor in the Interdisciplinary Book Arts MFA Program at the Columbia College Chicago Centre for Book and Paper Arts. She currently teaches writing courses that specialize in text-image relationships. She has also taught for the Newberry Library, Penland School of Craft and other institutions of higher learning. In addition to her international bestselling debut novel, ''The Time Traveler's Wife'', Niffenegger is the author of two illustrated novels, ''The Three Incestuous Sisters'' and ''The Adventuress''; which were books she had originally printed and bound by hand.
---
Awards
:
Primary Literary Genre(s):
Fiction
Primary Audience(s):
Children
Email:
aniffenegger@colum.edu
Facebook:
http://www.facebook.com/pages/Audrey-Niffenegger/108439449179832?ref=search=audrey+niffenegger
Website:
http://audreyniffenegger.com/
Audrey Niffenegger on WorldCat :
http://www.worldcat.org/search?q=audrey+niffenegger
---
Selected Titles
Her fearful symmetry :
ISBN: 1439165394 OCLC: 317923485 Scribner, New York : 2009. When Elspeth Noblin dies, she leaves everything to the 20-year-old American twin daughters of her own long-estranged twin, Edie. Valentina and Julia, as enmeshed as Elspeth and Edie once were, move into Elspeth's London flat and through a series of developing relationships a crisis develops that could pull the twins apart.
Her fearful symmetry :
ISBN: 9781508221098 OCLC: 964397335 Simon & Schuster Audio, New York : â"—2016. When Elspeth Noblin dies of cancer, she leavers her London apartment to her twin nieces, Julia and Valentina. These two American girls never met their English aunt, only knew that their mother, too, was a twin, and Elspeth her sister. Julia and Valentina are semi-normal American teenagers'with seemingly little interest in college, finding jobs, or anything outside their cozy home in the suburbs of Chicago, and with an abnormally intense attachment to one another. They are twenty. The girls move to Elspeth's flat, which borders Highgate Cemetery in London. They come to know the building's other residents. There is Martin, a brilliant and charming crossword puzzle setter suffering from crippling Obsessive Compulsive Disorder; Marjike, Martin's devoted but trapped wife, and Robert, Elspeth's elusive lover, a scholar of the cemetery. As the girls become embroiled in the fraying lives of their aunt's neighbors, they also discover that much is still alive in Highgate, including'perhaps'their aunt, who can't seem to leave her old apartment and life behind. Niffenegger weaves a captivating story in Her Fearful Symmetry about love and identity, about secrets and sisterhood, and about the tenacity of life'even after death.
The adventuress /
ISBN: 081097052X OCLC: 62127885 Abrams Image, New York : 2006. The author of the "New York Times" bestseller "The Time Traveler's Wife" returns with another evocative "novel in pictures," the much-anticipated follow-up to 2005's "The Three Incestuous Sisters. The Adventuress" follows the dreamlike journey of an alchemist's daughter. After she is kidnapped by a lascivious baron, she turns herself into a moth and flees to the garden of a charming butterfly collector named Napoleon Bonaparte. The story of how the two become lovers, and how their affair ends in tragedy and transcendence, is told through Niffenegger's spare prose and haunting aquatint etchings. With a stunning and distinctive visual style reminiscent of the work of Edward Gorey, this gothic romance packs the emotional heft of the world's great fairy tales. It will delight fans of the author's previous works and enchant an entirely new legion of readers.
The night bookmobile /
ISBN: 0810996170 OCLC: 505419578 Abrams ComicArts, New York : 2010. "The Night Bookmobile tells the story of a wistful woman who one night encounters a mysterious disappearing library on wheels that contains every book she has ever read. Seeing her history and most intimate self in this library, she embarks on a search for the bookmobile. But her search turns into an obsession, as she longs to be reunited with her own collection and memories."--Publisher's website.
The three incestuous sisters /
ISBN: 0810959275 OCLC: 56793712 Harry N. Abrams, New York : 2005. In this Gothic-style, adult fairy tale, Bettine, Ophile, and Clothilde live together in isolation near the sea, until the arrival of Paris, the lighthouse keeper's son, who profoundly affects each sister emotionally.
The Time Traveler's Wife
ISBN: 9781939126016 OCLC: 952576689 Audrey Niffenegger's innovative debut, The Time Traveler's Wife, is the story of Clare, a beautiful art student, and Henry, an adventuresome librarian, who have known each other since Clare was six and Henry was thirty-six, and were married when Clare was twenty-three and Henry thirty-one. Impossible but true, because Henry is one of the first people diagnosed with Chrono-Displacement Disorder: periodically his genetic clock resets and he finds himself misplaced in time, pulled to moments of emotional gravity in his life, past and future. His disappearances are spontaneous, his experiences unpredictable, alternately harrowing and amusing. The Time Traveler's Wife depicts the effects of time travel on Henry and Clare's marriage and their passionate love for each other as the story unfolds from both points of view. Clare and Henry attempt to live normal lives, pursuing familiar goals--steady jobs, good friends, children of their own. All of this is threatened by something they can neither prevent nor control, making their story intensely moving and entirely unforgettable.
The time traveller's wife :
ISBN: 0224071912 OCLC: 59288131 Jonathan Cape, London : 2004. Clare has been in love with Henry her entire life. She believes they are destined to be together, even though she never knows when they will be separated: Henry is a time traveller - cursed with a rare genetic anomaly that causes him to live his life on a shifting timeline, skipping back and forth through his lifespan with no control. Despite the fact that Henry's travels force them apart with no warning, Clare desperately tries to build a life with her one true love.