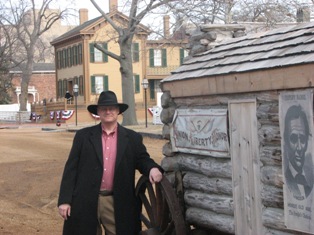 Allen Carl Guelzo
Born:
1953 in Yokohama, Japan.
Pen Name:
None
Connection to Illinois
: Guelzo writes extensively about an Illinois subject of interest - Abraham Lincoln.
Biography
: Allen Carl Guelzo earned an MA and PhD in history from the University of Pennsylvania. He is the Henry R. Luce III Professor of the Civil War Era at Gettysburg College, where he serves as Director of the Civil War Era Studies Program. He began work in 1996 on an 'intellectual biography' of Lincoln, ''Abraham Lincoln: Redeemer President'', which won the Lincoln Prize for 2000 and the 2000 Book Prize of the Abraham Lincoln Institute. He followed this with ''Lincoln's Emancipation Proclamation: The End of Slavery in America'', which became the first two-time winner of the Lincoln Prize and the Book Prize of the Lincoln Institute.Since Guelzo's only connection to Illinois is the books he wrote about Abraham Lincoln, these are his only books listed on this website. For a list of his other books, go to: [http://www.amazon.com amazon.com].
---
Awards
:
-- 2000 Lincoln Prize , ''Abraham Lincoln
Primary Literary Genre(s):
Non-Fiction
Primary Audience(s):
Adult readers
Email:
aguelzo@gettysburg.edu
Website:
http://www.gettysburg.edu/civilwar/era_studies/employee_detail.dot?empId=02779742420013302&crumbTitle=Allen%20Guelzo
Allen Carl Guelzo on WorldCat :
http://www.worldcat.org/search?q=allen+carl+guelzo
---
Selected Titles
Abraham Lincoln :
ISBN: 0802842933 OCLC: 41833121 W.B. Eerdmans, Grand Rapids, Mich. : ©1999. "More has been written about Abraham Lincoln than about any other American. Yet very little of this literature sees Lincoln as he was in his times - as a man of ideas, as a man of deep intellectual curiosity about the raging political and economic debates in nineteenth-century America, and as a textbook Victorian "doubter" who could not believe as an orthodox Christian yet could not be easy in his unbelief. This truly fresh look at the nation's sixteenth president offers the first "intellectual biography" of a man whose grasp of the powerful currents of religion, philosophy, and political economy shaped not only the outcome of a great civil war but also the outlines of American national development for the following generation."--Jacket.
Abraham Lincoln as a man of ideas /
ISBN: 0809328615 OCLC: 459792659 Southern Illinois University Press, Carbondale : ©2009. Abraham Lincoln was a skilled politician, an inspirational leader, and a man of humor and pathos. What many may not realize is how much he was also a man of ideas. Despite the most meager of formal educations, Lincoln's tremendous intellectual curiosity drove him into the circle of Enlightenment philosophy and democratic political ideology. And from these, Lincoln developed a set of political convictions that guided him throughout his life and his presidency. Abraham Lincoln as a Man of Ideas, a compilation of ten essays from Lincoln scholar, Allen C. Guelzo, uncovers the.
Lincoln :
ISBN: 0195367804 OCLC: 311040372 Oxford University Press, Oxford ; ©2009. "Abraham Lincoln was a fatalist who promoted freedom; he was a classical liberal who couched liberalism's greatest deed - emancipation of the slaves - in the unliberal language of divine providence; he was a religious doubter who became a national icon bordering on religion; and he was a rights-oriented liberal who appealed to natural law when confronting slavery"--Provided by publisher.
Lincoln and Douglas :
ISBN: 0743273206 OCLC: 166373213 Simon & Schuster, New York : 2008. What carried this one-term congressman from obscurity to fame was his Senate campaign against the country's most formidable politician, Stephen A. Douglas, in the summer and fall of 1858. Lincoln challenged Douglas directly in one of his greatest speeches--"A house divided against itself cannot stand"--And confronted Douglas on the questions of slavery and the inviolability of the Union in seven fierce debates. Of course, the great issue was slavery. Douglas was the champion of letting states and territories decide for themselves whether to legalize slavery. Lincoln drew a moral line, arguing that no majority could ever make slavery right. Lincoln lost that Senate race to Douglas, though he came close to toppling the "Little Giant," but he emerged a predominant national figure. Guelzo's book brings alive their debates and this whole year of campaigns, and underscores their centrality in the greatest conflict in American history.--From publisher description.
Lincoln's Emancipation Proclamation :
ISBN: 0743221826 OCLC: 53276554 Simon & Schuster, New York : ©2004. "I do order and declare that all persons held as slaves ... are, and henceforward shall be free ..." No other words in American history changed the lives of so many Americans as this declaration from Abraham Lincoln's Emancipation Proclamation. Born in the struggle of Lincoln's determination to set slavery on the path to destruction, it has remained a document of struggle. What were Lincoln's real intentions? The author presents, for the first time, a full scale study of Lincoln's greatest state paper. Using unpublished letters and documents, little-known accounts from Civil War-era newspapers, and Congressional memoirs and correspondence, the author tells the story of the complicated web of statesmen, judges, slaves, and soldiers who accompanied, and obstructed, Abraham Lincoln on the path to the Proclamation. The crisis of a White House at war, of plots in Congress and mutiny in the Army, of one man's will to turn the nation's face toward freedom--all these passionate events come alive in a powerful narrative of Lincoln's, and the Civil War's, greatest moment.