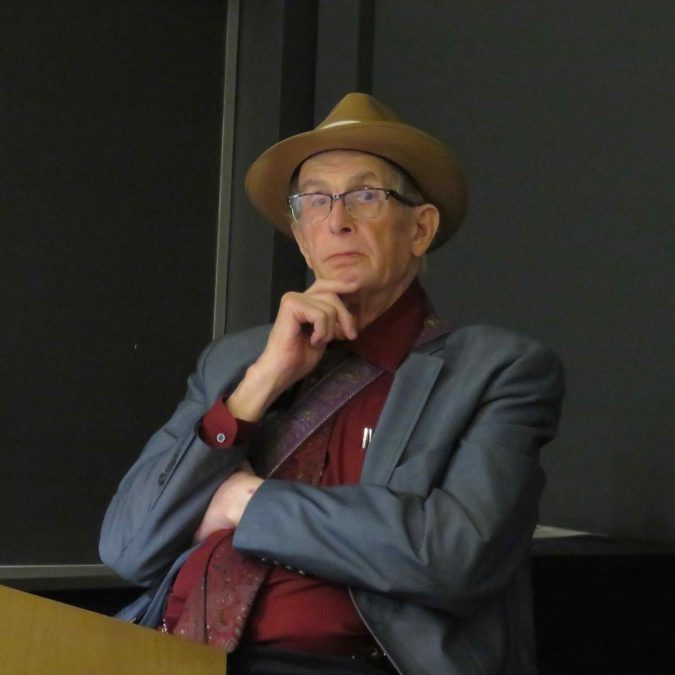 Paul Garon
Born:
Louisville, Kentucky 1942
Died:
July 26, 2022
Connection to Illinois
: Garon lives in Evanston. He and his wife own and operate Beasley Books, a rare book business in Chicago. He is also a founding partner of the Chicago Rare Book Center in Evanston.
Biography
: Paul Garon is an author, writer, and editor, noted for his meditations on surrealist works, and also a noted scholar on blues as a musical and cultural movement. He has written about the blues for over fifty years. He was one of the founding editors of Living Blues magazine in 1970.
---
Awards
:
Primary Literary Genre(s):
Non-Fiction
Primary Audience(s):
Adult readers
E-Mail:
Beasley@BeasleyBooks.com
Facebook:
https://www.facebook.com/BeasleyBooks/?rf=111641708872714
Web:
http://www.beasleybooks.com
Wikipedia:
https://en.wikipedia.org/wiki/Paul_Garon
---
Selected Titles
Blues and the Poetic Spirit
ISBN: 0872863158 OCLC: San Francisco : City Lights Publishers San Francisco : 2001
The Devil's Son-In-Law: The Story of Peetie Wheatstraw and His Songs
ISBN: 0289702127 OCLC: Studio Vista 2003
Woman with Guitar: Memphis Minnie's Blues
ISBN: 0872866211 OCLC: City Lights Publishers 2014 Woman with Guitar is a fascinating, thorough and extremely valuable biography of one of American musical history's most vibrant and pioneering artists. As the first woman singer/songwriter/ guitarist to ever reach stardom, the story of her life in music, on and off the stage, during one of the most important and formative periods of the origins of popular music, is an indelible, crucial window into that history. --Bonnie Raitt Woman with Guitar has been, since it was first published in 1992 and now with this new revised and extended edition, still the only real definitive biography of Memphis Minnie, the most important female singer, songwriter and guitarist in the history of Delta blues. --Lucinda Williams An excellent book. --Bill Wyman Woman with Guitar is not simply a carefully researched biography of Memphis Minnie, complied from the memories of her relatives, friends, and fellow performers; it is a vivid portrait of a talented singer and guitarist ... The authors have added a new dimension to blues scholarship. --Paul Oliver, author of Blues Off the Record Woman with Guitar is a delight. The book is both thorough and brilliant, a rare combination these days ... A fanatic interest in Minnie underpins and energizes this wonderful biography. --David Roediger, author of The Wages of Whiteness.