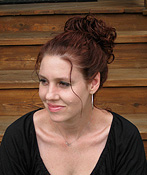 Laura Ruby
Born:
in New Jersey
Pen Name:
None
Connection to Illinois
: Ruby currently lives in Chicago.
Biography
: Laura Ruby is on the faculty of Hamline University's Masters in Writing for Children Program. She also writes fiction for adults, young adults and children. Her young adult and children's have garnered her many awards and nominations. ''The Wall and The Wing'' has been optioned for a major animated feature by Laika Studios. Ruby's short fiction stories for adults have appeared in numerous literary magazines, including Other Voices, The Florida Review, Literal Latt, Sycamore Review and Nimrod. She has been nominated for a Pushcart Prize for her adult short fiction. A collection of these stories appear in her book, I'm Not Julia Roberts.
---
Awards
:
-- Good Girls - Book Sense Pick, 2006, Quick Pick, American Library Association, 2007, Top Ten Books, Reading Rants, 2006 , Books for the Teenage, New York Public Library, ILLINOIS READS Book Selection, Illinois Reading Council, 2014
-- Bone Gap - Michael L. Printz Award for Excellence in Young Adult Literature, American Library Association, 2016, Starred Reviews - Booklist, Kirkus, Publishers Weekly, Voya, Finalist, National Book Award, 2015, ILLINOIS READS Book Selection, Illinois R
-- YORK: The Shadow Cypher - ILLINOIS READS Book Selection, Illinois Reading Council, 2018
-- Thirteen Doorways - Starred Reviews - Booklist and School Library Journal, Finalist, National Book Award, Best YA Novel of the Year, 2019 - Amazon, New York Times, NPR, Booklist, School Library Journal, and Shelf Awareness, #1 YA Novel of the Year, Book
Primary Literary Genre(s):
Fiction
Primary Audience(s):
Adult readers; Children; Young adult readers
E-Mail:
lauraruby@lauraruby.com
Facebook:
https://www.facebook.com/laura.ruby.714?ref=profile
Twitter:
https://twitter.com/thatlauraruby
Web:
http://lauraruby.com/
Wikipedia:
https://en.wikipedia.org/wiki/Laura_Ruby
---
Selected Titles
Bad apple
ISBN: 9780061243332 OCLC: New York : HarperTeen, New York : 2011, ©2009. Tola Riley, a high school junior, struggles to tell the truth when she and her art teacher are accused of having an affair.
Bone Gap
ISBN: 0062317601 OCLC: Eighteen-year-old Finn, an outsider in his quiet Midwestern town, is the only witness to the abduction of town favorite Roza, but his inability to distinguish between faces makes it difficult for him to help with the investigation, and subjects him to even more ridicule and bullying.
Everything I needed to know about being a girl I learned from Judy Blume /
ISBN: 1416531041 OCLC: New York : Pocket Books, New York : 2007. Whether laughing to tears or clamoring for more unmistakable me too! moments, girls all over the world have been touched by Judy Blume's poignant coming-of-age stories. Now, in this anthology of essays, 24 notable female authors write straight from the heart about the unforgettable novels that left an indelible mark on their childhoods and still influence them today. After growing up from Tales of a Fourth Grade Nothing into Smart Women, these writers pay tribute, through their reflections and most cherished memories, to one of the most beloved authors.--From publisher description.
Good girls
ISBN: 0060882239 OCLC: New York : HarperTempest, New York : ©2006. Sixteen-year-old high school senior Audrey is humiliated when a compromising photograph of her is sent around her school, but she discovers a toughness within her that she never knew she had.
I'm not Julia Roberts
ISBN: 9780446578745 OCLC: New York : Warner Books, New York : 2007. A wicked, ironic daisy chain of failed relationships and equally doomed marriages undertaken in a fever hotter than a pepper sprout, this novel is set in a fictional Illinois suburb where all the men are weak, all the women ride broomsticks, and all the children are below average ... and still, somehow, there are hearts, if not flowers.
Lily's Ghosts
ISBN: 9780983310839 OCLC: Thirteen-year-old Lily is furious.She and her mother are forced to move again after her mother's break up with the latest loser boyfriend. Now they're broke and they'll have to spend the winter in Uncle Wes's creepy house in Cape May, New Jersey.And the place is crawling with ghosts.From the spiteful teenager who mistakes Lily for her high school nemesis to the restless spirit of her eccentric Uncle Max, Lily is haunted by a host of unhappy phantoms. But why are they here? And what do they want?With the help of an intriguing new guy, local boy Vaz, Lily tries to find out. But just as they are on the verge of piecing together the mystery, a casual family dinner turns into a beachfront showdown with guests both invited and unexpected, both corporal and supernatural. And the outcome is anything but certain.*An Edgar Award Nominee for Best Juvenile Mystery*A Parent's Choice Silver Honor for Fiction*The Center for Children's Books Best Books of 2003 List*One of the Chicago Public Library's Best of the Best *One of the New York Public Library's Books for the Teenage*A Sunshine State Award Book*A Garden State Book Award Nominee*A Rhode Island State Award Nominee A slightly spooky, romantic mystery. Her often funny story, peppered with ghostly interludes, is capped by that rarest of animals: a twist ending that is totally earned. This should be a movie just so tweens and teens will come ask for the book. Place it in their hands; they will likely thank you. --Kirkus Ruby doesn't horrify so much as she insinuates in gracefully nuanced language that provides chilling support for the action. Make room for this first novel on the surefire ghost tale shelf. --The Bulletin of the Center for Children's Books Sharp-witted narrative and lively characterizations... intriguing --Publishers Weekly A fast-paced, comic tale. --Pittsburgh Post-Gazette Sure to delight the reader, will tickle readers' funny bones. --Detroit Free Press Readers will keep turning pages to get to the (surprise) ending, but also because they'll be rooting for something good to happen to Lily. --Miami Herald A cast of eccentric characters plays out this intriguing story. Readers will be hooked right up to the surprising ending. --School Library Journal
Me and Ms. Too
ISBN: 0062894331 OCLC: Balzer & Bray 2022 For as long as Molly can remember, it's always just been her and Dad. Dad, who likes to splash in the pool, who likes to spin at the park, who bakes the best cookies around. But that was before Dad married Ms. Too. Ms. Too doesn't like to splash. She doesn't like to spin. And she can't bake anything. But Molly, you used to love Ms. Too. That was before, when she was Molly's favorite librarian. Now everything has changed. But as Molly and Ms. Too are about to discover, maybe change isn't always scary. Maybe change can be the best thing of all.--
Play me
ISBN: 9780061884627 OCLC: HarperTeen, 2014. Disappointed when he does not get the MTV production deal he so wants, high school senior Eddy leaves his girlfriend to take a road trip to find the mother who has left him and his younger stepbrother and taken a bit part in a television show.
The Boy Who Could Fly
ISBN: 0007210108 OCLC: London : HarperCollins Children's Books London : 2008 Second part of the imaginative fantasy where people can fly and the daughter of the richest man in the universe can make herself invisible. When an octopus appears and a giant sloth kidnaps a squealing heiress, out two unlike heroes, Georgie and Bug, must team up to save the world!
The chaos king
ISBN: 9780060752583 OCLC: Eos, ©2007. Thirteen-year-old Georgie and Bug, a year older, have been pulled apart by the demands of their newfound fame and fortune, but join forces again when a punk, vampires, a giant sloth, and other creatures come after them on the streets of a New York City of the future.
The Invisible Girl
ISBN: 0007210086 OCLC: London : HarperCollins Children's Books London : 2007 Ever wanted to turn yourself invisible? Gurl can, but she still can't hide from the evil Mrs Terwiliger. Join Gurl on a wild ride through a magical New York City, where no one can stay invisible forever ... -- back cover.
The Wall and the Wing
ISBN: 9780060752576 OCLC: New York : Eos, New York : ©2006. In a future New York where most people can fly and cats are a rarity, a nondescript resident of Hope House for the Homeless and Hopeless discovers that although she is shunned as a leadfoot, she has the surprising ability to become invisible.
THIRTEEN DOORWAYS, WOLVES BEHIND THEM ALL.
ISBN: 0062317644 OCLC: When Frankie's mother died and her father left her and her siblings at an orphanage in Chicago, it was supposed to be only temporary - just long enough for him to get back on his feet and be able to provide for them once again. That's why she is not prepared for the day that he arrives for his weekend visit with a new woman on his arm and out-of-state train tickets in his pocket. Now Frankie and her sister, Toni, are abandoned alongside so many other orphans, two young, unwanted women doing everything they can to survive. And as the embers of the Great Depression are kindled into the fires of World War II, and the shadows of injustice, poverty, and death walk the streets in broad daylight, Frankie must find something worth holding on to in the ruins of this shattered America - every minute of every day spent wondering if the life she's able to carve out will be enough. I will admit I do not know if it will be. But I will be watching, waiting to find out. That's what ghosts do. -- Jacket.
YORK: Shadow Cypher
ISBN: 0062306936 OCLC: It was 1798 when the Morningstarr twins arrived in New York with a vision for a magnificent city: towering skyscrapers, dazzling machines, and winding train lines, all running on technology no one had ever seen before. Fifty-seven years later, the enigmatic architects disappeared, leaving behind for the people of New York the Old York Cipher -- a puzzle laid into the shining city they constructed, at the end of which was promised a treasure beyond all imagining. By the present day, however, the puzzle has never been solved, and the greatest mystery of the modern world is little more than a tourist attraction. Tess and Theo Biedermann and their friend Jaime Cruz live in a Morningstarr apartment house -- until a real estate developer announces that the city has agreed to sell him the five remaining Morningstarr buildings. Their likely destruction means the end of a dream long-held by the people of New York. And if Tess, Theo and Jaime want to save their home, they have to prove that the Old York Cipher is real. Which means they have to solve it --Jacket flap.
YORK: The Clockwork Ghost
ISBN: 0062306960 OCLC: Walden Pond Press 2019 It was only a few weeks ago that the Biedermann twins, Tess and Theo, along with their friend Jaime Cruz, followed the secrets of the Morningstarrs' cipher further than anyone had in its century-and-a-half history -- and destroyed their beloved home in the process. But the Old York Cipher still isn't solved. The demolition of 354 W. 73rd Street only revealed the next clue in the greatest mystery of the modern world, and if Tess, Theo, and Jaime want to discover what lies at the end of the puzzle laid into the buildings of New York by its brilliant, enigmatic architects, they will need to press on. But doing so could prove even more dangerous than they know. It is clear that the Morningstarr twins marshaled all the strange technology they had spent their lives creating in the construction of the Cipher, and that technology has its own plans for those who pursue it. It's also clear that Tess, Theo, and Jaime are not the only ones on the trail of the treasure. As enemies both known and unknown close in on them from all sides and the very foundations of the city seem to crumble around them, they will have to ask themselves how far they will go to change the unchangeable -- and whether the price of knowing the secrets of the Morningstarrs is one they are willing to pay.
YORK: The Map of Stars
ISBN: 0062306995 OCLC: Walden Pond Press 2020 It was only a few days ago that Tess Biedermann, Theo Biedermann, and Jaime Cruz, along with a mysterious figure from the past, managed to survive an assault on the location of the latest clue in the Morningstarr cipher -- and, in the process, made a shocking discovery about their own connection to this one-hundred-sixty-year-old enigma. Now the friends are divided. Tess and Theo have no idea what the photo they found in Greenwood Cemetery means, but Jaime is convinced that they do, and that they've been keeping their own secrets from him. As the city continues to break around them, suddenly solving the greatest mystery of the modern world seems less important than saving their own friendship. The stakes of completing the cipher, however, have never been higher. Darnell Slant, real estate developer and owner of all the Morningstarr buildings, knows that they hold one last secret: a power that even the Morningstarrs themselves never revealed. The world has rested on a precarious balance of power for generations; now Slant and his shadowy business partners aim to unbalance it. It's up to Tess, Theo, and Jaime to uncover the Morningstarrs' final mystery in a desperate attempt to set things right. The world -- theirs, and possibly others -- depends on it.