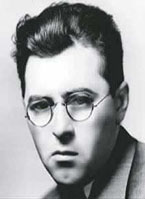 James T. Farrell
Born:
February 27, 1904 in Chicago, Illinois
Died:
August 22, 1979 in New York City
Pen Name:
None
Connection to Illinois
: Farrell was born and raised in Chicago. He attended the University of Chicago and wrote about Irish-American culture in Chicago.
Biography
: James T. Farrell was an American novelist and is best known for his writings which focused on Irish-American culture in Chicago. He began writing when he was 21 years old.
---
Awards
:
-- Emerson-Thoreau Medal, 1979
-- St. Louis Literary Award, Saint Louis University Library Associates
-- Chicago Literary Hall of Fame, 2012
-- Name engraved on the frieze of the Illinois State Library alongside other great Illinois literary figures, 1990
Primary Literary Genre(s):
Fiction
Primary Audience(s):
Adult readers
Wikipedia:
https://en.wikipedia.org/wiki/James_T._Farrell
---
Selected Titles
Father and son
ISBN: 0252032640 OCLC: 177824404 University of Illinois Press, Urbana : ©2008. This book follows Danny O'Neill through his struggle into young adulthood among the O'Flaherty and O'Neill families. Full of bewilderment and anxiety, Danny experiences high school, the death of his father, and his first full-time job at the Express Company that employed his father. Fraught with failed attempts to communicate with his father and peers, Danny is burdened by his family's constant economic and emotional demands.
Hearing out James T. Farrell :
ISBN: 091229275X OCLC: 12248980 The Smith, New York : ©1985.
Irish writing in the twentieth century :
ISBN: 1859182585 OCLC: 44493412 Cork University Press, Cork, Ireland : 2000. Extending to over 1300 pages Irish Writing in the Twentieth Century: A Reader offers a comprehensive and pleasurable introduction to modern Irish literature in a single volume. The Reader contains over 400 pieces including letters, diaries, newspaper and journal articles, songs, poems, critical essays, literary profiles, entire plays and short stories as well as extracts from novels and other longer works. Texts which until now have been out of print or difficult to locate are made easily accessible once more.
Studs Lonigan :
ISBN: 1931082553 OCLC: 52347726 Literary Classics of the United States : New York : ©2004. Presents a trio of novels that chronicles the life and times of would-be tough guy Studs Lonigan during the turbulent era of World War I, the Roaring Twenties, and the Great Depression.
Studs Lonigan :
ISBN: 0252020626 OCLC: 28148776 University of Illinois Press, Urbana : 1993. 'Studs Lonigan', the story of an Irish-American youth growing to adulthood in Chicago, is considered by many to be one of the finest American novels from the first half of the twentieth century, and its author was widely regarded as the voice of urban Irish America. This edition includes fragments of Farrell's alternative ending to 'Judgement Day'.--Page 4 of cover.
Studs lonigan.
ISBN: 0848819748 OCLC: 947107789 Amereon Ltd, [Place of publication not identified] : 2003.
The death of Nora Ryan
ISBN: 0385134509 OCLC: 3650856 Doubleday, Garden City, N.Y. : 1978.