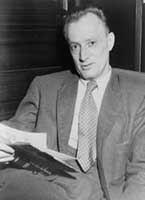 Nelson Algren
Born:
March 28, 1909 in Detroit, Michigan
Died:
May 9, 1981 in Long Island, New York
Pen Name:
None
Connection to Illinois
: Algren lived and worked in Chicago between 1939 and 1970.
Biography
: Nelson Algren was born in Detroit and died in New York but spent the better part of his life his childhood through his most productive writing years in Chicago. He was a novelist and short story writer who was once called the 'Poet of the Chicago Slums.' He combined subjects drawn from street life with an eloquent, poetic style in a series of novels ans short stories, many of which were in Chicago's Polish communities. His early books include ''Somebody in Boots'' (1935), ''Never Come Morning'' (1942) and the short-story collection, ''The Neon Wilderness'' (1947). ''The Man with a Golden Arm'' (1949) was a great popular success and became a successful Hollywood film starring Frank Sinatra in 1956. ''A Walk on the Wild Side'' (1956) was also filmed in 1962. Algren also wrote the prose poem ''Chicago: City on the Make'' (1951).
---
Awards
:
''The Man With the Golden Arm''
-- National Book Award Winner for Fiction, 1950
''Walk on the Wild Side''
-- Finalist, National Book Award for Fiction - 1957
"""Other Awards and Honors"""
-- Chicago Literary Hall of Fame, 2010
-- In 1990, his name was engraved on the frieze of the Illinois State Library alongside other great Illinois literary figures.
Primary Literary Genre(s):
Fiction
Primary Audience(s):
Adult readers
Wikipedia:
http://en.wikipedia.org/wiki/Nelson_Algren
---
Selected Titles
A walk on the wild side /
ISBN: 0374525323 OCLC: 2818794 Penguin Books, New York : 1977, ©1956.
Algren at Sea :
ISBN: 158322937X OCLC: 630545165 Seven Stories Press, New York : 2010. Nelson Algren's two travel writing books describe his journeys through the seamier sides of great American cities and the international social and political landscapes of the mid-1960s. Algren at Sea brings them together in one volume.
America eats /
ISBN: 0877453616 OCLC: 44958977 University of Iowa Press, Iowa City : ©1992.
Chicago, city on the make /
ISBN: 0070010129 OCLC: 8827161 McGraw-Hill, New York : 1983.
Never come morning /
ISBN: 1583222790 OCLC: 34513245 "Bruno Bicek, Lefty, is a prizefighter and small-time hood in Chicago. Boxing is his ticket to escape hard times and gang life, but when Bruno doesn't prevent the brutal gang rape of his girlfriend, Steffi, it tears them apart, their worlds changed forever. Bruno is sent to jail and Steffi to a brothel governed by the brutality of a local crime boss, The Barber. Sinister and dark, The Barber controls Steffi and has no intention of letting her go. Why should he, when he holds all the cards? Bruno and Steffi, who dream of breaking free, learn this in the end and find that for them there will be no bright morning." -- amazon.com.
Nonconformity :
ISBN: 1888363053 OCLC: 31074943 Seven Stories Press, New York : ©1996. In Nonconformity, Algren identifies the essential nature of the writer's relation to society, drawing examples from Dostoyevsky, Chekhov, Twain, and Fitzgerald, as well as utility infielder Leo Durocher and legendary barkeep Martin Dooley. He shares his deepest beliefs about the state of literature and its role in society, along the way painting a chilling portrait of the early 1950s, Joe McCarthy's heyday, when many American writers were blacklisted and ruined for saying similar things to what Algren is saying here.
Somebody in boots
ISBN: 9781632460431 OCLC: 938996830 Nelson Algren was a renowned writer, known for his penetrating and influential social novels such as The Man With the Golden Arm and A Walk on the Wild Side. Originally published in 1935, Somebody in Boots was Algren's first novel, based on his experiences living in Texas during the Great Depression. A wonderful companion to Steinbeck's The Grapes of Wrath, this new edition of Somebody in Boots features an introduction by Colin Asher, who is writing a forthcoming biography of Algren.
The devil's stocking /
ISBN: 1583226990 OCLC: 61879685 The Devil's Stocking is the story of Ruby Calhoun, a boxer accused of murder in a shadowy world of low-purse fighters, cops, con artists, and bar girls. Chronicling a battle for truth and human dignity which gives way to a larger story of life and death decisions, literary grandmaster Nelson Algren's last novel is a fitting capstone to a long and brilliant career.-Back cover.
The last carousel /
ISBN: 1888363452 OCLC: 35919305 Seven Stories Press, New York : 1997.
The man with the golden arm /
ISBN: 1583220089 OCLC: 41977318 Seven Stories Press ; New York : [1999] Critical essays accompany the story of gambler Frankie Machine as he struggles to stay alive amid the corruption and drug addiction of Chicago's slums and underworld.
The neon wilderness
ISBN: 1583225501 OCLC: 255190972 Seven Stories Press New York 1997 The collection of short stories that launched Nelson Algren to literary fame. Includes the Paris Review interview of Algren by Terry Southern.
The Texas stories of Nelson Algren /
ISBN: 0292704682 OCLC: 32273469 University of Texas Press, Austin : 1995. Twelve stories on the author's hobo days in Texas where he searched for work during the 1930s depression and was jailed for stealing. In one story he writes, "God help you if you run and God help you if you fight; God help you if you're broke and God help you if you're black."