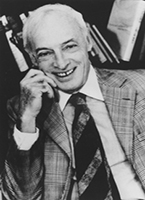 Saul Bellow
Born:
June 10, 1915 in Lachine, Quebec, Canada
Died:
April 5, 2005 in Brookline, Massachusetts (age 89)
Connection to Illinois
: Saul Bellow was 9 years old when his family moved from Canada to Chicago. He continued to live in Chicago until his death. He was a long-time faculty member at the University of Chicago.
Biography
: Saul Bellow is the dean of contemporary Illinois writers and one of the major 20th century American writers. He was the first novelist to win three National Book Awards. He was awarded the Pulitzer Prize for fiction in 1975 for ''Humboldt's Gift'', and the Nobel Prize for literature in 1976. Bellow was a novelist, short story writer, essayist, dramatist, editor and translator. A long-time faculty member at the University of Chicago, his novels combine a serious concern for ideas with a keen, often comic, mastery of the details of contemporary American life, including street life. Among his novels set either wholly or partially in Chicago are: ''Dangling Man'' (1944), ''The Adventure of Augie March'' (1953), ''Herzog'' (1964), ''Humboldt's Gift'' (1975), ''The Dean's December'' (1982), and ''The Actual'' (1997).
---
Awards
:
The Adventures of Augie March National Book Award Winner in Fiction, 1954
Herzog National Book Award in Fiction, 1965; International Literary Prize, 1965 - Bellow was the first American to receive the prize.
Mr. Sammler's Planet National Book Award Winner in Fiction, 1971
Other Awards and Honors Nobel Prize for Literature, 1976; Croix de Chevalier des Arts et Lettres by Republic of France (the highest literary distinction awarded by that nation to non-citizens), 1968; B'nai B'rith Jewish Heritage Award for Excellence in Jewish Literature, 1968; America's Democratic Legacy Award of the Anti-Defamation League by B'nai B'rith, 1976 (the first time this award has been made to a literary personage); Name engraved on the frieze of the Illinois State Library alongside other great Illinois literary figures, 1990; Chicago Literary Hall of Fame, 2010
Primary Literary Genre(s):
Fiction
Primary Audience(s):
Adult readers
:
---
Selected Titles
A theft /
ISBN: 043603963X OCLC: 59235903 Alison Press, London : 1989. Corporate executive Clara Velde has little patience with her fourth and current husband. She holds her passion for another man in an emerald ring that disappears repeatedly. Her attempts to recover the precious ring establish her as a genuine heroine.
Collected stories /
ISBN: 0142001643 OCLC: 45804631 Viking, New York : 2001. Collects stories featuring such characters as art critic Victor Wulpy, cheeerful and tragic Hattie Waggoner, and death-bed witness Dr. Braun.
Dangling man /
ISBN: 0143039873 OCLC: 69332360 Penguin Books, New York : 2006. A would-be intellectual, drafted by the Army in World War II, isolates himself while awaiting the call to report for induction.
Henderson the rain king /
ISBN: 0141188804 OCLC: 153553743 Penguin, London : 2007. An eccentric American millionaire, age 55, sets out to prove that there is more to life than waiting for death.
Herzog /
ISBN: 0786162902 OCLC: 77463815 Blackstone Audio Books, Ashland, OR : 1994. Herzog is the story of Moses Herzog, great sufferer, joker and moaner, cuckold, charmer, and man of our times. Seeing himself as a survivor, of his private disasters but also those of the age, Herzog cannot keep from asking what he calls the
Him with his foot in his mouth and other stories/ Saul Bellow.
ISBN: 0141180234 OCLC: 41076471 Penguin Books, New York : 1998. This dazzling collection of shorter fiction describes a series of self-awakenings -- a suburban divorcee deciding among lovers, a celebrity drawn into his cousin's life of crime, a father remembering bygone Chicago, an artist, and an academic awaiting extradition for some unnamed offense.
Humboldt's gift
ISBN: 0141389281 OCLC: 607182212 Viking Press, New York : 1975. Charlie Citrine, suffering from steadily worsening troubles with women, career, and life in general, receives unexpected aid and comfort in the form of a belated bequest from his onetime friend and mentor, the poet Von Humboldt Fleisher.
More die of heartbreak /
ISBN: 0142437743 OCLC: 15366651 Kenneth Trachtenberg, the witty and eccentric narrator, has left his native Paris for the Midwest. He has come to be near his beloved uncle, the world-renowned botanist Benn Crader, self-described
Mosby's memoirs and other stories /
ISBN: 0140189459 OCLC: 35566801 Penguin Books, New York : 1996. In six dark tales Saul Bellow presents the human experience in all its presposterousness, poignancy and pathos. It includes
Mr. Sammler's planet /
ISBN: 0786162589 OCLC: 182730988 Blackstone Audio, Ashland, Or. : 2008. Observing different aspects of life from the relative serenity of England in the 1920's and 30's through World War II and the death camps in Poland to the chaotic and perilous streets of New York's upper West Side, Mr. Artur Sammler speculates on the future of life on earth and beyond.
Novels 1984-2000
ISBN: 9781598533521 OCLC: 898155409 Collects the author's novels published between 1984 and 2000, including four short novels and two longer works.
Novels, 1956-1964 /
ISBN: 159853002X OCLC: 70660327 Library of America : New York : ©2007.
Ravelstein /
ISBN: 0141001763 OCLC: 42780381 Viking, New York : 2000.
Seize the day /
ISBN: 014118485X OCLC: 45593023 Penguin, London : 1996 "What makes all of this so remarkable is not merely Bellow's eye and ear for vital detail. Nor is it his talent for exposing the innards of character in a paragraph, a sentence, a phrase. It is Bellow's vision, his uncanny ability to seize the moment and to see beyond it." –Chicago Sun-TimesFading charmer Tommy Wilhelm has reached his day of reckoning and is scared. In his forties, he still retains a boyish impetuousness that has brought him to the brink of chaos: He is separated from his wife and children, at odds with his vain, successful father, failed in his acting career (a Hollywood agent once cast him as the "type that loses the girl"), and in a financial mess. In the course of one climactic day he reviews his past mistakes and spiritual malaise, until a mysterious philosophizing con man grants him a glorious, illuminating moment of truth and understanding, and offers him one last hope….
Something to remember me by :
ISBN: 0436201178 OCLC: 27337227 Secker & Warburg, London : 1992. While Saul Bellow is known best for his longer fiction in award-winning novels such as The Adventures of Augie March and Herzog, Something to Remember Me By will draw new readers to Bellow as it showcases his extraordinary gift for creating memorable characters within a smaller canvas.The loss of a ring in A Theft helps an oft-married woman understand her own wisdom and capacity for love. In The Bellarosa Connection, Harry Fonstein has escaped from Nazi brutality with the help of an underground organization masterminded by the legendary Broadway impresario Billy Rose, and his story continues in America . In the title story, seventeen-year-old Louie—whose mother is dying of cancer—strays far from home and finds not solace but humiliation and, ultimately, the blessing of his father's wrath.
The actual /
ISBN: 0141188847 OCLC: 175283765 Penguin, London : 2008. In this dazzling work of fiction, Nobel Laureate Saul Bellow writes comically and wisely about the tenacious claims of first love. Harry Trellman, an aging, astute businessman, has never belonged anywhere and is as awkward in his human attachments as he is gifted in observing the people around him. But Harry's observational talents have not gone unnoticed by
The adventures of Augie March
ISBN: 9781510024236 OCLC: 946600880 This is the fictional autobiography of a rumbustious adventurer and poker-player who sets off from his native Chicago in the spirit of a latter-day Columbus to rediscover the world - and more especially, 20th century America.
The Bellarosa connection.
ISBN: 0436199882 OCLC: 21163259 Secker & Warburg, 1990. A famous man refuses to meet the immigrant he rescues from the Nazis. His wife takes on the task of getting them together.
The dean's December /
ISBN: 0141188863 OCLC: 175283766 Penguin, London : 2008. Dean Corde is a man of position and authority at a Chicago university. He accompanies his wife to Bucharest where her mother, a celebrated figure, lies dying in a state hospital. As he tries to help her grapple with an unfeeling bureaucracy, news filters through to him of problems left behind in Chicago. A student had been been murdered and Corde had directed that charges be pressed against two black youths, but controversy and pressure are mounting against the university administration. Further, a series of articles written by Corde has offended influential Chicagoans whom he had counted as friends. Corde is troubled: at home the centre is not holding firm, in Eastern Europe authority is cruel and dehumanising.
The victim :
ISBN: 0141188839 OCLC: 175283764 Penguin, London : 2008. Leventhal is a natural victim; a man uncertain of himself, never free from the nagging suspicion that the other guy may be right. So when he meets a down-at-heel stranger in the park one day and finds himself being accused of ruining the man's life, he half believes it. He can't shake the man loose, can't stop himself becoming trapped in a mire of self doubt, can't help becoming ...a victim.