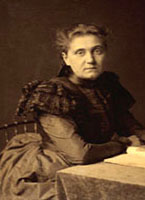 Jane Addams
Born:
September 6, 1860 in Cedarville, Illinois
Died:
May 21, 1935 in Chicago, Illinois
Pen Name:
None
Connection to Illinois
: Addams was born in Cedarville. She was the founder and life-long director of the Hull-House in Chicago, a social settlement house.
Biography
: Jane Addams was a prolific and elegant writer who wrote extensively on social issues. She was the founder of the Women's International League for Peace and Freedom and the first American woman to be awarded the Nobel Peace Prize in 1931.
---
Awards
:
Lifetime Achievement Awards Name engraved on the frieze of the Illinois State Library alongside other great Illinois literary figures, 1990; Chicago Literary Hall of Fame, 2012
Primary Literary Genre(s):
Non-Fiction
Primary Audience(s):
Adult readers
Web:
https://www.womenshistory.org/education-resources/biographies/jane-addams
Web:
https://www.loc.gov/item/today-in-history/september-06?loclr=eatod#jane-addams-and-hull-house
Web:
https://www.hullhousemuseum.org/about-jane-addams
Web:
https://www.nobelprize.org/prizes/peace/1931/addams/biographical/
Wikipedia:
https://en.wikipedia.org/wiki/Jane_Addams
---
Selected Titles
A Belated Industry
ISBN: 149295568X OCLC:
A Clash in Nevada; a History of Woman's Fight for Enfranchisement
ISBN: 1341136256 OCLC:
A New Conscience and an Ancient Evil
ISBN: 9788893320948 OCLC: 956711092 A New Conscience and an Ancient Evil was published in 1912 by Jane Addams. This interactive digital edition includes: Interactive Notes and Chapters, News about the Author, News about the Book, a very interesting Tag cloud of the Book and a link to connect to the Goodreads community to ask questions and share comments and opinions.
Democracy and Social Ethics
ISBN: 1535331828 OCLC:
Excellent Becomes the Permanent
ISBN: 0836914880 OCLC: 65559 Freeport, N.Y.,
Forty years at Hull-House
ISBN: 9781293951354 OCLC: 949210526 Scholar's Choice, London : 2015.
Jane Addams on peace, war, and international understanding, 1899-1932 /
ISBN: 0824005015 OCLC: 2224686
My friend, Julia Lathrop /
ISBN: 0252071689 OCLC: 52251269
Newer ideals of peace /
ISBN: 0252073452 OCLC: 60515004 University of Illinois Press, Urbana : 2007.
Peace and bread in time of war /
ISBN: 0252070933 OCLC: 846496147 University of Illinois Press, Urbana : 2002.
Social application of religion.
ISBN: 1606081365 OCLC: 946305923
The Jane Addams reader /
ISBN: 0465019153 OCLC: 48033001
The long road of woman's memory /
ISBN: 0252027094 OCLC: 46790981 University of Illinois Press, Urbana : 2002.
The Spirit of Youth and the City Streets
ISBN: 9788893320962 OCLC: 935528728 The Spirit of Youth and the City Streets was published in 1930 by Jane Addams. This ebook contains a detailed bibliography including all the publications of the Author. This interactive digital edition includes: Interactive Notes and Chapters, News about the Author, News about the Book, a very interesting Tag cloud of the Book and a link to connect to the Goodreads community to ask questions and share comments and opinions.
Twenty years at Hull-House :
ISBN: 0486457494 OCLC: 82473349 Dover Publications, Mineola, N.Y. : 2008.
Women at the Hague :
ISBN: 0252071565 OCLC: 52268715 University of Illinois Press, Urbana : ©2003.
Writings on peace /
ISBN: 0826488544 OCLC: 76784560