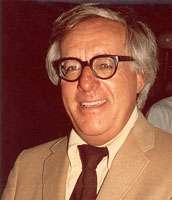 Ray Bradbury
Born:
August 22, 1920 in Waukegan, Illinois with the given name of: Rae Douglas Bradbury
Died:
June 5, 2012 in California
Pen Name:
None
Connection to Illinois
: Bradbury was born in Waukegan and lived there until 1934.
Biography
: Ray Bradbury was a novelist, short-story writer, essayist, playwright, children's book author, screenwriter, and poet. He is one of the most celebrated fiction writers of our time and is also considered one of the most important figures in the development of science fiction literature. He wrote the screenplay for John Huston's classic adaptation of ''Moby Dick'' and has been nominated for an Academy Award. He adapted 65 of his stories for television's ''The Ray Bradbury Theater'' and won an Emmy for his teleplay of ''The Halloween Tree''. In 2000 Bradbury was honored by the National Book Foundation with a medal for Distinguished Contribution to American Letters. He is the recipient of the 2004 National Medal of Arts, the 2007 Pulitzer Prize Special Citation and the 2008 Illinois Literary Heritage Award from the Illinois Center for the Book. Outside of his literary achievements, Ray Bradbury was the idea consultant and wrote the basic scenario for the United States Pavilion at the 1964 New York World's Fair. He conceived the metaphors for Spaceship Earth, EPCOT, Disney World, and he contributed to the conception of the Orbitron space ride at Euro-Disney, France. He was creative consultant for the Jon Jerde Partnership, the architectural firm that blueprinted the Glendale Galleria, The Westside Pavilion in Los Angeles, and Horton Plaza in San Diego.
---
Awards
:
Fahrenheit 451 Prometheus Award, 1984; Hugo Award for Best Novel, 1954
Peggy V. Helmerich Distinguished Author Award
Medal for Distinguished Contribution to American Letters, National Book Foundation, 2000
National Medal of Arts, 2004
Ordre des Arts et des Lettres (Commander of the Order of the Arts and Letters), 2007.
World Fantasy Award for Life Achievement, 1977
Gotcha! Locus Award for Best Short Story, 1979
Gandalf Grand Master Award, 1980
Bram Stoker Award for Lifetime Achievement, 1988
Damon Knight Memorial Grand Master Award, 1989
Helmerich Award, 1994
First Fandom Hall of Fame Award, 1996
World Horror Convention Grand Master Award, 2001
Ross Macdonald Literary Award, 2002
Pulitzer Prize Special Citations and Awards, 2007
Eaton Award for Lifetime Achievement in Science Fiction, 2008
SFPA (Science Fiction & Fantasy Poetry Association) Grand Master, 2008
Chicago Literary Hall of Fame, 2022
Illinois Literary Heritage Award, Illinois Center for the Book, 2008
Primary Literary Genre(s):
Fiction; Mystery; Poetry
Primary Audience(s):
Adult readers; Children; Young adult readers
Facebook:
https://www.facebook.com/RayBradburyAuthor/
IMDB:
https://www.imdb.com/name/nm0001969/
Web:
http://www.raybradbury.com/
Web:
https://www.famousauthors.org/ray-bradbury
Web:
https://www.loc.gov/item/n79139258/ray-bradbury/
Wikipedia:
https://en.wikipedia.org/wiki/Ray_Bradbury
---
Selected Titles
A graveyard for lunatics :
ISBN: 0380812002 OCLC: 46462712 Perennial, New York : 2001. Halloween Night, 1954. A young, film-obsessed scriptwriter has just been hired at one of the great studios. An anonymous investigation leads from the giant Maximus Films backlot to an eerie graveyard separated from the studio by a single wall. There he makes a terrifying discovery that thrusts him into a maelstrom of intrigue and mysteryand into the dizzy exhilaration of the movie industry at the height of its glittering power.
A medicine for melancholy :
ISBN: 0380730863 OCLC: 38229379 Avon, New York : 1998, ©1990. A collection of short stories written by Ray Bradbury that explore the imagination ranging from science fiction to old fashioned ice cream socials.
A memory of murder /
ISBN: 0440155592 OCLC: 10466614 Dell Pub., New York : ©1984.
Ahmed and the oblivion machines :
ISBN: 0380977044 OCLC: 39007190 Avon Books, New York : ©1998. Saved from his emprisonment beneath the sands of the desert, the ancient god Gonn-Ben-Allah gives the gift of flight to Ahmed, a twelve-year-old whose tears have freed him.
Classic stories 1 :
ISBN: 0553286374 OCLC: 21507483 A collection of thirty-two classic stories of fantasy and science fiction.
Classic stories 2 :
ISBN: 0553286382 OCLC: 21507555 Bantam, New York : 1990.
Dandelion wine :
ISBN: 0380977265 OCLC: 40711664 Avon Books, New York : ©1999. In the unusual world of Green Town, Illinois, a twelve-year-old discovers the wonders of reality and the power of imagination during the summer of 1928.
Dark carnival /
ISBN: 1887368507 OCLC: 48625440 Gauntlet Publications, Springfield, PA : ©2001.
Death has lost its charm for me /
ISBN: 0935716416 OCLC: 17201780 Lord John Press, Northridge, Calif. : 1987.
Death is a lonely business /
ISBN: 0380789655 OCLC: 40500810 Avon Books, New York : ©1999. In California in 1949, a young writer and a detective believe a number of deaths associated with an amusement park were murders. Suddenly the killer begins stalking them.
Dinosaur tales
ISBN: 0760778175 OCLC: 64548153 Barnes & Noble, New York : 2005, [©2003] Four short What if stories and two poems featuring one of the author's great loves: dinosaurs.
Driving blind /
ISBN: 0380973812 OCLC: 37031086 Avon Books, New York : ©1997. Twenty-one stories with general themes by a leading science fiction writer. In one story, a dead man thinks he is still alive, another story features a killer garbage disposal unit, and a third is on the downside of immortality.
Fahrenheit 451 /
ISBN: 0345410017 OCLC: 35972278 Nowadays firemen start fires. Fireman Guy Montag loves to rush to a fire and watch books burn up. Then he met a seventeen-year old girl who told him of a past when people were not afraid, and a professor who told him of a future where people could think. And Guy Montag knew what he had to do ...
Fever dream
ISBN: 0312572859 OCLC: 15081932 St. Martin's Press, New York : ©1987. A young boy's illness comes alive taking over his body bit by bit until he dies--but the virus remains alive in his body. A portion of each illustration glows in the dark.
From the dust returned :
ISBN: 0380789612 OCLC: 45505966 William Morrow, New York : ©2001.
Green shadows, white whale :
ISBN: 0380789663 OCLC: 50235113 Perennial, New York : ©2002.
Greentown ;
ISBN: 1848632223 OCLC: 819717292 Stanza Press, Hornsea, England : 2012.
Haunted Computer and the Android Pope.
ISBN: 1635762189 OCLC: 1002526573 Diversion Books, 2017.
I live by the invisible :
ISBN: 1903392209 OCLC: 53932521 Salmon Pub., Cliffs of Moher, Co. Clare, Ireland : 2002.
I sing the body electric! /
ISBN: 0671017896 OCLC: 49268900 Earthlight, London : 1998.
Let's all kill Constance
ISBN: 9780007541775 OCLC: 887942971
Long after midnight.
ISBN: 9780007539826 OCLC: 891751262
One more for the road :
ISBN: 0061032034 OCLC: 46952194 W. Morrow, New York : ©2002. Presents twenty-five contemporary short stories that probe the depths of human experience and relationships.
Quicker than the eye /
ISBN: 0380789590 OCLC: 37719498 Avon Books, New York : [1997], ©1996. A collection of twenty-one new short fiction stories by science fiction/fantasy/magic-realism author Ray Bradbury.
R is for rocket.
ISBN: 9780007539864 OCLC: 891751281
Ray Bradbury stories.
ISBN: 9780007280476 OCLC: 310502353 Harper Voyager, London : 2008. The first in a two volumes offering, of the very best of the author's short stories including, The Garbage Collector, The Illustrated Man and Zero Hour. The readers will be transported to foreign and remarkable worlds, become transfixed by the future, past and present.
Ray Bradbury stories.
ISBN: 9780007280582 OCLC: 314276179 Harper Voyager, London : 2008, ©2003.
Selected from Dark they were, and golden-eyed /
ISBN: 0929631242 OCLC: 24397542 Literacy Volunteers of New York City, New York : 1991. Includes the short story, a short biography, and more for the adult new reader.
Something wicked this way comes /
ISBN: 0380977273 OCLC: 41526333 Avon Books, New York : [1999] Two boys' lives are changed forever when a sinister travelling carnival stops at their Illinois town.
Summer morning, summer night
ISBN: 9781596063068 OCLC: 696814900 Far Territories, Burton, MI : 2010, ©2008. As intoxicating as Bradbury's legendary Dandelion Wine, the 27 new and old stories in this potent collection resonate with timeless power. All set in Green Town, Ill., the vintage highlights include Miss Bidwell, a sweet romance about a spinster and the delayed homecoming of her first love; the brilliant The Screaming Woman, featuring the wide-eyed first person narration of a frantic 10-year-old who discovers a woman's premature burial; and At Midnight, in the Month of June, in which a killer plays a demented game of hide and seek. Contemporary one-page shorts such as The River that Went to the Sea and The Projector round out a lyrical feast with the savor of apricots and fresh apples and as water tastes when you rise at night and walk into a dark warm summer kitchen and drink from a cool tin cup.--Publishers weekly, starred review.
Switch on the night
ISBN: 0553112449 OCLC: 58801701 Dell Dragonfly Books, New York : 2004, ©1993. A lonely little boy who is afraid of the dark is introduced to a whole new world by a little girl named Dark.
The April witch /
ISBN: 0886821053 OCLC: 15015210 Creative Education, Mankato, Minn. : [1988], ©1952. Warned not to mix with ordinary people and thus lose her magic powers, a young witch who wants to be in love decides to risk all by trying to experience love through someone else.
The best of Ray Bradbury :
ISBN: 0743474767 OCLC: 59357611 Ibooks ; New York : 2003. Over a period of four years, from 1992-1996, the world's best comic book artists adapted Grand Master Ray Bradbury's best stories in a series of different graphic novel formats. Now, for the first time, the best of these stories by the illustrators comics fans crave are collected in a single affordable volume.
The cat's pajamas :
ISBN: 0060777338 OCLC: 54677758 Morrow, New York : ©2004. A collection of new short stories by the award-winning science-fiction writer of One More for the Road includes tales of twentieth-century rural life, Halloween terrors, and flights of fancy on Martian shores. Ray Bradbury is, indisputably, one of America's greatest storytellers. The recipient of the 2000 National Book Foundation Medal for Distinguished Contribution to American Letters, he ranks among the most beloved, and widely read, of American authors. In The Cat's Pajamas, this "latter-day O. Henry" (Booklist) takes us on an amazing walk through his six-decade career, presenting twenty-two tales, some old, some new, all but two never before published. Here you will find stories strange and scary, nostalgic and bittersweet, humorous and heart-touching, ranging from the not-so-long-gone past to an unknowable future: a group of senators drinks a bit too much, and gambles away the United States; a newlywed couple buys an old house and finds their fledgling relationship tested; two mysterious strangers arrive at a rooming house and baffle their fellow occupants with strange crying in the night; a lonely woman takes a last chance on love. The final piece in the collection is a story-poem, a fond salute from Bradbury to his literary heroes Shaw, Chesterton, Dickens, Twain, Poe, Wilde, Melville, and Kipling. The Cat's Pajamas is just that, the bee's knees, a touching, timeless, and tender collection from the incomparable Ray Bradbury, and a panoramic view of an amazingly long, rich, and fertile creative career.
The complete poems of Ray Bradbury /
ISBN: 0345305566 OCLC: 8753066 Ballantine Books, New York : 1982.
The fog horn
ISBN: 088682107X OCLC: 15015233 Creative Education, Mankato, Minn. : [1988], ©1951. A prehistoric reptilian monster seeking another of its own kind rises from the sea when it hears a bellowing fog horn calling to it.
The golden apples of the sun and other stories /
ISBN: 0380730391 OCLC: 38013127 Avon Books, New York : 1997, ©1990. A collection of thiry-two short stories by Ray Bradbury that explore the endless possibilities of what may happen in the present and in the future.
The Halloween tree /
ISBN: 1887368809 OCLC: 547274977 Gauntlet Publications, [Colorado Springs, CO] : ©2005. A group of children and a "spirit" go back through time to discover the beginnings of Halloween.
The haunted computer and the android pope :
ISBN: 0394514440 OCLC: 6942927 Knopf : New York : 1981. A poetry collection from a master of fantasy celebrates the familiar and unusual in verses dealing with subjects from Ty Cobb to dinosaurs and strawberry shortcake to the Vatican.
The illustrated man /
ISBN: 0380973847 OCLC: 280827 Doubleday, Garden City, N.Y. : 1951. Eighteen science fiction stories.
The last circus ; &, the electrocution /
ISBN: 0935716033 OCLC: 6923758 Lord John Press, Northridge, California (19073 Los Alimos St., Northridge, Calif. 91326) : 1980.
The love affair :
ISBN: 0935716173 OCLC: 9125371
The machineries of joy /
ISBN: 0586043616 OCLC: 8297009 Panther, St. Albans, Herts. : 1977.
The Martian chronicles /
ISBN: 0380973839 OCLC: 36211090 Avon Books, New York : ©1997. The tranquility of Mars is disrupted by the earthmen who have come to conquer space, colonize the planet, and escape a doomed Earth.
The Mummies of Guanajuato /
ISBN: 0810921502 OCLC: 3380409 H.N. Abrams, New York : 1978. In the sleepy Mexican town of Guanajuato, with its neatly kept square and elegant neoclassical theater, is one of the most bizarre and compelling galleries in the Western world. It is not a museum, for this gallery is in a cemetery; its walls lined not with art but with human mummies, standing with mouths agape, eye sockets staring as if they had just returned from the other side of Hell. Indeed, they have literally returned from the grave--exhumed from the dry, desert soil by cemetery keepers because relatives of the dead were too poor to pay for maintenance. So fascinating are these "living dead" that noted author Ray Bradbury wrote a chilling short story after seeing them: so visually arresting that photographer Archie Lieberman was moved to quell his horror and create a pictorial record. The two artists' reactions comprise this unusual book. The photographs call up the deepest and most provocative human emotions. They will shock, disturb and terrify. But they compel viewing; they stimulate confrontation and, believe it or not, will be examined again and again. The story, like all Bradbury's writing, quivers with tension and evokes the thoughts and feelings that reside mostly on the dark side of the mind--stuff of nightmares. No one who experiences this book will ever forget it.
The October country /
ISBN: 0380973871 OCLC: 44550773 Haunting, harrowing, and downright horrifying, this classic collection from the modern master of the fantastic features: THE SMALL ASSASSIN: a fine, healthy baby boy was the new mother's dream come true -- or her nightmare ... THE EMISSARY: the faithful dog was the sick boy's only connectioin with the world outside -- and beyond ... THE WONDERFUL DEATH OF DUDLEY STONE: a most remarkable case of murder -- the deceased was delighted! And more!
The other foot
ISBN: 0886821061 OCLC: 14932623 Creative Education, Mankato, Minn. : [1987] American blacks, settled on Mars after centuries of abuse on earth, have a chance for revenge when a space ship bearing a white man arrives seeking help in the aftermath of World War III.
The science fiction hall of fame
ISBN: 0765305372 OCLC: 58919989 Orb, New York : 2005-<2009> Presents a collection of eleven science fiction novellas representing the work of major authors in the field, including Poul Anderson, Robert A. Heinlein, and H.G. Wells.
The stories of Ray Bradbury /
ISBN: 0394513355 OCLC: 6222486 Knopf : New York : 1980. In this collection are an imaginative group of stories that often bridge the gap between fantasy and science fiction. The collection includes one hundred of the author's science fiction, fantasy, horror, and midwestern short stories.
The Toynbee convector :
ISBN: 0553279572 OCLC: 19725050 Bantam Books, New York : 1989, ©1988. Most of the twenty-three tales within this collection begin in the familiar rooms and landscapes of our lives, in our common thoughts and memories -- and then take off through the farthest reaches of the imagination.
The veldt
ISBN: 0886821088 OCLC: 14932777 Creative Education, Mankato, Minn. : [1987] The advanced technology of a house first pleases then increasingly terrifies its occupants.
The vintage Bradbury;
ISBN: 0679729461 OCLC: 259490 Vintage Books New York, [1965] Bradbury presests his best short stories.
They have not seen the stars /
ISBN: 1588810380 OCLC: 50656498 Stealth Press, Lancaster, PA : 2002.
TOYNBEE CONVECTOR.
ISBN: 1982105151 OCLC: 1056738615 SIMON & SCHUSTER, [Place of publication not identified], 2019.
We'll always have Paris :
ISBN: 0061670146 OCLC: 841413409 Harper Perennial, New York : 2010, ©2009. Presents a collection of short works by the well-known science fiction author spanning a range of themes, from the bizarre and nostalgic to the bittersweet and speculative.
When elephants last in the dooryard bloomed :
ISBN: 0246108282 OCLC: 1858828 Hart-Davis, MacGibbon, London : 1975.
Where robot mice and robot men run round in robot towns :
ISBN: 0394422066 OCLC: 3205259 Knopf, New York : 1977.
Witness and celebrate /
ISBN: 0935716947 OCLC: 839301876 Lord John Press, Northridge, Calif. : ©2000.
Zen in the art of writing /
ISBN: 1877741094 OCLC: 20671140 Joshua Odell Editions, Santa Barbara, Calif. : 1990. In a series of essays, Bradbury discusses his career and his compulsion to write. Nine essays discuss the joy of writing, the writing process, inspiration, creativity, and the circumstances surrounding the writing of several of his works.