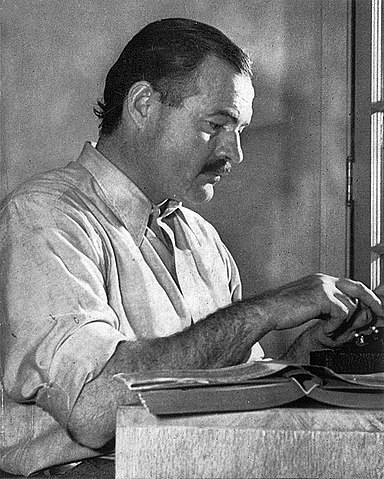 Ernest Hemingway
Born:
July 21, 1899 in Oak Park, Illinois
Died:
July 2, 1961 in Ketchum, Idaho
Connection to Illinois
: Hemingway was born and raised in Oak Park.
Biography
: Ernest Hemingway was a novelist, short-story writer, and journalist. He is considered to be one of the major American novelists of the 20th Century. Several of his books were adapted for the big screen. He won the Nobel Prize for Literature in 1954. A little-known fact about Hemingway: 'In 1918, while serving on the Italian Front as an ambulance driver for the Red Cross, 18-year-old Ernest Hemingway was struck by an Austrian mortar shell while handing out chocolate and cigarettes to soldiers in a dugout. He was knocked unconscious and shell fragments entered his entire body, including his head, legs, and hand. After he regained consciousness, Hemingway picked up a badly wounded Italian soldier and carried him to the first aid dugout; he later said he didn't remember how he got back. He was awarded the Silver Medal of Military Valor.' (Publishers Weekly, ''7 Authors Who Almost Died'' by Gabe Habash -- May 15th, 2012)
---
Awards
:
'''''The Old Man and the Sea''''' Pulitzer Prize for Fiction, 1953 Finalist, National Book Award, 1953
Other Awards and Honors Nobel Prize for Literature for his lifetime literary achievements, 1954 Name engraved on the frieze of the Illinois State Library alongside other great Illinois literary figures, 1990 Chicago Literary Hall of Fame, 2012
Primary Literary Genre(s):
Fiction; Romance
Primary Audience(s):
Adult readers
IMDB:
https://www.imdb.com/name/nm0002133/bio
Web:
https://blogs.loc.gov/loc/2023/11/eavesdropping-on-ernest-hemingway-at-finca-viga/?loclr=ealocb
Web:
https://www.biography.com/authors-writers/ernest-hemingway
Web:
https://www.britannica.com/biography/Ernest-Hemingway
Web:
https://www.nobelprize.org/prizes/literature/1954/hemingway/biographical/
Wikipedia:
https://en.wikipedia.org/wiki/Ernest_Hemingway
---
Selected Titles
A Farewell to Arms
ISBN: 0684837889 OCLC: 36103848 Scribner Classics, New York : 1997. By turns romantic and harshly realistic, Hemingway's story of a tragic romance set against the brutality and confusion of World War I cemented his fame as a stylist and as a writer of extraordinary literary power. A volunteer ambulance driver and a beautiful English nurse fall in love when he is wounded on the Italian front. The best American novel to emerge from World War I, A Farewell to Arms is the unforgettable story of an American ambulance driver on the Italian front and his passion for a beautiful English nurse. Hemingway's frank portrayal of the love between Lieutenant Henry and Catherine Barkley, caught in the inexorable sweep of war, glows with an intensity unrivaled in modern literature, while his description of the German attack on Caporetto -- of lines of fired men marching in the rain, hungry, weary, and demoralized -- is one of the greatest moments in literary history. A story of love and pain, of loyalty and desertion, A Farewell to Arms, written when he was 30 years old, represents a new romanticism for Hemingway.
A Moveable Feast
ISBN: 068482499X OCLC: 34744147 Simon & Schuster, New York : 1996. Published posthumously in 1964, A Moveable Feast remains one of Ernest Hemingway's most beloved works. It is his classic memoir of Paris in the 1920s, filled with irreverent portraits of other expatriate luminaries such as F. Scott Fitzgerald and Gertrude Stein; tender memories of his first wife, Hadley; and insightful recollections of his own early experiments with his craft. It is a literary feast, brilliantly evoking the exuberant mood of Paris after World War I and the youthful spirit, unbridled creativity, and unquenchable enthusiasm that Hemingway himself epitomized.
Across the River and into the Trees
ISBN: 1784872032 OCLC: 960495584 VINTAGE CLASSICS, [Place of publication not identified] : 2017. The War is just over. In Venice, a city elaborately and affectionately described, the American Colonel, Richard Cantrell, falls passionately in love with Renata, a young Italian countess who has 'a profile that could break your or anyone else's heart'. Cantrell is embittered, war-scarred and old enough to be Renata's father, but he is overwhelmed by the selflessness and freshness of the love she is offering. But this is no fairy tale. The fighting may be ended, but the wounds of war have not yet healed. And for some, the longed-for peace has come too late. A lesser known classic by one of the great American writers of the twentieth century, Across the River And Into The Trees is still vintage Hemingway.
Death in the Afternoon
ISBN: 0099285029 OCLC: 44694728 Vintage, London : 2000. In
For Whom the Bell Tolls
ISBN: 0684830485 OCLC: Scribner 1996 In 1937 Ernest Hemingway traveled to Spain to cover the civil war there for the North American Newspaper Alliance. Three years later he completed the greatest novel to emerge from "the good fight," and one of the foremost classics of war literature in history. Published in 1940, For Whom the Bell Tolls tells the story of Robert Jordan, a young American in the International Brigades attached to an antifascist guerilla unit in the mountains of Spain. In his portrayal of Jordan's love for the beautiful Maria and his superb account of El Sordo's last stand, in his brilliant travesty of La Pasionaria and his unwillingness to believe in blind faith, Hemingway surpasses his achievement in The Sun Also Rises and A Farewell to Arms to create a work at once rare and beautiful, strong and brutal, compassionate, moving, and wise. "If the function of a writer is to reveal reality," Maxwell Perkins wrote Hemingway after reading the manuscript, "no one ever so completely performed it." Greater in power, broader in scope, and more intensely emotional than any of the author's previous works, For Whom the Bell Tolls tells of loyalty and courage, love and defeat, and the tragic death of an ideal. When it was first published, The New York Times called it "a tremendous piece of work," and it still stands today as one of the best war novels of all time.
Green Hills of Africa
ISBN: 068484463X OCLC: 38948108 Scribner, New York : 1998. Hemingway's well-documented fascination with big-game hunting is magnificently captured amidst rich descriptions of the beauty and strangeness of East Africa, where he and his wife, Pauline, journeyed in December of 1933. An impassioned portrait of the glory of the African landscape, this immediate and deeply felt account has all of the hallmarks of the most evocative travel writing.
Hemingway on Fishing
ISBN: 1599211084 OCLC: 44764082 Lyons Press, New York : ©2000. Hemingway on Fishing is a full and diverse collection of some of the greatest writing by Nobel Peace Prize winner Ernest Hemingway on one of his favorite subjects—angling. Included in this gift edition are excerpts from A Moveable Feast, The Sun Also Rises, Green Hills of Africa, The Garden of Eden, Islands in the Stream and The Old Man and articles from the Toronto Star Daily, Esquire and Vogue.· Hemingway on Fishing is a collection of the greatest literary works on the sport from one of the greatest writers of all time.· An ideal book for collectors · Includes a 32-page black and white insert
Hemingway on Hunting
ISBN: 0743225295 OCLC: 52631442 Scribner, New York : 2003. The companion volume to the bestselling Hemingway on Fishing Ernest Hemingway's lifelong zeal for the hunting life is reflected in his masterful works of fiction, from his famous account of an African safari in The Short Happy Life of Francis Macomber to passages about duck hunting in Across the River and Into the Trees. For Hemingway, hunting was more than just a passion; it was a means through which to explore our humanity and man's relationship to nature. Courage, awe, respect, precision, patience-these were the virtues that Hemingway honored in the hunter, and his ability to translate these qualities into prose has produced some of the strongest accounts of sportsmanship of all time. Hemingway on Hunting offers the full range of Hemingway's writing about the hunting life. With selections from his best-loved novels and stories, along with journalistic pieces from such magazines as Esquire and Vogue, this spectacular collection is a must-have for anyone who has ever tasted the thrill of the hunt-in person or on the page.
Hemingway's Paris
ISBN: 0684157993 OCLC: 4003973 Scribner, New York : ©1978. 182 pages loaded with photos and info. 8 1/2 By 11 1/4
Islands in the Stream: A Novel
ISBN: 0743253426 OCLC: 93247 First published in 1970, nine years after Hemingway's death, this is the story of an artist and adventurer—a man much like Hemingway himself. Beginning in the 1930s, Islands in the Stream follows the fortunes of Thomas Hudson, from his experiences as a painter on the Gulf Stream island of Bimini through his antisubmarine activities off the coast of Cuba during World War II. Hemingway is at his mature best in this beguiling tale.
Men Without Women
ISBN: B0BRC4P7YJ OCLC: Independently Published 2023 Welcome to Men Without Women, the outstanding novel by Ernest Hemingway, the Nobel Prize–winning author of The Old Man and the Sea, A Farewell to Arms, The Sun Also Rises, and For Whom The Bell Tolls.• This is the full, un-abridged original 1927 version of Men Without Women authored by Ernest Hemingway with the addition of an annotated guided book club section and an annotated study guide section at the end to foster meaningful discussion for schools, colleges, homeschool groups, book clubs, and youth groups.Men Without Women by Ernest Hemingway is the perfect book for you - the critically acclaimed novel that is widely regarded as one of the most important literary works of all time.
On Paris (On Series)
ISBN: 1843916045 OCLC: 681391952 Hesperus Press, London : 2010. Written for the Toronto Star between 1920 and 1924, this selection of energetic pieces from Hemingway sees the author focus his gaze on Paris. Writing with characteristic verve, the author tackles cultural topics in chapters such as Living on $1,000 a Year in Paris, American Bohemians in Paris, and Parisian Boorishness.
The Complete Short Stories of Ernest Hemingway
ISBN: 0684843323 OCLC: 15792541 The complete, authoritative collection of Ernest Hemingway's short fiction, including classic stories like
The Fifth Column and Four Stories of the Spanish Civil War
ISBN: 9780099586623 OCLC: 829055530 Inspired by Hemingways adventures as a newspaper correspondent in Spain in the 1930s The Fifth Column and Four Stories of the Spanish Civil War magnificently evokes life in a besieged city over a tumultuous decade Featuring the authors only full length play the works recount decadent parties and doomed love affairs amid the rubble and effortlessly capture the devastating effects of the war on the inhabitants of the city.
The Garden of Eden
ISBN: 0684804522 OCLC: 13185825 An uncompleted final novel of Ernest Hemingway, which he worked on intermittently from 1946 until his death in 1961. Set on the Côte d'Azur in the 1920s, it is the story of a young American writer, David Bourne, his glamorous wife, Catherine, and the dangerous, erotic game they play when they fall in love with the same woman.
The Nick Adams Stories
ISBN: 0684169401 OCLC: 293139 Charles Scribner's Sons, New York : ©1972. The complete collection of Ernest Hemingway's Nick Adams two dozen stories are gathered here in one volume, grouped together according to the major time periods in the protagonist's life. Based on Hemingway's own experiences as a boy and as a member of the Red Cross ambulance corps in World War I. The collection follows Nick's life as a child to parent, along with soldier, veteran, and writer and feature some of Hemingway's earliest work such as
The Old Man and the Sea
ISBN: 0684830493 OCLC: 34476442 Scribner, New York : [1996] The Old Man and the Sea is one of Hemingway's most enduring works. Told in language of great simplicity and power, the story of an old Cuban fisherman, down on his luck, and his supreme ordeal—a relentless, agonizing battle with a giant marlin far out in the Gulf Stream, on the water for months without a catch, but refusing to stop trying.Here Hemingway recasts, in strikingly contemporary style, the timeless theme of courage and commitment in the face of defeat, of personal triumph won from loss. Written in 1952, this hugely successful novella confirmed his talent and presence in the literary world and played a large part in his winning the 1954 Nobel Prize for Literature.
The Snows of Kilimanjaro and Other Stories
ISBN: 0684862212 OCLC: 32591258 Scribner Classics, New York : [1995], ©1964. Selected from Winner Take Nothing, Men Without Women, and The Fifth Column and the First Forty-Nine Stories, this collection includes
The Sun Also Rises
ISBN: 0743297334 OCLC: 34476446 Scribner, New York : [1996] The quintessential novel of the Lost Generation, The Sun Also Rises is one of Ernest Hemingway's masterpieces and a classic example of his spare but powerful writing style. A poignant look at the disillusionment and angst of the post-World War I generation, the novel introduces two of Hemingway's most unforgettable characters: Jake Barnes and Lady Brett Ashley. The story follows the flamboyant Brett and the hapless Jake as they journey from the wild nightlife of 1920s Paris to the brutal bullfighting rings of Spain with a motley group of expatriates. It is an age of moral bankruptcy, spiritual dissolution, unrealized love, and vanishing illusions. First published in 1926, The Sun Also Rises helped to establish Hemingway as one of the greatest writers of the twentieth century.
The Torrents of Spring
ISBN: 0099909502 OCLC: 59937397 Arrow Books, London : 1994, ©1954. In Ernest Hemingway's captivating novella, we embark on a whimsical and satirical journey through the lush landscapes of northern Michigan. Brimming with Hemingway's signature wit and razor-sharp prose, this tale takes us into the heart of a small town where love, art, and ambition collide.Meet Yogi Johnson, a young writer grappling with the weight of his literary aspirations and his yearning for true love. As he navigates the social scene of Hortons Bay, he finds himself entangled in a charming yet perplexing romance with the vivacious and enigmatic Diana. Together, they embark on a whirlwind affair filled with passion and uncertainty, painting a vivid picture of the exhilaration and disillusionment that often accompanies youthful infatuation.Against this backdrop of budding love, Hemingway masterfully weaves a tapestry of colorful characters who bring the town to life. From the eccentric and wise Uncle Willy to the larger-than-life Count Greffi, each individual leaves an indelible mark on Yogi's journey, shaping his perception of art, love, and the pursuit of happiness.With a keen eye for irony and an unparalleled ability to capture the human spirit, Hemingway delves deep into the complexities of love, art, and the search for meaning in an ever-changing world. Exploring themes of ambition, societal expectations, and the sacrifices we make for our passions, this mesmerizing novella serves as a poignant reminder that even in the face of tumultuous torrents, the human spirit remains resilient and hopeful.
To Have and Have Not
ISBN: 0684859238 OCLC: 284620 To Have and Have Not is the dramatic story of Harry Morgan, an honest man who is forced into running contraband between Cuba and Key West as a means of keeping his crumbling family financially afloat. His adventures lead him into the world of the wealthy and dissipated yachtsmen who throng the region and involve him in a strange and unlikely love affair.In this harshly realistic, yet oddly tender and wise novel, Hemingway perceptively delineates the personal struggles of both the
True At First Light: A Fictional Memoir
ISBN: 0684865726 OCLC: 40543980 Scribner, New York : ©1999. A blend of autobiography and fiction, the book opens on the day his close friend Pop, a celebrated hunter, leaves Ernest in charge of the safari camp and news arrives of a potential attack from a hostile tribe. Drama continues to build as his wife, Mary, pursues the great black-maned lion that has become her obsession, and Ernest becomes involved with a young African girl whom he supposedly plans to take as a second bride. Increasingly enchanted by the local African community, he struggles between the attraction of these two women and the wildly different cultures they represent. Spicing his depictions of human longings with sharp humor, Hemingway captures the excitement of big-game hunting and the unparalleled beauty of the landscape. Rich in laughter, beauty, and profound insight. True at First Light is an extraordinary publishing event—a breathtaking final work from one of our most beloved and important writers.
Under Kilimanjaro
ISBN: 0873388453 OCLC: 58431699 Kent State University Press, Kent, Ohio : ©2005. Accompanied by his fourth wife Mary, famed American novelist Ernest Hemingway spent several months in late 1953 and early 1954 on his final safari in Kenya. Their time there came to an abrupt end in early January 1954 when they sustained serious injuries from two near-fatal plane crashes in east Africa. While recovering, and back home in Havana, Hemingway wrote his "African book," which is, by turns, an adventuresome, comedic, and thoughtful recounting of his final safari. In Under Kilimanjaro "Papa" colors real people and events with his lively imagination as he demonstrates his inimitable style, his deft wit, and his intelligent curiosity in this autobiographical novel about the land and people he came to love. Completed in 1956, Under Kilimanjaro is part handwritten and part typed, with many of the pages heavily edited in Hemingway's hand. He then left this manuscript, along with those for A Moveable Feast, Islands in the Stream, and The Garden of Eden, in a safe-deposit box in Cuba, often referring to them as his "life insurance" for his heirs. Under Kilimanjaro is the last of Hemingway's manuscripts to be published in its entirety. Editors Robert W. Lewis and Robert E. Fleming believe that "this book deserves as complete and faithful a publication as possible without editorial distortion, speculation, or textually unsupported attempts at improvement. Our intent has been to produce a complete reading text of Ernest Hemingway's manuscript. . . .Working on it was both a privilege and a responsibility. . . .Readers of this remarkable work will experience the mingled pleasure of revisiting the familiar and discovering the new." To its readers, Under Kilimanjaro reveals a mature, tender, happy, and reflective Hemingway and offers a compelling, deliberately paced, subtle story of a place and time as only Ernest Hemingway could write it.
Winner Take Nothing
ISBN: 0099909707 OCLC: 31739273 Arrow, London : 1994, ©1939. Written when Hemingway was at the height of his creative powers, the stories in Winner Take Nothing glow with the mark of his unique talent. Hunters, wives, old men of wisdom, waiters, fighters, women loved, women lost: they are all here, living on the raw edge, making love, facing the inevitable reality of death. The characters, the dialogue, the settings, the remarkable insight could have come only from Hemingway's imagination. As an introduction to his work, or as an overview of the themes he developed at greater length in his novels, it is a stunningly successful collection. From one of the greatest writers of the twentieth century.