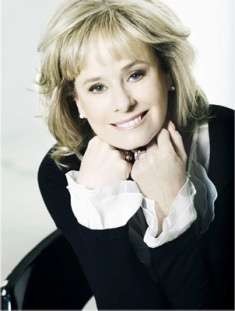 Kathy Reichs
Born:
in Chicago, Illinois
Pen Name:
None
Connection to Illinois
: Dr. Reichs is a native of Chicago and received her Ph. D. at Northwestern Illinois University.
Biography
: Dr. Kathy Reichs is an American crime writer, forensic anthropologist and academic. She earned her Bachelors of Arts degree with a major in anthropology from American University in 1971. In 1972, she completed her Master of Arts in physical anthropology from Northwestern University, and in 1975 she completed her Ph.D. in physical anthropology from Northwestern University. Since then, Reichs has taught at Northern Illinois University, University of Pittsburgh, Concordia University and McGill University. She is a Professor in the Department of Anthropology at the University of North Carolina-Charlotte.Like her fictional creation, Temperance Brennan, she is forensic anthropologist for the province of Quebec. She is one of only eighty-two forensic anthropologists ever certified by the American Board of Forensic Anthropology. She served on the Board of Directors and as Vice President of both the American Academy of Forensic Sciences and the American Board of Forensic Anthropology, and is currently a member of the National Police Services Advisory Council in Canada. Reichs has also been a producer for the TV series Bones.
---
Awards
:
Primary Literary Genre(s):
Mystery
Primary Audience(s):
Adult readers
Facebook:
http://www.facebook.com/#!/KathyReichs=kathy+reichs
Website:
http://www.kathyreichs.com
---
Selected Titles
206 bones /
ISBN: 0743294394 OCLC: 318191563 Scribner, New York : 2009. "Chicago forensic anthropologist Temperance Brennan is accused of mishandling the autopsy and the case of a missing heiress from Montreal--an investigation that becomes more complicated when two more bodies of elderly women are found in Montreal and Tempe faces the very real possibility that a colleague has sabotaged work in the lab."--
A conspiracy of bones /
ISBN: 1982138882 OCLC: 1103985402 "It's sweltering in Charlotte, North Carolina, and Temperance Brennan, still recovering from neurosurgery following an aneurysm, is battling nightmares, migraines, and what she thinks might be hallucinations when she receives a series of mysterious text messages, each containing a new picture of a corpse that is missing its face and hands. Immediately, she's anxious to know who the dead man is, and why the images were sent to her. An identified corpse soon turns up, only partly answering her questions. To win answers to the others, including the man's identity, she must go rogue, working mostly outside the system. That's because Tempe's new boss holds a fierce grudge against her and is determined to keep her out of the case. Tempe bulls forward anyway, even as she begins questioning her instincts. But the clues she discovers are disturbing and confusing. Was the faceless man a spy? A trafficker? A target for assassination by the government? And why was he carrying the name of a child missing for almost a decade? With help from a number of law enforcement associates including her Montreal beau Andrew Ryan and the always-ready-with-a-smart-quip, ex-homicide investigator Skinny Slidell, and utilizing new cutting-edge forensic methods, Tempe draws closer to the astonishing truth. But the more she uncovers, the darker and more twisted the picture becomes ..."--
Bare bones /
ISBN: 0743233468 OCLC: 51587217 Scribner, New York : ©2003. Her plans for a romantic vacation interrupted by the discoveries of two murdered bodies and a small plane crash, Tempe Brennan traces leads to an isolated North Carolina farm.
Bones are forever :
ISBN: 1439102430 OCLC: 759912700 Forensic anthropologist Temperance Brennan examines the bodies of three babies while Detective Ryan investigates their mother in a case with ties to the high-stakes world of diamond mining.
Bones never lie :
ISBN: 0345544013 OCLC: 880122426 Unexpectedly called in to the Charlotte PD's Cold Case Unit, Dr. Temperance Brennan wonders why she's been asked to meet with a homicide cop who's a long way from his own jurisdiction. The shocking answer: Two child murders, separated by thousands of miles, have one thing in common -- the killer. Years ago, Anique Pomerleau kidnapped and murdered a string of girls in Canada, then narrowly eluded capture. It was a devastating defeat for her pursuers, Brennan, and police detective Andrew Ryan. Now, as if summoned from their nightmares, Pomerleau has resurfaced in the United States, linked to victims in Vermont and North Carolina. When another child is snatched, the reign of terror promises to continue -- unless Brennan can rise to the challenge and make good on her second chance to stop a psychopath. But Brennan will have to draw her bitter ex-partner out of exile, keep the local police and feds from one another's throats, and face more than just her own demons as she stalks the deadliest of predators into the darkest depths of madness.
Bones of the lost /
ISBN: 1439102457 OCLC: 828850622 "The latest from Kathy Reichs finds Tempe Brennan investigating the connections between a long-dead business man, the smuggling of mummified dogs from Peru, and the death of a teenage girl killed in a hit and run. When she discovers a human trafficking enterprise at the center of it all, the scope of the case extends from South America to Afghanistan. And Tempe's soon-to-be ex might have connections that run to the very heart of the trafficking ring"--
Bones to ashes
ISBN: 9781416544913 OCLC: 80916962 Scribner, New York : 2007. Discovering the skeleton of a young girl in the neighborhood of a childhood best friend who had gone missing thirty years earlier, Tempe Brennan investigates suspicions that victim and her friend are one and the same.
Break no bones /
ISBN: 0743453034 OCLC: 68800444 Scribner, New York : ©2006. Struggling with a lackluster teaching position at an archaeology field school in South Carolina, Tempe Brennan discovers a fresh skeleton among ancient bones and traces leads to a free street clinic where patients are going missing.
Code.
ISBN: 0606321403 OCLC: 876417081
Cross bones /
ISBN: 0743233484 OCLC: 57694712 Scribner, New York : ©2005. Receiving mysterious clues about a shooting murder in Montreal, Tempe Brennan wonders if the victim may have been a Jewish black market antiquities trader and embarks on a dangerous investigation in Israel.
Deadly décisions /
ISBN: 0684859718 OCLC: 43397131 Scribner, New York : ©2000. Nine-year-old Emily Anne Toussaint is shot dead on a Montreal street. A North Carolina teenager disappears from her home and parts of what may be her skeleton are found hundreds of miles away. For Dr. Temperance Brennan, a forensic anthropologist in both Montreal and North Carolina, the deaths kindle deep emotions that propel her on a harrowing journey into the world of outlaw motorcycle gangs. As a scientist, Tempe should remain dispassionate. As a caring individual, she yearns to take the killers off the streets. Emily Anne was cut down in a biker crossfire. The North Carolina victim, Savannah Osprey, was last seen hitching a ride with a transient biker. Tempe's nephew, Kit, is intrigued by motorcycles. Does he understand the difference between legitimate riders and gangs, or is he too mesmerized to comprehend that outlaw bikers are big trouble? With her boss Pierre LaManche in the hospital, and her friend Andrew Ryan disturbingly unavailable, Tempe begins a perilous investigation into a culture where evil often wears a mask.
Death du jour /
ISBN: 0684841185 OCLC: 40125181 Scribner, New York : ©1999. Forensic anthropologist Tempe Brennan investigates religious-cult murders in a monkey preserve in North Carolina. She learns of a planned massacre in Quebec, where the novel's climax comes during a snow storm. By the author of Déjà Dead.
Déjà dead /
ISBN: 0684841177 OCLC: 36485776 Scribner, New York, NY : ©1997. A killer in Montreal is murdering and dismembering women, and police are getting nowhere. Forensic anthropologist Temperance Brennan, a middle-aged lady from North Carolina, goes after him herself.
Devil bones /
ISBN: 0743294386 OCLC: 180755979 Scribner, New York : 2008. A call to examine a skull found in a hidden floor space plunges forensic anthropologist Dr. Temperance Brennan into a case that may involve ritual murder.
Exposure /
ISBN: 1595145303 OCLC: 854760719 Fifteen-year-old Tory and her "viral" friends, who contracted heightened, wolflike senses during an experiment gone wrong, investigate an abduction case and make some troubling new discoveries about their powers.
Fatal voyage /
ISBN: 0684859726 OCLC: 45917113 Scribner, New York : ©2001. Tempe Brennan finds "a shocking, multilayered tale of deceit and depravity" and a disembodied foot that couldn't have been involved in the crash when she rushes to help at the scene of an Air TransSouth flight that's crashed in the mountains of western North Carolina.--Jacket.
Flash and bones /
ISBN: 1451675291 OCLC: 687665168 Scribner, New York : 2011. "Kathy Reichs--#1 New York Times bestselling author and producer of the FOX television hit Bones --returns with a riveting new novel set in Charlotte, North Carolina, featuring forensic anthropologist Dr. Temperance Brennan. Kathy Reichs's trademark blend of forensic descriptions that "chill to the bone" (Entertainment Weekly) and breathless suspense have made her books major bestsellers worldwide. Now, she delivers the fourteenth thriller in a "cleverly plotted and expertly maintained series" (The New York Times Book Review). A body is found in a barrel of asphalt next to Lowes Motor Speedway near Charlotte just as 200,000 fans are pouring into town for race week. The next day, a NASCAR crew member shares with Tempe a devastating story. Twelve years earlier his sister, Cyndi Gamble, then a high school senior who wanted to be a professional racecar driver, disappeared along with her boyfriend, Cale Lovette. Lovette kept company with a group of right wing extremists known as the Patriot Posse. Is the body Cyndi's? Or Cale's? At the time of their disappearance, the FBI joined the investigation, but the search was quickly terminated. As Tempe is considering multiple theories, including an FBI cover-up, a surprising, secret substance is found with the body, leaving Tempe to wonder what exactly the government was up to ..."--
Grave secrets /
ISBN: 0684859734 OCLC: 49225924 Scribner, New York : ©2002. Investigating a massacre that took place in Guatemala in 1982, forensic anthropologist Temperance Brennan discovers that those events are linked to the disappearance of four girls from Guatemala City, as well as the murder of a human rights investigator.
Monday mourning /
ISBN: 0743264266 OCLC: 54686080 Scribner, New York : 2004. Temperance Brennan, forensic anthropologist for both North Carolina and Quebec, has come from Charlotte to Montreal during the bleak days of December to testify as an expert witness at a murder trial.
Mortal remains /
ISBN: 0099556863 OCLC: 731642416 Arrow, London : 2011, ©2010.
Seizure /
ISBN: 1595143947 OCLC: 707249878 Razorbill, New York : ©2011. Ever since Tory Brennan and her friends rescued Cooper, a kidnapped wolf pup with a rare strain of canine parvovirus, they've turned from regular kids into a crime-solving pack! But now the very place that brought them together - the Loggerhead Island Research Institute - is out of funding and will have to shut down. That is, unless the Virals can figure out a way to save it!
Speaking in bones :
ISBN: 1501135996 OCLC: 943564139
Spider bones /
ISBN: 1439102392 OCLC: 464593318 Scribner, New York : 2010. John Lowery was declared dead in 1968--the victim of a Huey crash in Vietnam. Four decades later, Temperance Brennan is called to the scene of a drowning in Quebec. The victim appears to have died while in the midst of a bizarre sexual practice. The corpse is later identified as John Lowery. But how could Lowery have died twice? Taking the remains to JPAC in Hawaii for reanalysis, Tempe is joined by her colleague and ex-lover Detective Andrew Ryan (how "ex" is he?) and by her daughter, recovering from her own tragic loss. Soon another set of remains is located, with Lowery's dog tags tangled among them. Three bodies--all identified as Lowery.--From publisher description.
Terminal.
ISBN: 060638393X OCLC: 943640494
The bone code /
ISBN: 198213996X OCLC: 1257414379 "#1 New York Times bestselling author Kathy Reichs returns with her twentieth gripping novel featuring forensic anthropologist Temperance Brennan, whose examinations, fifteen years apart, of unidentified bodies ignite a terrifying series of events. On the way to hurricane-ravaged Isle of Palms, a barrier island off the South Carolina coast, Tempe receives a call from the Charleston coroner. The storm has tossed ashore a medical waste container. Inside are two decomposed bodies wrapped in plastic sheeting and bound with electrical wire. Tempe recognizes many of the details as identical to those of an unsolved case she handled in Quebec years earlier. With a growing sense of foreboding, she travels to Montreal to gather evidence. Meanwhile, health authorities in South Carolina become increasingly alarmed as a human flesh-eating contagion spreads. So focused is Tempe on identifying the container victims that, initially, she doesn't register how their murders and the pestilence may be related. But she does recognize one unsettling fact. Someone is protecting a dark secret-and willing to do anything to keep it hidden. An absorbing look at the sinister uses to which genetics can be put, and featuring a cascade of ever-more-shocking revelations, The Bone Code is Temperance Brennan's most astonishing case yet-one that gives new meaning to today's headlines"--
Trace Evidence
ISBN: 0606384006 OCLC: 944086479 A collection of four short stories based on theViralsseries from New York Times bestselling authors, Kathy Reichs and Brendan Reichs! Fans of the Virals serieswill be thrilled with thiscompanion volume that includes three short stories originally published as eSpecials as well as an all-new, never-before-seen Virals adventure! Shift, Swipe, Shock and the new story Spike give further glimpses of the Virals' world as they work with Tory's famous great aunt, Temperance Brennan, to solve more mysteries, take look at where it all started before they became Virals, and get to the bottom of an attempted sabotage at Kit and Whitney's wedding.
Virals /
ISBN: 1595143424 OCLC: 692084721 Razorbill, New York : ©2010. The niece of famed forensic anthropologist Temperance Brennan, fourteen-year-old Tory and her three friends are exposed to a rare strain of canine parvovirus that gives them special powers which they use to try to solve a murder.