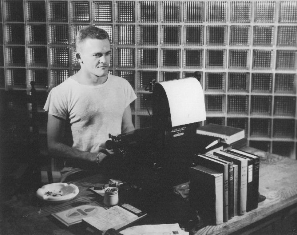 James Jones
Born:
1921 in Robinson, Illinois
Died:
1977
Pen Name:
None
Connection to Illinois
: Jones was born in Robinson.
Biography
: James Jones is an author who's wartime experiences inspired some of his most famous works. He witnessed the Japanese attack on Pearl Harbor, which led to his first published novel, ''From Here to Eternity''. ''The Thin Red Line'' reflected his combat experiences on Guadalcanal. His last novel, ''Whistle'', was based on his hospital stay in Memphis, Tennessee, recovering from surgery on an ankle he had reinjured on the island.
---
Awards
:
-- Name engraved on the frieze of the Illinois State Library alongside other great Illinois literary figures, 1990
Primary Audience(s):
Adult readers
James Jones on WorldCat :
http://www.worldcat.org/search?q=james+jones
---
Selected Titles
A Touch of Danger.
ISBN: 1453218483 OCLC: 785866880 Open Road Media 2011. "A vacation in the Greek Islands becomes complicated when a private eye is drawn into the murky waters of international hashish smuggling"--Back cover.
From here to eternity
ISBN: 9780141393223 OCLC: 826658686 In this magnificent but brutal classic of a soldier's life, James Jones portrays the courage, violence and passions of men and women who live by unspoken codes and with unutterable despair.
From here to eternity /
ISBN: 0385333641 OCLC: 285331 Diamond Head, Hawaii, 1941. Private Robert E. Lee Prewitt is a champion welterweight and a fine bugler. But when he refuses to join the company's boxing team, he gets "the treatment" that may break him or kill him. First Sgt. Milton Anthony Warden knows how to soldier better than almost anyone, yet he's risking his career to have an affair with the commanding officer's wife. Both Warden and Prewitt are bound by a common bond: the Army is their heart and blood ... and, possibly, their death. In this magnificent but brutal classic of a soldier's life, James Jones portrays the courage, violence and passions of men and women who live by unspoken codes and with unutterable despair ... in the most important American novel to come out of World War II, a masterpiece that captures as no other the honor and savagery of men.
Some came running /
ISBN: 0440182611 OCLC: 4846224 Dell Pub. Co., New York : ©1979.
Some came running :
ISBN: 9781504005951 OCLC: 893896115 James Jones's saga of life in the American Midwest, newly revised five decades after it was first published and including a new foreword by his daughter, Kaylie Jones.
The James Jones reader :
ISBN: 1559720662 OCLC: 22982978 Carol Pub. Group, Secaucus, NJ : ©1991.
The merry month of May
ISBN: 9781453215555 OCLC: 778707149 Open Road Integrated Media, New York, NY : 2011. A family of intellectuals comes apart at the seams during the 1968 student revolts in Paris The Parisian student revolts of May 1968 shook the country & mdash;and the European continent & mdash;to its foundations. In a tradition-obsessed nation where the old-guard bourgeoisie had spent decades oppressing youthful unrest, every flavor of rage suddenly had a voice. Hill Gallagher is there & mdash;a brash young intellectual grown tired of pretending that the world doesn & rsquo;t make him angry. Despite the protests of his screenwriter father, he becomes involved in the movement, joining in on protests with the fervor of a man who isn & rsquo;t afraid to destroy his country & mdash;or his family. In The Merry Month of May, James Jones draws on his own experiences living in Paris and witnessing the 1968 revolts firsthand to create an unforgettable portrait of a society at war with itself & mdash;and torn apart by change. This ebook features an illustrated biography of James Jones including rare photos from the author & rsquo;s estate.
The merry month of May /
ISBN: 1888451459 OCLC: 55496992 Akashic Books, New York : [©2004] Paris. May. 1968. This is the Paris of the barricaded boulevards; of rebelling students' strongholds; of the literati; the sexual anarchists; the leftists -- written chillingly of a time in French history closely paralleling what America went through in the late 1960s. As the Revolution sweeps across Paris, the reader sees, feels, smells, and fears all the turmoil that was the May revolt, the frightening social quicksand of 1968.
The pistol
ISBN: 9781453215494 OCLC: 756871440 Open Road Integrated Media, New York : 2011. Richard Mast is a misfit in the infantry unit at Pearl Harbor. A bright mind in a sea of grunts, his only joy on the morning of December 7, 1941, is that today he has guard duty, which means he gets to carry a pistol. Usually reserved only for officers, the close-quarters weapon is coveted by every man in the infantry for its beauty and the sense of strength it gives the wearer. Mast intends to return the gun at the end of his shift--until the Japanese Navy intervenes.
The pistol /
ISBN: 0226391868 OCLC: 50948819 University of Chicago Press, Chicago : 2003. Follows PFC Richard Mask during the first days and weeks of World War II in Hawaii, as he and his company move from Schofield Barracks to the beaches of Oahu, then to a remote mountain pass, and centers on the conflict over his pistol, a .45 caliber automatic.
The thin red line
ISBN: 9780141393247 OCLC: 876285340 Moves so intensely and inexorably that it almost seems like the war it is describing. (The New York Times Book Review). 'Is it really worth it to die, to be dead, just to prove to everybody that you're not a coward?' On Guadalcanal in the south Pacific, the soldiers of C Company are about to enter the war. The men know they face their baptism of fire. But none know if they will be one of 'the lucky ones' to make it safely off the island. From Captain Stein, who feels like a father to his troops, and 'Mad' Sergeant Welsh, condemning all nations while swigging gin from his canteen, to Private Bell, who just wants to get home to his wife, they will discover the line that divides sanity from madness, and life from death. A scathing critique of heroism, The Thin Red Line is among the greatest masterpieces of war writing. The men are real, the words are real, death is real, imminent and immediate. (Los Angeles Times).
The thin red line /
ISBN: 0385324081 OCLC: 294150 They are the men of C-for-Charlie Company--"Mad" 1stSgt. Eddie Welsh, SSgt. Don Doll, Pvt. John Bell, Capt. James Stein, Cpl. Fife, and dozens more just like them--infantrymen in "this man's army" who are about to land grim and white-faced on an atoll in the Pacific called Guadalcanal. This is their story, a shatteringly realistic walk into hell and back. In the days ahead some will earn medals; others will do anything they can dream up to get evacuated before they land in a muddy grave. But they will all discover the thin red line that divides the sane from the mad--and the living from the dead--in this unforgettable portrait that captures for all time the total experience of men at war.
TOUCH OF DANGER.
ISBN: 1480480002 OCLC: 978639769 OPEN ROAD MEDIA, [Place of publication not identified], 2014.
Whistle /
ISBN: 0385334249 OCLC: 3223758 Delacorte Press, New York : ©1978. This third volume of a trilogy about World War II deals with the effects of the war on the lives of four soldiers.