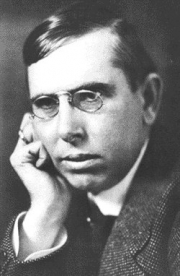 Theodore Dreiser
Born:
August 27, 1871 in Terre Haute, Indiana
Died:
December 28, 1945 in Hollywood
Pen Name:
None
Connection to Illinois
: Dreiser began his career as a journalist in Chicago.
Biography
: Theodore Dreiser is considered to be the foremost novelist in the American naturalism movement. He wrote one of the great Chicago novels, ''Sister Carrie'' in 1900. His other Chicago fiction, ''The Financier'' (1912) and ''The Titan'' (1914), are both based on the career of Charles T. Yerkes, who built the Chicago railway system. Dresier's autobiographical writings also are interesting for their treatment of turn-of-the-century Chicago, especially ''A Book About Myself'' in 1922.
---
Awards
:
-- Chicago Literary Hall of Fame, 2011
-- In 1990, his name was engraved on the frieze of the Illinois State Library alongside other great Illinois literary figures.
Primary Literary Genre(s):
Fiction
Primary Audience(s):
Adult readers
Wikipedia:
http://en.wikipedia.org/wiki/Theodore_Dreiser
---
Selected Titles
A book about myself
ISBN: 9781443728591 OCLC: 949280111
An American tragedy
ISBN: 9781975804404 OCLC: 1015315050 Clyde Griffiths finds his social-climbing aspirations and love for a rich and beautiful debutante threatened when his lower-class pregnant girlfriend gives him an ultimatum.
Jennie Gerhardt
ISBN: 0812212843 OCLC: 44962574 University of Pennsylvania Press, Philadelphia : ©1992. Jennie Gerhardt was Theodore Dreiser's second novel and his first true commercial success. Today it is generally regarded as one of his three best novels, along with Sister Carrie and An American Tragedy. But the text of Jennie Gerhardt heretofore known to readers is quite different from the text as Dreiser originally wrote it. In the tradition of the University of Pennsylvania Dreiser Edition, James L.W. West III has recaptured the text as it was originally written, restoring it to its complete, unexpurgated form. As submitted to Harper and Brothers in 1911, Jennie Gerhardt was a powerful study of a woman tragically compromised by birth and fate. Harpers agreed to publish the book but was nervous about its subject matter and moral stance. Jennie has an illegitimate child by one man and lives out of wedlock with another - but Dreiser does not condemn her for her behavior. As a requirement for publication, Harpers insisted on cutting and revising the text. Although Dreiser fought against many of the cuts and succeeded in restoring some material, Harpers shortened the text by 16,000 words and completely revised its style and tone. These changes ultimately transformed Jennie Gerhardt from a blunt, carefully documented work of social realism to a touching love story merely set against a social background. Passages critical of organized religion and of the institution of marriage were reduced and altered. Perhaps most important, Jennie's point of view - her innate romantic mysticism - was largely edited out of the text. As a consequence, the central dialectic of the novel was skewed and the narrative thrown out of balance.
Sister Carrie
ISBN: 0451531140 OCLC: 233548230 Young Caroline Meeber leaves home for the first time and experiences work, love, and the pleasures and responsibilities of independence in late-nineteenth-century Chicago and New York.
The financier :
ISBN: 9780252035043 OCLC: 456729447 University of Illinois Press, Urbana : ©2010. Aricher, considerably more complex version of The Financier by Theodore Dreiser, whose critique of American business practices led reviewers to laud him as the equal of the great European realists. Roark Mulligan's commentary offers a cogent, thorough, and eminently readable exploration of late-nineteenth-century American business practices.-Keith Newlin Editor Of A Theodore Dreiser Encyclopedia.
The Titan
ISBN: 9789897781360 OCLC: 1041938695 In the Panic of 1873, Frank Cowperwood's fortune was destroyed and his criminal activity on the stock exchange was exposed. Now, with his prison sentence complete, he is ready to begin the next chapter of his life. Following the same creed of selfishness that guided him to his first fortune, Cowperwood leaves Philadelphia for Chicago and gives up financial speculation to pursue a new frontier. Though he soon rediscovers wealth in stock investment, he remains hounded by scandal as he maneuvers to take control of the Chicago railway system. Through double-dealing, divorce, infidelity, and social disgrace, America's most corrupt man continues his lifelong pursuit of self-satisfaction.