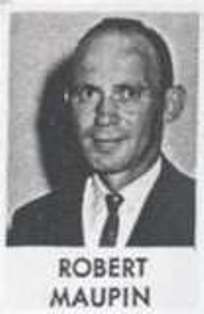 Robert Lee Maupin
Born:
August 4, 1918 in Chicago, Illinois
Pen Name:
Robert Beck, Robert Maupin Beck and Iceberg Slim
Connection to Illinois
: He was born in and lived in Chicago, Illinois until he was 43 years old.
Biography
: Maupin was a writer and lecturer. He attended the prestigiuous Tuskegee Institute and was reported to have an IQ of 175. From 1937-1962 he worked as a manager of prostitutes. After spending time in prison, he moved to Los Angeles and kicked his heroin habit on his own. He then married and had children and worked as an insecticide salesman in the mid 60's. After meeting a college professor during a sale, the professor convinced him to collaborate on a book of his life story with him. After finding out that his share of the royalties would be very small, Maupin decided to write his own book before the professor could finish his. Maupin was once believed to be the best-selling African American writer ever - with more than six million copies of his books sold by the time of his death. Josh Friedman referred to the author as 'a savagely gifted storyteller, whose paperback novels sold in unpresedented numbers in the ghettos. He wrote flagrantly in the pre-Ebonics lingo of Chicag's South Side - which even today repels the upwardly mobile Black middle class. Iceberg's books contain glossaries of underworld Negro slang that went out with minstrel shows and burnt cork blackface.'Maupin's books have been translated into foreign languages. His book ''Trick Baby'' was adapted as a film by Larry Yust. The film rights for ''Pimp: The Story of My Life'', were purchased by Universal Pictures.
---
Awards
:
Primary Literary Genre(s):
Fiction; Non-Fiction
Robert Lee Maupin on WorldCat :
http://www.worldcat.org/search?q=robert+lee+maupin
---
Selected Titles
Airtight Willie & me /
ISBN: 0870679325 OCLC: 59166095 Holloway House Pub. Co., Los Angelos, Calif. : 2004, ©1979.
Death wish :
ISBN: 0870679341 OCLC: 154767092 Holloway House, Los Angeles, CA : 2005.
Doom Fox /
ISBN: 0802135889 OCLC: 39078927 Grove Press ; New York : ©1998. A novel on the black ghetto in Los Angeles, written in 1978, but not published until now. It is set in the years following World War II and features gangs fighting over money and women, the hero being a prizefighter. By the author of Pimp.
Long white con /
ISBN: 0870679309 OCLC: 86106795 Holloway House, Los Angeles, Calif. : [2005]
Mama black widow /
ISBN: 0870679317 OCLC: 76814835 Holloway House, Los Angeles, Calif. : 2004, ©1998.
Pimp :
ISBN: 0870671391 OCLC: 838336613 Holloway House Publ. Co. Los Angeles 1970
The naked soul of Iceberg Slim /
ISBN: 0870679368 OCLC: 15103310 Holloway House Pub. Co., Los Angeles : ©1986.
Trick baby :
ISBN: 0870679333 OCLC: 57759925 Holloway House Pub. Co., Los Angeles, CA : 2004, ©1967.