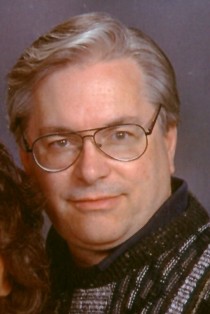 Jim Ridings
Born:
1950 Joliet, Illinois
Pen Name:
None
Connection to Illinois
: Ridings lives in Herscher.
Biography
: Jim Ridings was born in Joliet, Illinois, in 1950. He earned a Bachelor of Science degree in Journalism, with a minor in history, from Southern Illinois University at Carbondale. He was a reporter for The Daily Times in Ottawa and The Beacon-News in Aurora, and several weekly newspapers. He won more than a dozen awards for investigative reporting at both daily newspapers, from the Associated Press, United Press International, Copley Press, Illinois Press Association, Northern Illinois Newspaper Association, Illinois Department of Mental Health, Aurora Lions Club, SDX Society of Professional Journalists. Ridings was presented a Studs Terkel Humanities Service bronze medal from the Illinois Humanities Council in 2006. Nine of his books have won awards from the Illinois State Historical Society. He and his wife Janet live in the historic John Herscher House in Herscher, Illinois. Their daughters are Stephanie and Laura, and grandchildren are Declan, Mia and Logan.
---
Awards
:
County West Illinois State Historical Society Award
County West Companion Illinois State Historical Society Award
Primary Literary Genre(s):
Non-Fiction
Primary Audience(s):
Adult readers
Blog:
https://www.jimridings.com/blog-1
E-Mail:
jridings@keynet.net
Twitter:
https://twitter.com/JimRidings1/status/1408408522929459200
Web:
https://www.jimridings.com/
---
Selected Titles
Ashpile
ISBN: 9991205136 OCLC: Side Show Comics 1991
Cardiff 2: A Further History of the Ghost Town on the Prairie
ISBN: 0982408021 OCLC: Side Show Books 2008 This book is a follow-up to the award-winning, Cardiff: Ghost Town on the Prairie. Cardiff was a boom coal-mining town in Illinois that roared from 1899 until the mine closed in 1912. It has been a ghost town since then. The book tells the amazing story of the town, its mine disasters, and the life of the people who lived there. Descendants from across the country were located and they told their family stories and gave their rare photographs of the people and the town. The book also includes the history and photographs of the other nearby coal mining ghost towns of Torino, Clarke City and Tracy, as well as a history of the town of Campus, Illinois. The first Cardiff book was very well-received. It was seen by so many people who were not contacted originally for the first volume, and so a second all-new volume was done. This book won an award from the Illinois State Historical Society.
Cheese Weasel #1
ISBN: B00AKJI68O OCLC: Side Show Commics, 1991
Chicago to Springfield: Crime and Politics in the 1920s
ISBN: 9781439625736 OCLC: 709780050 Arcadia Pub., Charleston, SC : ©2010. The story of Chicago gangsters in the 1920s is legendary. Less talked about is the tale of the politicians who allowed those gangsters to thrive. During the heyday of organized crime in the Prohibition era, Chicago mayor Big Bill Thompson and Gov. Len Small were the two most powerful political figures in Illinois. Thompson campaigned on making Chicago a wide open town for bootleggers. Small sold thousands of pardons and paroles to criminals, embezzled $1 million, and was then acquitted after mobsters bribed the jury. This book is the story of those Jazz Age politicians whose careers in government thrived on and endorsed corruption and racketeering, from Chicago to Springfield. It complements author Jim Ridings's groundbreaking biography, Len Small: Governors and Gangsters, which was praised by critics and situated Ridings as a trailblazer among Chicago crime authors.
County West Companion: A Further History of Western Kankakee County
ISBN: 0982408013 OCLC: Side Show Books 2005 This is a further history of the small towns in western Kankakee County, Illinois: Herscher, Irwin, Bonfield, Buckingham, Reddick, Union Hill, Cabery, Limestone, Goodrich, Essex. It is highly illustrated with hundreds of rare photographs. It also has a large amount of genealogy of many families in the county.
County West: A Sesquicentennial History of Kankakee County West
ISBN: B004NPD6YU OCLC: Side Show Books 2003
Greetings From Kankakee: A Picture Postcard View Of Old Kankakee
ISBN: 098240803X OCLC: Side Show Books 2007 Greetings From Kankakee is a book of full-color views from picture postcards of the first half of the twentieth century, an era when picture postcards were a common form of communication. The pictures are reproduced on high quality stock and are enlarged from the originals. The book is a beautiful look at Kankakee, Illinois, in a bygone era.
Greetings From Ottawa: A Picture Postcard View Of Old Ottawa
ISBN: 0982408048 OCLC: Side Show Books 2006 This book contains picture postcard views of Ottawa, Illinois, from the early 1900s. The pictures are in full color and printed on high quality stock. Reddick Mansion, Washington Park, downtown Ottawa, the parks and many other rare views from a bygone era of the town.
Greetings from Starved Rock :
ISBN: 0982408099 OCLC: 758981167 Side Show Books, Herscher, IL : ©2011. This book is a collection of picture postcards from Starved Rock State Park in Illinois. Most of the pictures are from the vintage postcard views of a century ago. Some cards have been enlarged slightly to show their detail and beautiful colors. Picture postcards were very popular a century ago. They contained only a brief, casual message -- sort of the equivalent of texting in that era. Starved Rock and adjacent Matthiessen State Park had quite a variety of postcard views, and both state parks are shown in the beautiful colors of the postcards of the era. This book is published on the 100th anniversary of Starved Rock becoming a state park.
History of Herscher High School
ISBN: 0982408064 OCLC: Side Show Books 2001 This is the history of Herscher (Illinois) High School on its 100th anniversary. The book is a detailed history with lots of photographs. It also contains a list of school records (sports, prom queens, homecoming queens, class presidents, principals and more) and a list of all graduates from 1904 to 2001.
Kankakee County Confidential
ISBN: 9780692787014 OCLC: 978353844 This is volume two in the
Kankakee County Stories - Wild Kankakee Vol. 3
ISBN: 9780982408087 OCLC: 806230492 Side Show Books, Herscher, IL : ©2012. Kankakee County Stories is the third volume in the Wild Kankakee series. The stories are all new. Former Kankakee Mayor Russell Johnson tells the true stories behind the political shenanigans. Other stories are about the Daily Journal reporter arrested in the newspaper office; how the Chicago White Stockings beat the Kankakee baseball team 111 to 5; how the Frank Lloyd house almost became Heritage House nursing home; the phony sales tax scheme; the His Community story; bizarre tales, more racial history, more sex scandals and the history of the hamburger and root beer stands. Hundreds of local stories, all true!
Kankakee Makes Good: A Second Volume Of Picture Postcards From Old Kankakee
ISBN: 0982408056 OCLC: Side Show Books 2007 This is the second, all-new volume of picture postcards from the early days of Kankakee, Illinois. The book is hardcover and the pictures are in full color on quality stock. This book also contains picture postcards from a few of the other towns in Kankakee County: Grant Park, St. Anne, Aroma Park, Bradley, Bourbonnais, Manteno, Momence, St. George, Hopkins Park, Waldron, Wichert.
Len Small: Governors and Gangsters
ISBN: 0982408005 OCLC: 435530102 Side Show Books, Herscher, IL : ©2009.
Memories of Reddick High School
ISBN: 0982408072 OCLC: Side Show Books 2002 Reddick High School in Reddick, Illinois, started in 1906 and closed its doors in 1988. This hardcover book contains numerous photographs from throughout the history of the school.
Murder in the Fox Valley - The True Story of Serial Killer Bruce Lindahl
ISBN: B0BFJNN58F OCLC: Jim Ridings Books 2022 The western suburbs of Chicago were being terrorized by a serial rapist and murderer in the 1970s and 1980s. Bruce Lindahl was a psychotic rapist and killer who preyed on girls and young women for almost a decade. He managed to escape detection because he did not leave his rape victims alive. But in 1980, he kidnapped and raped Debra Colliander in Aurora, Illinois. She escaped before he could murder her, and Lindahl finally was arrested. Two months later, just before he was to go on trial on charges of kidnapping, rape and deviate sexual assault, Lindahl kidnapped and murdered Miss Colliander. Lindahl disposed of her body and no one could find her. The following year, because the victim did not show up in court, the kidnapping and rape charges had to be dropped – and he could not be charged with murder without a body. Reporter Jim Ridings wrote a number of stories for The Beacon-News over several months, determined to shine a light to try to stop Lindahl from getting away with another murder. Suddenly, the public knew the truth about this monster who had been able to evade justice and public attention. Aurora police said Lindahl planned to kill Ridings once the judge finally dismissed the case. But fortunately, a few days after the charges were dropped, Lindahl accidentally killed himself while murdering another person. The story took another turn nearly 40 years after Lindahl's death when DNA tests linked Lindahl to an unsolved cold case murder from 1976. Murder in the Fox Valley tells the story of Bruce Lindahl's terrible crime spree and how he finally was stopped. The communities involved were Downers Grove, Naperville, Woodridge, Lisle and Aurora, Illinois.
Ottawa /
ISBN: 0738588571 OCLC: 738363666 Arcadia Pub., Charleston, S.C. : ©2011. Ottawa is a city rich in history going back to the 1820s. It was the site of the first Lincoln-Douglas debate, and even a famous Civil War general was from Ottawa. The city has an enormous heritage in its churches, schools, and neighborhoods and has created impressive strength in its business and industry over the years. Ottawa also has contributed more than its share of service in the defense of the nation. The I&M Canal, Reddick Mansion, the appellate court, the LaSalle County Courthouse, the Tent Colony, the nearby shipyard and glass factories, the rivers, and the area state parks all have been important and unique parts that comprise Ottawa.
Small Justice
ISBN: 0615996019 OCLC: Hersher, IL : Side Show Books Hersher, IL : 2014 Stephen B. Small died in one of the most horrific ways a person can die -- being buried alive. He was one of the richest men in Kankakee, Illinois, in 1987, which made him the target of a desperate cocaine dealer who wanted to collect a million dollar ransom. Everything went tragically wrong. Danny Edwards was caught, convicted and was sentenced to death. His life was spared after all death sentences were commuted to life in prison by Governor George Ryan. A conviction of Danny Edwards was a sure thing. However, political pressure -- the Small family was at the top of Kankakee's powerful elite -- brought in the top prosecutors in the state, so they could use Edwards' case against his girlfriend, Nancy Rish. Their case against her was flimsy, at best. Every piece of forensic evidence at the trial cleared Nancy Rish. Not one piece of evidence and not one witness testimony proved her guilt. But she was convicted on the conjecture and false assertions of the prosecutors. There was no more evidence against her than the supposition that 'she had to know' what Edwards was planning. Every public defender and lawyer refused to defend her because of alleged conflicts or fear of the local powers. Everything was set up to railroad this woman into prison. She did not get a fair trial. She did not stand a chance. If Danny Edwards had picked any other victim, his girlfriend never would have been prosecuted. Nancy Rish got small justice and she got Small justice. Nancy Rish is innocent. Danny Edwards did not cooperate with the police and he never talked about the details of his crime. Until now. Danny Edwards and Nancy Rish have given their first in-depth interviews from prison to author Jim Ridings for this book. The incredible story and previously unknown background details are told here for the first time. This is not just the story of a sensational kidnapping and murder. It also is the story of how a corrupt system was able to convict an innocent woman and send her to prison for life.
The Illustrated History of the Cherry Mine Disaster of 1909
ISBN: 1634992024 OCLC: America Through Time 2020 November 13, 1909 was like any other day for the 480 men who went into the coal mine at Cherry, Illinois, to begin another day's work. The mine at Cherry was just a few years old, and it was considered the safest mine in America. However, within hours, a fire in the mine would take the lives of 259 men and boys. It would make widows of more than 100 women and orphans of 500 children. Eight days after the fire, twenty men emerged in a miraculous tale of survival. The Cherry mine disaster remains the third worst coal mining disaster in United States history. But it brought about sweeping reform. It changed child labor laws in America and it resulted in the first workmen's compensation laws. This disaster was a bonanza for a number of local photographers, and the several hundred picture postcard views they produced provide a valuable visual account of this terrible event. This book provides the most comprehensive collection of these photographs which document this American tragedy.
The Illustrated History of the Ottawa Tent Colony
ISBN: 1634993349 OCLC: America Through Time 2021 At the turn of the twentieth century, it was a belief that fresh air, rest and a nutritional diet was the best way to treat tuberculosis patients. Dr. J. W. Pettit implemented this therapy by establishing the Ottawa Tent Colony in 1904. Antibiotics had not been developed at that time, so the fresh air treatment was the only option. TB patients were kept in canvas tents or open wooden huts outdoors, in freezing winters and blazing hot summers. It might seem odd today, but it worked for those in the early stages of the disease. Here is the amazing story.
The Politically Incorrect Cheese Weasel
ISBN: 0966497430 OCLC: Side Show Comics 1993 Cheese Weasel is the world's most crooked lawyer, and he puts it on his business card to prove it. He reads The Bible for loopholes and argues to reduce Jeffrey Dahmer's charges from Felony Cannibalism to Misdemeanor Munchies. This is a book of political humor, with a conservative edge. Published in 1993, it is still topical, as Cheese Weasel helps the ACLUnatics misread the Constitution, advises Prof. Algorz in explaining the Gorzone Layer and makes a nuisance of himself as only a liberal activist can. The humor is biting satire. Some themes include pro-life and pro-Christian.
The Society of the Living Dead: The Illustrated History of Ottawa's Radium Dial Scandal
ISBN: 1634992296 OCLC: America Through Time 2020 "It will put pink cheeks on you." That is what the managers of Radium Dial in Ottawa, Illinois, told the young women who painted radium on the faces of clock dials in the 1920s and 1930s. Instead, their teeth fell out and their jaws and bones disintegrated. Instead of putting pink in their cheeks, it put the women in their graves. The company knew the hazards of working with radium, but they took no safety precautions. They lied to the workers and they denied compensation to the victims. To avoid financial liability, Radium Dial closed its doors and reopened a few blocks away as Luminous Processes and continued its deadly work for another forty years. Radium Dial cared more about the health and profitability of its company than they cared about the health of the women who made the company profitable. There really was a "Society of the Living Dead," formed by the women who were dying from radium poisoning. Their astounding true story is told here.
Western Kankakee County
ISBN: 1540248941 OCLC: Arcadia Pub 2021 Kankakee County, named after the Kankakee River, was created in 1853 by an act of the Illinois Legislature. The western portion of the county is an extensive geographic area even though it has only a handful of small towns. Nestled in swaths of farmland, which serve as the foundation of the area, the villages of Herscher, Irwin, Bonfield, Buckingham, Limestone, Cabery, Reddick, Essex, and Union Hill make up Western Kankakee County. In addition to farming, all of these towns owe their existence to the coming of the railroads beginning in 1878. Wherever a railroad decided to build a station, a settlement became a town. Settlements that were bypassed by the railroads vanished. Today, the region's agricultural heritage is on proud display as farming remains the biggest economic factor, along with the Herscher School District and the gas pipeline storage area. The communities of Western Kankakee County continue to be great places to work and play.