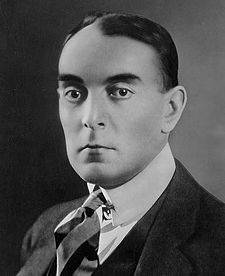 Ringgold Wilmer Lardner
Born:
March 6, 1885 in Niles, Michigan
Died:
September 27, 1933 in East Hampton, New York
Pen Name:
Ring Lardner
Connection to Illinois
: Lardner was a sportswriter and columnist in Chicago. He wrote for several Chicago newspapers from 1907 through 1932.
Biography
: Ring Lardner was an American sports columnist and short story writer best known for his satirical takes on the sports world, marriage and the theatre. He began his career as a sportswriter in Chicago and started in fiction with a series of stories about a baseball player named Jack Keefe. These stories, some of which were collected in You Know Me Al, already demonstrate Lardner's gift for dark, sardonic satire and his sharp ear for American colloquial speech. Later collections include How to Write Short Stories (1924) and The Love Nest and Other Stories (1926). He was also a successful playwright, collaborating with such Broadway legends as George M. Cohan on Elmer the Great (1928) and George S. Kaufman on June Mood (1929).
---
Awards
:
-- Chicago Literary Hall of Fame, 2016
-- Name engraved on the frieze of the Illinois State Library alongside other great Illinois literary figures, 1990
Primary Literary Genre(s):
Fiction
Primary Audience(s):
Adult readers
Wikipedia:
https://en.wikipedia.org/wiki/Ring_Lardner
---
Selected Titles
How to Write Short Stories - With Samples.
ISBN: 1473394090 OCLC: 930993220 Read Books Ltd., 2014.
Ring around the bases :
ISBN: 1570035318 OCLC: 52858278 University of South Carolina Press, Columbia, S.C. : ©2003.
Round up :
ISBN: 9781473303393 OCLC: 865580604
Selected stories
ISBN: 9781440673849 OCLC: 505824535 Penguin Books, New York : 1997.
Selected stories /
ISBN: 0141180188 OCLC: 35637403 Penguin Books, New York : 1997. Ring Lardner's humor, quirky imagination, and ear for the American vernacular endeared him to such formidable critics as Hemingway, Fitzgerald, V.S. Pritchett, and Virginia Woolf. A newspaperman who began as a sports reporter and almost accidentally stumbled into short-story writing, Lardner meticulously captured the way Americans really speak. In You Know Me Al (1916), he created one of the most enduring characters in American fiction, the semi-literate baseball player Jack Keefe.
Studio One anthology
ISBN: 1417230762 OCLC: 263996588 Koch Vision : Port Washington, NY : ©2008. A pinnacle of the golden age of television, Studio One presented a wide range of memorable dramas and received 18 Emmy nominations and five wins during its prestigious 9-year run on CBS. Showcasing some of the greatest talent of the era, this groundbreaking series created an enormous impact and still remains a treasured part of America' broadcasting history--Container.
The Big Town
ISBN: 9781780007601 OCLC: 941951748 Ring Lardner was by most accounts a writer who excelled at creating situations about apple pie America and them warping them with his exceptional satirical gifts to an altogether different plane. In The Big Town he and 'the missus' go to New York to help her sister Katie find a husband. A simple enough premise but life in the Big Apple with Lardner's writing is pure genius.
The lost journalism of Ring Lardner
ISBN: 9780803299405 OCLC: 963936818 An anthology of journalist Ring Lardner's writings on sports and other nonfiction topics that collects works that have been mostly unavailable for decades--
The Ring Lardner reader
ISBN: 0684153653 OCLC: 288590