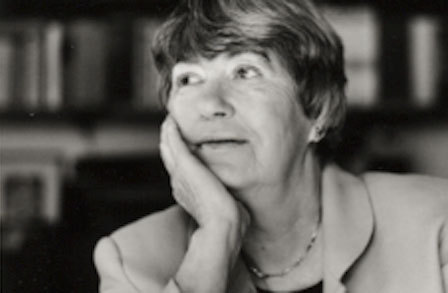 Lisel Mueller
Born:
February 8, 1924 in Hamburg, Germany
Died:
February 21, 2020 in Lake Forest, Illinois
Pen Name:
None
Connection to Illinois
: Mueller moved to rural Lake Forest in 1960's.
Biography
: Lisel Mueller fled Germany at the age of 15 and came to America with her family. She went on to become a Pulitzer prize-winning poet and translator. A graduate from the University of Evansville, Indiana in 1944, Mueller taught at the University of Chicago, Elmhurst College in Illinois, and Goddard College in Plainfield, Vermont and Warren Wilson College in Asheville, North Carolina. She also translated books and wrote literary criticism for the Chicago Daily News and Poetry magazine. Mueller was a founding member of the Poetry Center of Chicago.
---
Awards
:
"""The Private Life"""
-- Lamont Poetry Selection, Academy of American Poets, 1975
"""The Need to Hold Still"""
-- National Book Award for Poetry, 1981
"""Alive Together: New & Selected Poems"""
-- Pulitzer Prize for Poetry, 1997
"""Waving from Shore"""
-- Carl Sandburg Award,1990
"""Other Awards:"""
-- Ruth Lilly Poetry Prize, Poetry magazine, 2002
-- Order of Merit, Federal Republic of Germany, 2019
Primary Literary Genre(s):
Poetry
Primary Audience(s):
Adult readers
Website:
http://www.poets.org/poet.php/prmPID/85
Website:
https://mypoeticside.com/poets/lisel-mueller-poems
Wikipedia:
https://en.wikipedia.org/wiki/Lisel_Mueller
---
Selected Titles
Alive together :
ISBN: 0807121274 OCLC: 34894406 Louisiana State University Press, Baton Rouge : 1996. In a collection that represents over thirty-five years of her writing life, this distinguished poet explores a wide range of subjects, which include her cultural and family history and reflect her fascination with music and the discoveries offered by language. In fact, her book is a testament to the miraculous power of language to interpret and transform our world. It is a testament that invites readers to share her vision of experiences we all have in common: sorrow, tenderness, desire, the revelations of art, and mortality - "the hard, dry smack of death against the glass". To this community Mueller presents moments after moment where the personal and public realms intersect, where lives ranging from her own to those of Mary Shelley and Anton Webern illuminate the ways in which history shapes our lives. In "Brendel Playing Schubert", Mueller's breathtaking linguistic virtuosity reminds us how music can transport us out of ourselves and into "the nowhere where the enchanted live"; in "Midwinter Notes", the, crepuscular world, stripped of its veil, shines forth as a signal from some realm where the sense of things may be revealed. In the title piece Mueller brings a sense of enduring and unclouded wonder to a recognition of all those whose lives might have been our own.
Dependencies :
ISBN: 0807122750 OCLC: 38024062 Louisiana State University Press, Baton Rouge : 1998.
Second language :
ISBN: 0807113360 OCLC: 13396494 Louisiana State University Press, Baton Rouge : 1986. A collection of poems having to do with memory and metaphor, two forces that enable us to interpret our experience.
The need to hold still :
ISBN: 0807106690 OCLC: 5498132 Louisiana State University Press, Baton Rouge : 1980. Lisel Mueller is the author of seven books of poetry, including Alive Together: New and Selected Poems, winner of the 1997 Pulitzer Prize for Poetry. She has also received the Lamont Poetry Prize, and the Carl Sandburg Prize. She lives in Lake County, Illinois.
The private life :
ISBN: 0807101826 OCLC: 2157875 Comprises forty-three poems celebrating the autonomy of the self, the mysteries of intimacy, growth, and feeling.
Voices from the Forest
ISBN: B07PYFCQM6 OCLC:
Waving from shore :
ISBN: 0807115754 OCLC: 19815168 Louisiana State University Press, Baton Rouge : 1989.